Dave 'The Moose' Kamka, 67
We are heartbroken to announce the passing of David "The Moose" Kamka. Dave's passing was completely unexpected as he regularly reminded his daughters he was "healthy as a spring chicken." Dave was born in sunny Southern California to Edward and Dolores "Dodo." He would undoubtedly describe himself as the perfect first pancake, and moved to Coeur d'Alene to be closer to the pancake makers, and his grandmother Jane. Dave was a big brother to his partner-in-crime brother, Randy, and sister Karen, whom he lovingly called "Spiderweb" growing up. Nicknames were not the end of the mischief Dave and Randy got into as children and young adults. From a very young age, some of Dave's greatest qualities were his quick wit, charming presence, and ability to make people feel special.
As far as nicknames go, Dave had the highest regard for his own nickname, The Moose, which we recently learned he assigned to himself in high school. The Moose and crew again found themselves in a flurry of adventures from hanging out in the orange groves, cruising in Dave's '68 Camaro on Whittier Boulevard, and possibly some things that should not be mentioned in the Cd'A Press or public arena. Some of the recent reviews of sharing a high school experience with the Moose have included "he made me laugh," "he was a character and a half," and "his group was obnoxious — but it was the best years of my life."
Though the shenanigans continued, at age 22, Dave became a successful businessman. He ventured into land development, real estate, solar (way before Al Gore), graphic arts and printing. Part of his lasting work with the city of Coeur d'Alene includes helping produce the many artists' work that covers electrical boxes across the city.
As a coming-of-age bachelor, he met Linda, a newly-hired coworker at his corporate gig. Shortly thereafter he met Linda's plus-twos, Jennifer and Tanya. The girls had quite an awakening of what it meant to live under the same roof as a prankster. If you haven't been awakened by a tambourine and someone yelling, "The sun is shining, the birds are singing, it's a beautiful day," you probably aren't Dave's daughters. Shortly after Dave and Linda's marriage, Dave formally adopted Jen and Tanya as Kamkas. The Moose jumped a over teakettle into fatherhood and raised some incredibly amazing, witty, intelligent, organized and daring daughters (if we do say so ourselves). In the long run, the marriage didn't work out, but fatherhood did. One notable father moment was saying absolutely no to a dog until Jen brought one home … and then quickly falling in love with "his Britt dog" (who also became a resident of Cd'A). The Moose was a party animal at heart and quickly became a favorite of Jen and Tanya's friends. Dave was no stranger to using his lungs in crowded areas to scream, "Whose wallet?!" just for fun, or at Jen's dance recitals yelling "KAMKA!!!" when everyone else was silent, or as a proud regular at Tanya's soccer games screaming "sacrifice your body!" every time she touched the ball. He passed on his borderline-neurotic organization skills to his youngest kin, yet took the opportunity during his father's speech at Tanya's wedding to roast her about her maniacal love of spreadsheets. The Kamka house was a wild house to grow up in. The everyday nights of watching Seinfeld, singing along to Elvis' Blue Suede Shoes, and laughing so hard we cried are only a few of the fond memories.
Perhaps his greatest life accomplishment was becoming Grandpa Moose to Jen's daughter, Mia, whom he lovingly called his little Moosette. Grandpa Moose and Mia had a wonderful relationship as he taught her how to make snow angels, and then made her "the BEST hot chocolate." He shared his love of crazy socks with his Little Punkin, and regularly sent her silly memes.
He is predeceased by parents Ed and Dodo, Grandmother Jane and best doggo Brittany.
He is survived by daughters Jennifer and Tanya, granddaughter Mia, siblings Randy and Karen, nieces and nephews Kara Jean, Nicki, Katie, Grant, Noa, grandnephew Lucas and many close friends.
Our dad will be interred at St. Thomas Cemetery, 115 S. 23rd St., Coeur d'Alene on June 23 at 1 p.m. A celebration of Dad's life will be held June 24 at The Moose Lodge. Please no flowers. If you must, no lilies (Dad always said they smelled like death). Dad had a passion for helping the underserved and was a devout Catholic with a strong faith. He regularly prayed and felt a special connection to Saint Jude and Saint Anthony. If you feel inclined, please make a donation in his memory to St. Vincent de Paul of North Idaho whose programs help feed, house, clothe and heal the less fortunate of Coeur d'Alene. https://stvincentdepaulnorthidaho.org/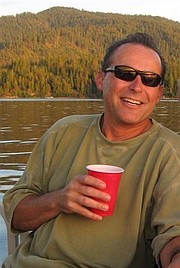 Recent Headlines
---