New car, fresh start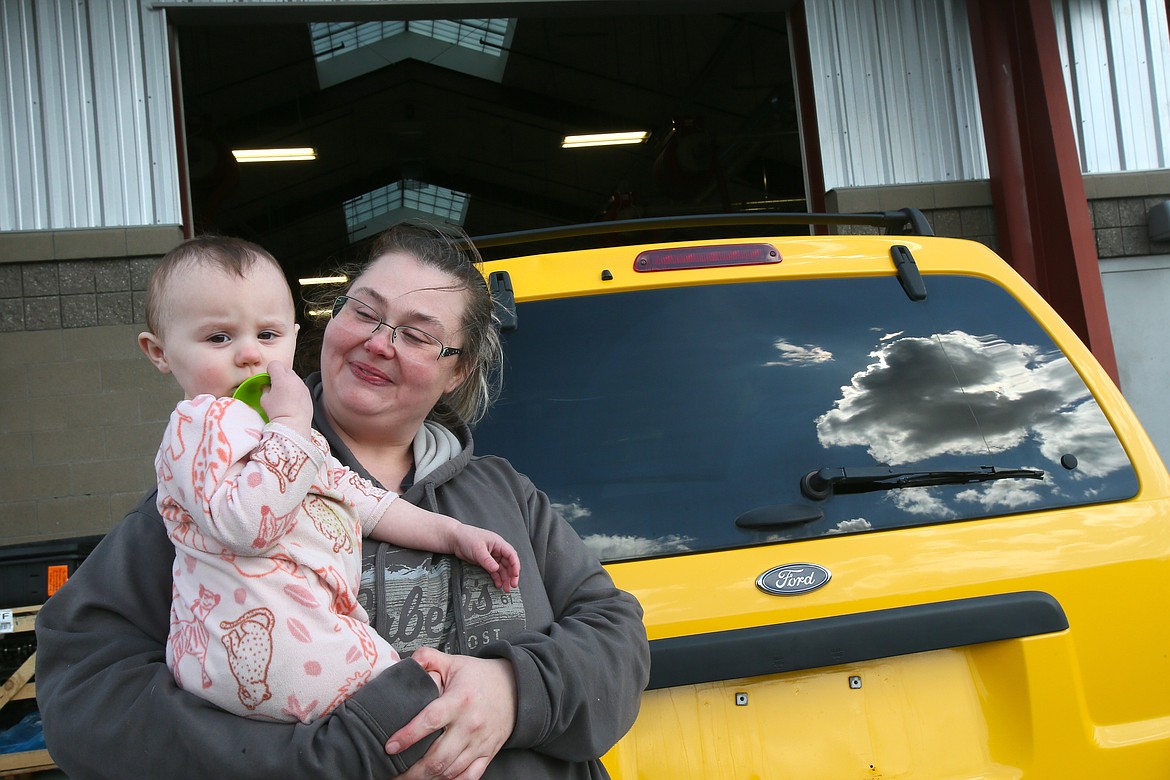 Natausha Green looks at her daughter, Meadow, Wednesday afternoon as they stand in front of the 2002 Ford Escape that Green is buying through a new car exchange program launched by Charity Reimagined, Kootenai Technical Education Campus and community partners. "This is my fresh start," Green said.
DEVIN WEEKS/Press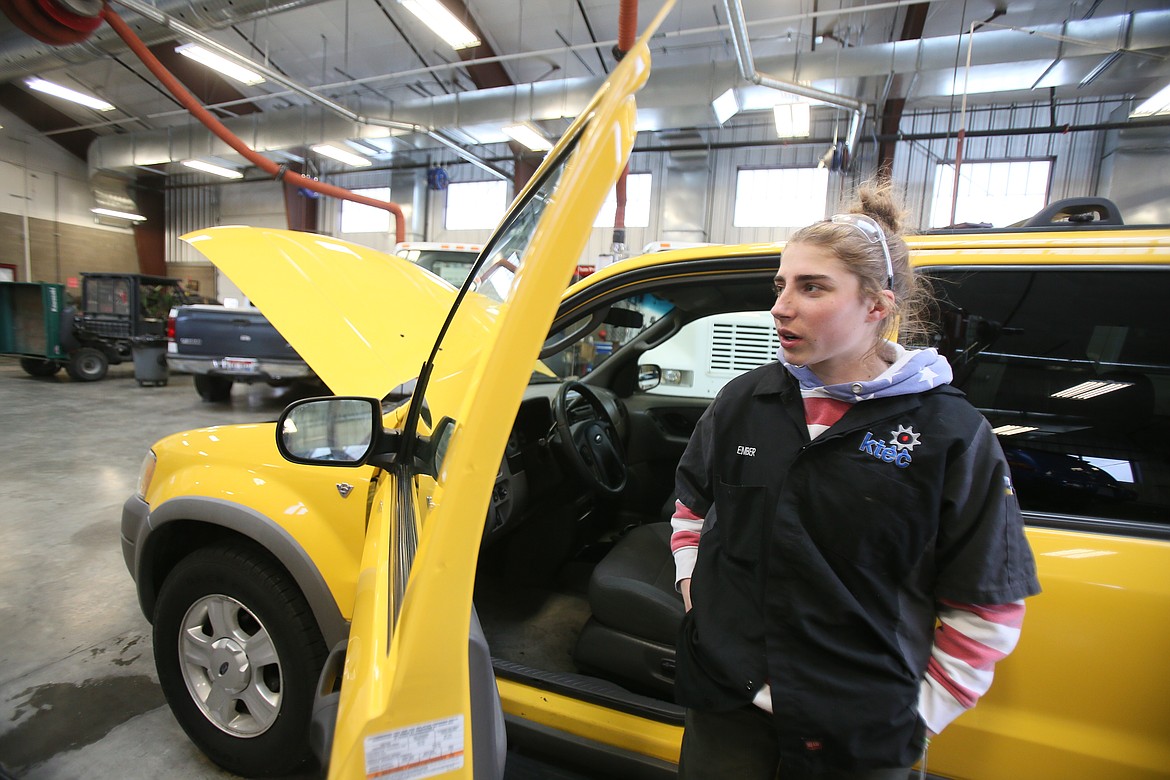 KTEC student Ember Techau, a Timberlake junior, on Wednesday discusses working on the vehicle that went to a young mom through a new program launched by KTEC, Charity Reimagined and community partners. "To be able to give to somebody who's in need and just can't quite afford what exactly they need, I think it's awesome," she said.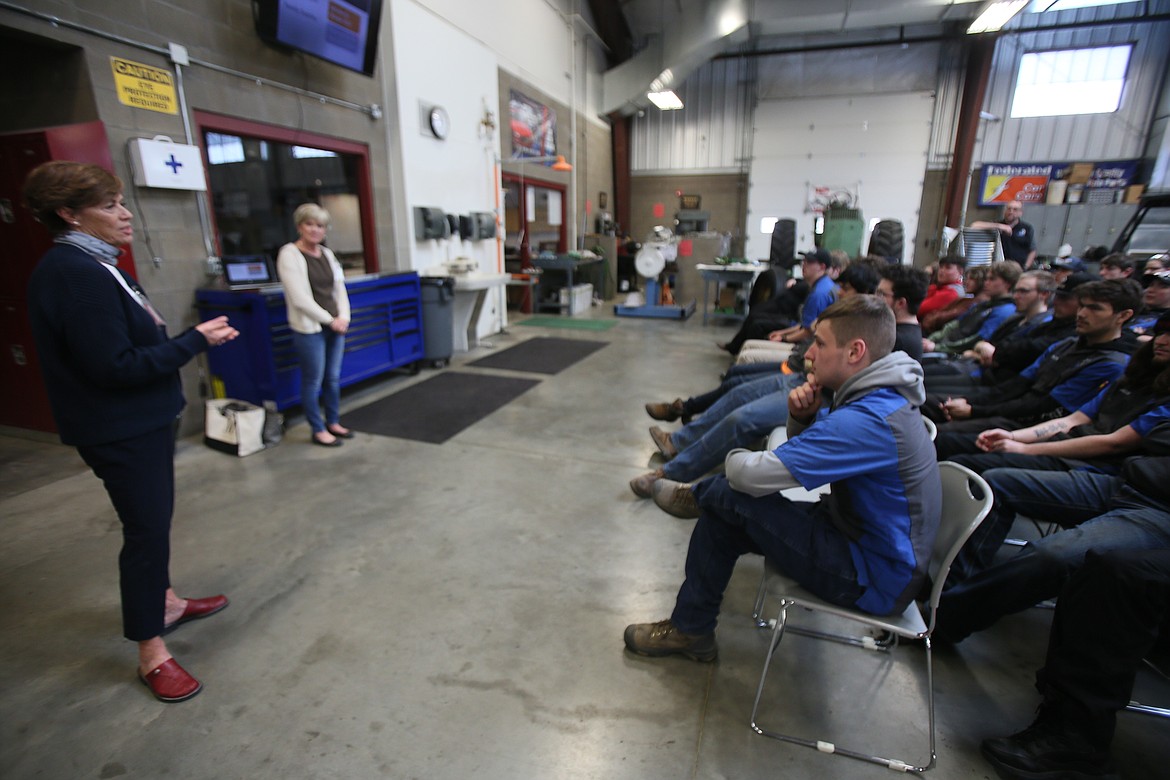 Debra Stoenner of Charity Reimagined speaks to Kootenai Technical Education Campus auto and diesel students Wednesday about a new innovative program that will use talents of KTEC students and donations from the community to make a difference in the lives of people with transportation challenges.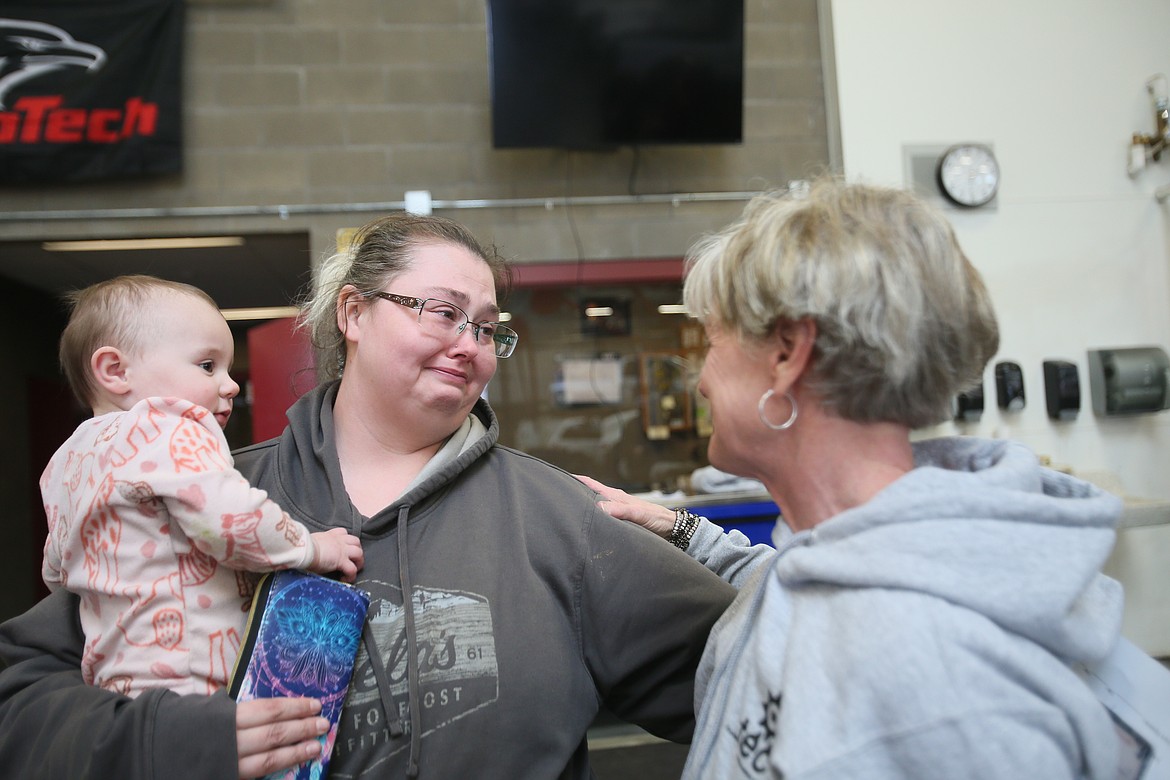 Charity Reimagined founder Maggie Lyons on Wednesday hugs Natausha Green and daughter Meadow after Green received the title to a 2002 Ford Escape through a new affordable car program launched by Charity Reimagined and KTEC.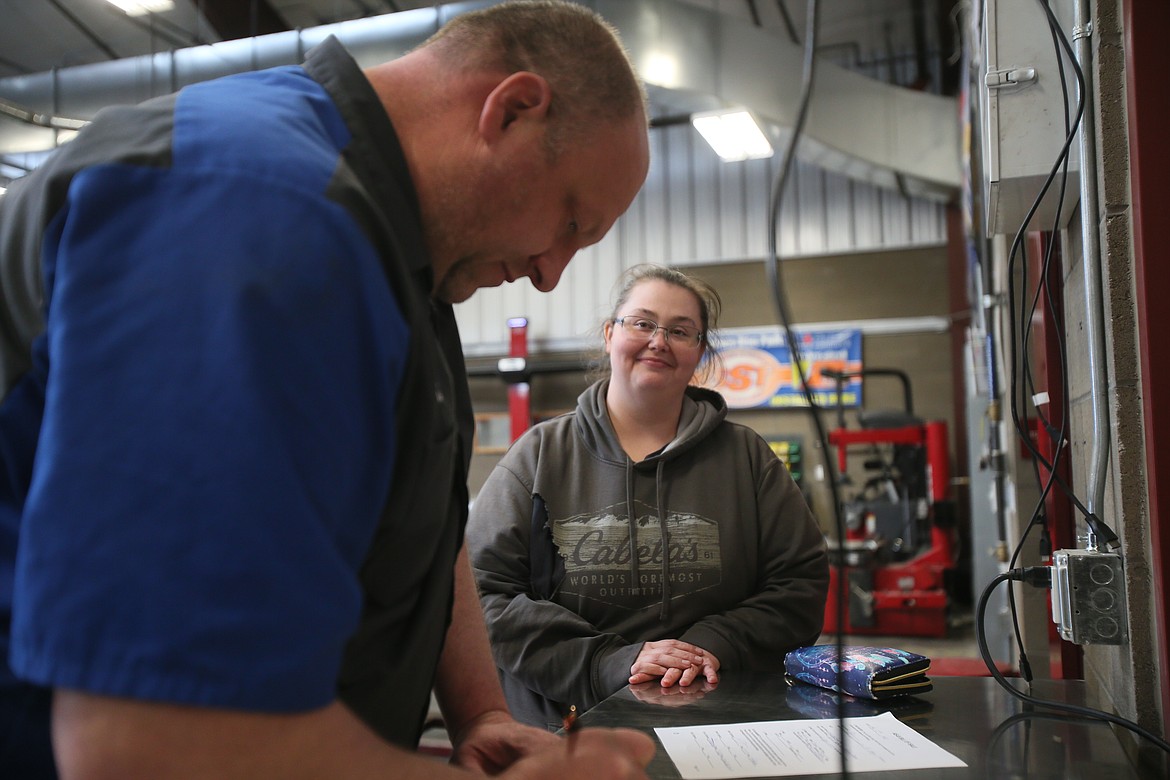 Natausha Green and KTEC auto instructor TJ Robertson fill out paperwork Wednesday before Green goes home with a vehicle she is buying through a new vehicle exchange program that will help people acquire vehicles at the price of parts, with repairs done by KTEC students to give them experience as they make the vehicles road ready.
Previous
Next
by
DEVIN WEEKS
Staff Writer
|
April 13, 2023 1:08 AM
With happy honks and a wave, Natausha Green and her baby daughter, Meadow, drove away from Kootenai Technical Education Campus.
In a new car. To a new life.
"This is my fresh start. I've been through a lot," Green said Wednesday, tears on her cheeks. "It truly means the world to me."
Green, 32, of Rathdrum, is the recipient of a sunflower yellow 2002 Ford Escape, the first person to own a car via a new vehicle exchange program that incorporates the hearts and hands of many in the community to lift up others.
"It's a lot of emotion happening," Green said. "I'm excited, nervous."
Charity Reimagined, a nonprofit that works with other nonprofits to more effectively deploy resources and implement innovative ways to help those in need, has partnered with KTEC to launch the car exchange program to help curtail one of North Idaho's ALICE (asset limited, income constrained, employed) population's most common obstacle — transportation.
Through this program, vehicles in need of repairs and donated to KTEC for students to gain experience repairing will be made available, once road-ready, to be bought by qualifying individuals who are clients of Charity Reimagined's referring partners. For the cost of parts, these individuals will have opportunities to make payments and own reliable vehicles that will get them to work, school and doctor appointments without having to worry about bald tires, leaking oil, bad brakes and other issues that accompany many older, less-dependable vehicles.
Charity Reimagined founder Maggie Lyons has spoken to local industry leaders Eve Knudtsen of Knudtsen Chevrolet and Mike White of Mike White Ford.
"Both are on board to lend their expertise and influence in support of this," she said.
Another community partner, Les Schwab, will help with tire needs.
Green has worked with Nurse-Family Partnership through Panhandle Health since she was pregnant with Meadow, who is now 15 months old. Past traumas and health challenges have long been a part of their lives and continue to cause heartache.
"My daughter is in kidney failure," Green said. "We're getting better. We were Life Flighted in December. I'm also getting out of a domestic violence situation."
Green traded a truck and camper she had purchased by herself for a van that should have been more ideal for driving with an infant.
"It was starting to have problems, so Charity Reimagined reached out and said that they would take a look at it," she said. "We found out it was completely unsafe for my daughter to be in. It's been nothing but dealership problems."
Wendy Williams, a registered nurse and Green's referring partner, was one of several present at KTEC as Green gave her down payment and took ownership of her new car.
"Charity Reimagined, they have boosted some of our clients over hurdles that opened up so many opportunities for them to move on with their lives and be successful," Williams said.
She spoke of the work Charity Reimagined has done with Press Christmas for All, which shifted its impact of giving in 2019.
"They have done amazing things for some of our clients that just needed that little boost — hard-working people," she said.
She said it was emotional to see Green receive her vehicle through the new program.
"She's been through so much," Williams said. "This is the first big positive thing that's happened in her life in a long time, and it's going to be the first in many positive things that are going to just build on each other. Now she has safe transportation to get to her daughter's medical appointments, which was huge for her."
Earlier in the day, Lyons and board member Debra Stoenner spoke to KTEC auto and diesel students about the program launch and the legacy they are creating.
"You guys are on the ground floor of something really big," Stoenner said.
Students spent about two weeks repairing the Escape, which was donated to KTEC by community members. The young mechanics were elated to know their work will help Green and her daughter in their journey toward a better life.
"I'm really excited because I like to do just little things in general, just to brighten people's day, give flowers to people," said Timberlake High School junior and KTEC diesel tech student Ember Techau. "I just like to see people smile, and I know nowadays that the market is up and crazy. To be able to give to somebody who's in need and just can't quite afford what exactly they need, I think it's awesome. And we also get the opportunity to work on vehicles, and it's fun to think you fixed a car and then somebody's out driving it and doing everyday things."
Zack Kuenkler, a Lakeland High junior and KTEC student, echoed the excitement.
"When Lakeland first introduced KTEC to us, it was kind of like, 'Why wouldn't you do it? This is such a great opportunity,'" he said. "Now that I can help out the community while still helping myself at the same time, it's awesome."
KTEC students have until April 21 to come up with a name for the vehicle exchange program, which will become its own nonprofit and one day will offer dozens of low-cost cars on its own car lot. Students have also been tasked with creating a logo.
"There are seven vehicles in the shop currently that are donated to KTEC from someone in the community who may have gotten the good miles out of them, but it gives us an opportunity to work on them, bring them back to life and possibly extend that goodwill onto someone who needs a vehicle," diesel instructor John Mackesy said to the students.
"The idea here is to pay it forward … as we become successful in our lives, it's a good idea to give back a little bit," he said. "Everybody sometimes needs a little help, a little hand up somewhere along the line. This is our opportunity to extend that hand to someone who needs a little help."
Recent Headlines
---