PREP ROUNDUP: Lake City stays tied for first in IEL, downs Coeur d'Alene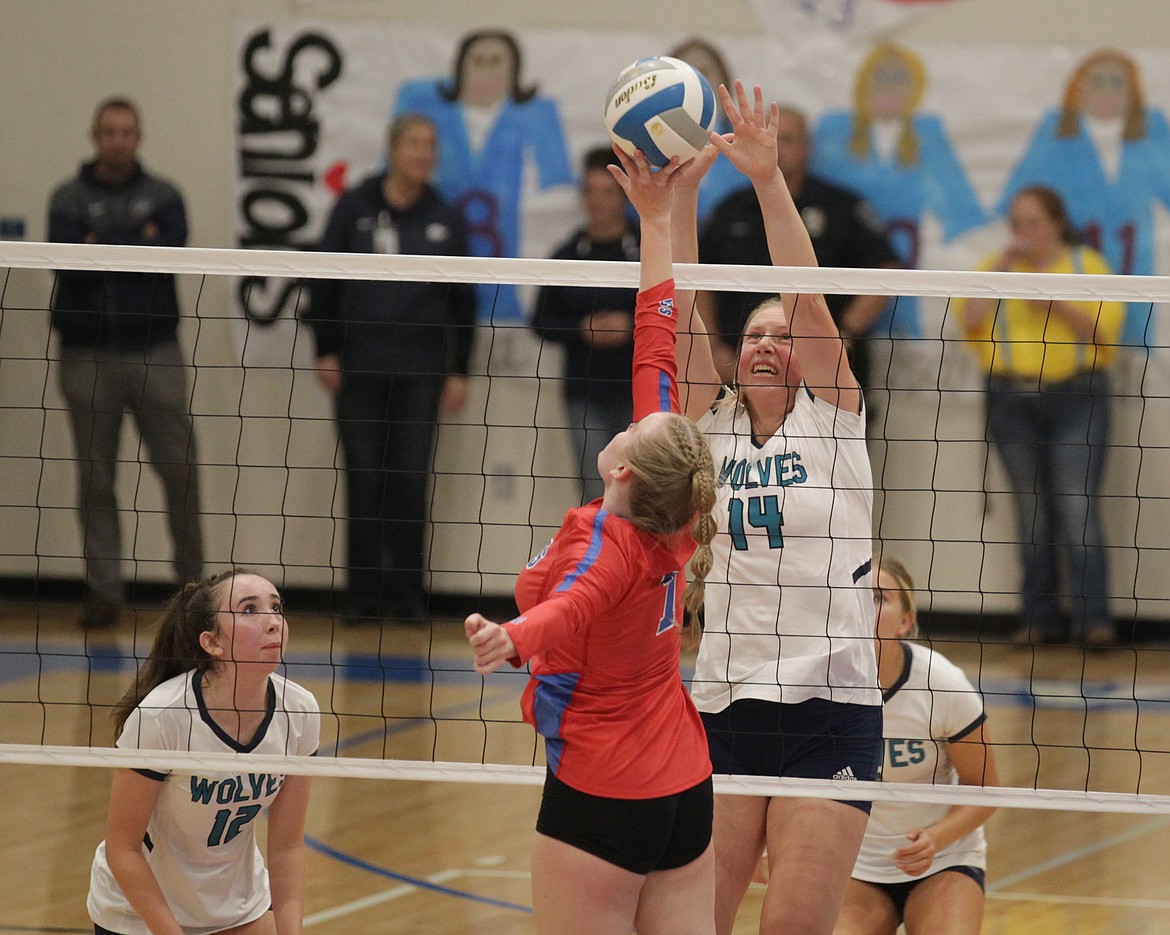 MARK NELKE/Press Emberlyn Reynolds (14) of Lake City attempts to block the tip of Bailey Jaworski of Coeur d'Alene on Thursday night at Coeur d'Alene High.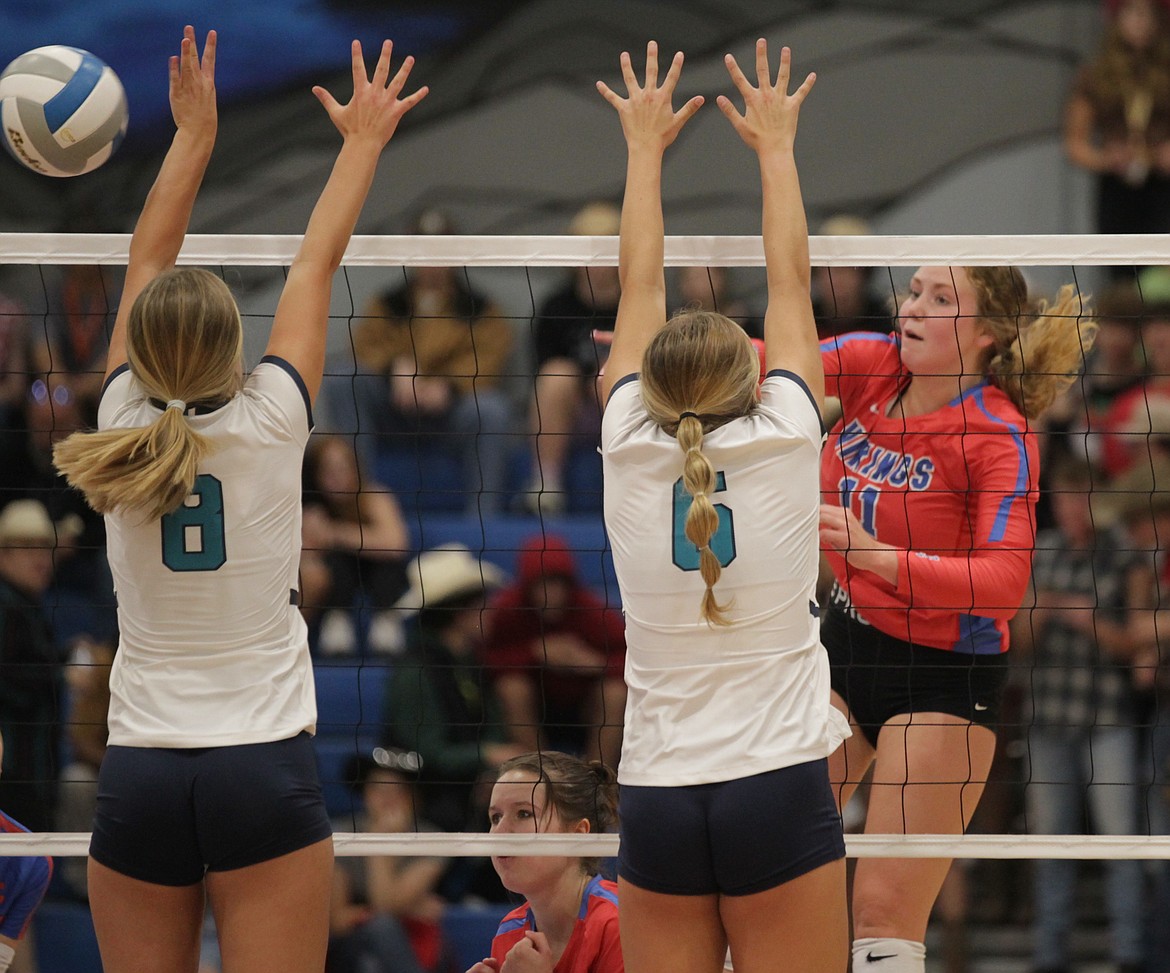 MARK NELKE/Press Madi Symons of Coeur d'Alene hits past the block of Dorie Kiesbuy (8) and Ella Hosfeld (6) of Lake City on Tuesday night at Coeur d'Alene High.
Previous
Next
|
September 30, 2022 1:30 AM
• VOLLEYBALL
COEUR d'ALENE — Aubrey Stennett had 13 kills and 21 assists as the visiting Lake City Timberwolves remained tied for first in the Inland Empire League with a 25-10, 25-18, 22-25, 25-17 victory over the Coeur d'Alene Vikings on Thursday night at Viking Court.
Ella Hosfeld added 23 assists, 15 digs and three aces for Lake City (15-3, 6-1), which is tied with Post Falls (21-5, 6-1) for the league lead, each with two matches remaining. Payton Peugh had 10 digs, Allie Bowman 28 assists, Emberlyn Reynolds two blocks.
"Playing at Coeur d'Alene is always a tough game," Lake City coach Michelle Kleinberg said. "They made some great adjustments from our matchup last week (a 3-0 Lake City win). I am proud of our team chemistry and how well we've handled adversity so far. In our league, it could be anyone's game on any given night, so I'm just glad that it was ours tonight."
Madi Symons had 18 kills and two blocks for Coeur d'Alene (15-7, 3-4). Olivia Naccarato added eight kills, four blocks and an ace, Bailey Jaworski 31 assists and 17 digs, Gracie Legg 11 digs.
"I feel like we battled, but Lake City is just really solid on defense," Coeur d'Alene coach Carly Curtis said. "My hitters were fighting for points. They (Lake City) served real well, and got us out of our offense in the first set."
Lake City plays host to Lewiston on Tuesday and Post Falls on Thursday to wrap up the regular season.
Coeur d'Alene travels to Post Falls on Tuesday for the Volleyball for the Cure match for cancer awareness.
Genesis Prep d.
Lakeside
PLUMMER — The visiting and Scenic Idaho Conference-leading Jaguars won their seventh straight match, knocking off Lakeside 25-16, 25-9, 19-25, 25-18 at Ron Miller Court.
Genesis Prep improved to 9-2, 3-0 SIC.
Tylah Lambert had three kills, four aces, seven assists and five digs for Lakeside (2-6, 0-3). Kimberly Pluff had four kills, four aces and nine digs, and Arianna Havier-Gorr had three kills, 18 digs and 100 percent serving.
"We are definitely improving as the season progresses, and I am very proud of how the girls played tonight," Lakeside coach Te'a Kolar said.
Lakeside plays at Wallace on Tuesday.
Genesis Prep travels to Clark Fork on Thursday.
Wallace d.
Clark Fork
WALLACE — Britany Phillips had 10 kills as the host Miners outlasted the Wampus Cats 25-19, 25-17, 12-25, 18-25, 15-13 in a nonleague match at Kirby Krulitz Court.
Aubrey Birdsell had 20 assists, Kynadee Gilmore five aces, Tia Hendrick four blocks for Wallace (6-5), which plays host to Lakeside on Tuesday.
Kellogg d.
Priest River
KELLOGG — Abby Neff had eight kills and 20 assists as the Wildcats beat the Spartans 25-15, 15-25, 25-23, 25-17 in Central Idaho League play at Andrews Gymnasium.
Maddie Cheney added eight kills, five blocks and four aces, and Macy Jerome had 15 digs for Kellogg (9-4, 4-1 CIL), which plays host to league-leading St. Maries (11-6, 5-0) on Tuesday.
Priest River is 3-6, 0-5.
• BOYS SOCCER
Post Falls 2
Lewiston 0
LEWISTON — The visiting Trojans scored once in each half to beat the Bengals in an Inland Empire League match at Walker Field.
Post Falls (2-6-1, 2-4-1 IEL) visits Coeur d'Alene on Monday.
Timberlake 2
Bonners Ferry 1
BONNERS FERRY — Gavin Mooney scored on a header in the 46th minute for the Tigers, who held off the Badgers in an Intermountain League match.
Maxon Thaxton, who assisted on Mooney's second half goal, scored in the 30th minute for Timberlake (8-2-1, 7-0-1 IML), which hosts St. Maries on Tuesday.
Eli Newell scored in the 39th minute for Bonners Ferry (9-2-1, 6-2-0).
First half — 1, TL, Mason Thaxton (unassisted), 30:00. 2, BF, Eli Newell (unassisted), 39:00. Second half — 2, TL, Gavin Mooney (Thaxton), 46:00.
Shots on goal — not reported.
Saves — TL, Nate Anderson 6; BF, unknown.
• GIRLS SOCCER
Lewiston 5
Post Falls 0
POST FALLS — The host Trojans fell to 0-11-1, 0-7-0 in Inland Empire League play following a loss to the Bengals (6-4-2, 3-2-0).
Post Falls hosts Coeur d'Alene on Monday.
Timberlake 4
Bonners Ferry 2
BONNERS FERRY — Further details were not available.
• FOOTBALL
Wallace JV 54
Kootenai 18
HARRISON FLATS — Freshman quarterback Riley Ausman scored on runs of 55 and 2 yards for the Warriors in a loss to the Miners.
Freshman Michael Nyman scored on an 85-yard run to give Kootenai a 12-0 lead in the first quarter, and he also intercepted a pass in the second half.
"We looked a lot better and things are starting to come together," Kootenai coach Jake Pfeiffer said. "We were down a few players and if we wouldn't have made some mistakes, we might have had a chance. But we're definitely getting better and made some plays tonight."
Kootenai (0-6) hosts the Mullan/St. Regis JV on Oct. 14.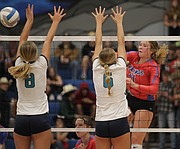 Recent Headlines
---