PREP ROUNDUP: Lakeland wraps up No. 1 seed to regionals
JASON DUCHOW PHOTOGRAPHY Ziya Munyer of Lakeland hits away against Sandpoint on Tuesday night at Hawk Court in Rathdrum.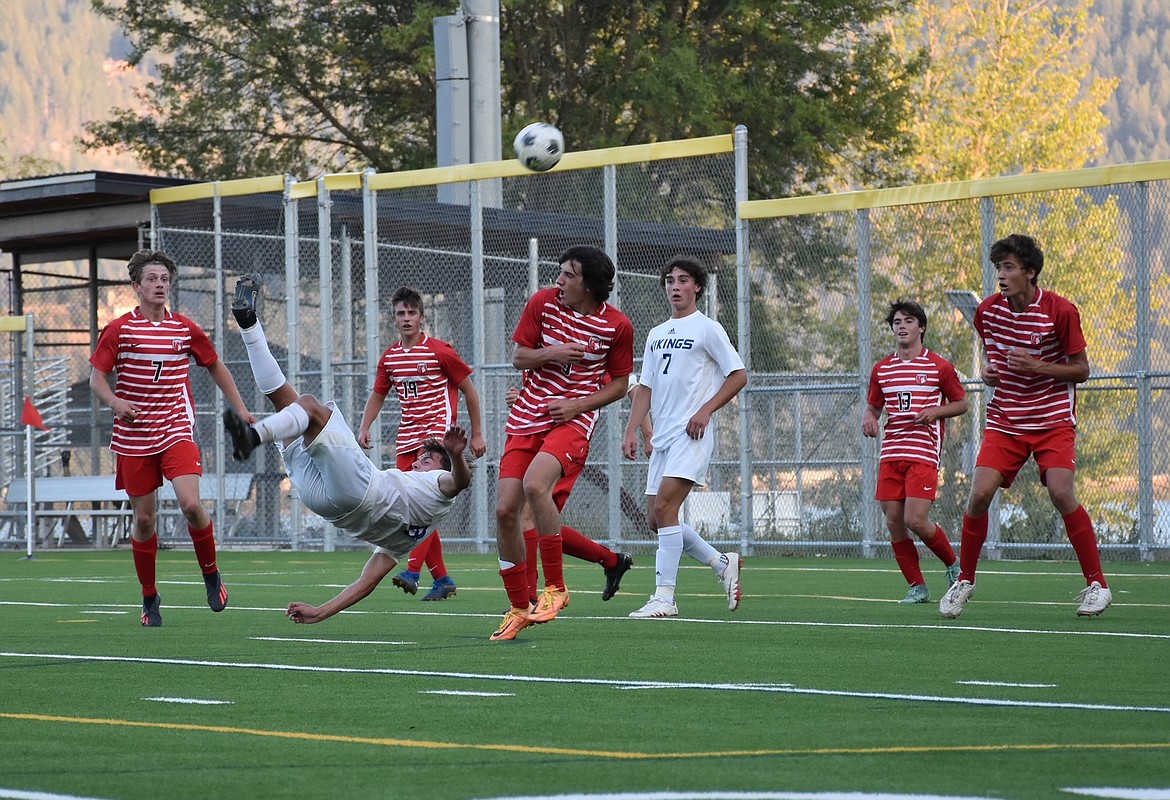 Photo courtesy of ANNE DICKINSON Coeur d'Alene senior midfielder Cooper Prohaska (8) kicks the ball through the Sandpoint defense during a nonleague match at Memorial Field on Tuesday.
Previous
Next
|
September 28, 2022 1:15 AM
• VOLLEYBALL
RATHDRUM — Libero Ellie Carlson, one of four players honored on senior night, had 17 digs as the Lakeland Hawks swept the Sandpoint Bulldogs 25-18, 25-19, 25-20 in Inland Empire League play Tuesday night at Hawk Court.
Ella Terzulli and Olivia Zazuetta had 16 assists each for Lakeland (16-6, 5-1 IEL), which clinched the No. 1 seed to the 4A Region 1 tournament, and will host the regional championship match. Senior Addie Raebel had seven kills, Ziya Munyer six blocks, senior Kenna Simon four blocks, senior Emily Morlan one ace.
"Our four seniors had a great senior night," Lakeland coach Kelsie Badger said. "It was an emotional night but we were able to stay pretty level and work through the emotions. I'm proud of their teamwork and energy. Ella and Liv were able to mix up the sets and all our hitters did a good job putting the ball away with our senior outside hitter, Addie Raebel, leading the team in kills. Ellie Carlson was on fire picking up some tough hits and Kenna helping the team with blocks. Emily served aggressively, keeping them scrambling to get a good pass."
Lakeland plays Post Falls and Mt. Spokane today in a tri-match at Post Falls High.
Sandpoint is 1-9, 0-5.
Post Falls d.
Lewiston
LEWISTON — Lexi Norisada had 20 digs, Vanessa Kison 19 for the visiting Trojans, who toppled the Bengals 25-17, 29-27, 23-25, 25-18 in Inland Empire League play.
Kylie Munday had 18 kills, 22 assists and six aces for Post Falls (20-4, 5-1 IEL). Trinity Byrne had 11 kills and three aces, Kaelyn Nagel 22 assists, Jenna Sarff three blocks.
Lewiston is 2-8, 1-5.
Post Falls plays host to Lakeland today at 4 and to Mt. Spokane at 7.
Coeur d'Alene d.
Moscow
COEUR d'ALENE — Madi Symons had 28 kills and 16 digs, and the Coeur d'Alene Vikings started strong en route to a 25-9, 25-18, 14-25, 25-20 Inland Empire League victory over the Moscow Bears at Viking Court.
"It's senior night, and I guess our seniors meant some business because we came out and played amazing … and it caught Moscow off guard a little bit," Coeur d'Alene coach Carly Curtis said.
Olivia Naccarato and Paisley Goings had nine kills each for Coeur d'Alene (15-6, 3-3 IEL). Naccarato and Kiley Hart had three blocks each, Bailey Jaworski 41 assists, Gracie Legg 30 digs.
"I think we were really clean in our first set," Curtis said. "Really impressed with our middles,
Olivia, Kiley and Gia (Janke). Their blocking was efficient, and offensively they did a really good job. Gracie, our libero, played incredible … and Bailey did a great job setting."
Moscow is 4-8, 2-4.
Coeur d'Alene plays host to Lake City on Thursday on Middle School Night. As part of the evening, the Vikings will be promoting and having a fundraiser for Kid Centric Sports Association. KCSA provides opportunities in sports and healthy activities for youth of all ages and abilities with a focus on underserved youth in North Idaho.
St. Maries d.
Priest River
PRIEST RIVER — Ava Stancil had nine kills, Stacie Mitchell seven kills for the Lumberjacks in a 25-15, 25-19, 25-17 win over the Spartans in a Central Idaho League match.
Lily Daniel had 27 assists, Berkli McGreal eight digs and MIa Asbury five aces for St. Maries. Stancil and Tayla Janssen had one block each for St. Maries (11-6, 5-0 CIL), which competes in the Pea and Lentil Spike-Off on Saturday at Genesse High.
Priest River is 3-5, 0-4.
Genesis Prep d.
Wallace
POST FALLS — Shayla Hill had seven kills, eight digs and two aces for the Jaguars in a 26-24, 25-18, 21-25, 18-25, 15-12 win over the Miners in a Scenic Idaho Conference match at The Courts.
Bella Anderson had five aces, four kills and six digs, Madi Cooper three aces, six kills and seven digs, Camryn Nichols seven kills and five blocks, Katie Plummer 17 digs and four aces and Laya Daniels five blocks and three kills for Genesis Prep (7-2, 2-0 SIC).
"This was a great start to our week," Genesis Prep coach Paula Thurston said. "We started the match slow the first set and climbed out of a hole we had found ourselves in."
The match was delayed due to a rollover accident on I-90 earlier on Tuesday.
"Wallace put up a good fight and did not give up," Thurston said. "There were lots of great rallies, and both teams won and lost some. It was a fight to the finish in each set of the match. I'm so proud of the girls for coming together as a team. When they were frustrated, they stuck together to finish it together."
Clark Fork d.
Kootenai
CLARK FORK — Callie Smith and Kaylee Lupo had three digs each for the Warriors, who lost to the Wampus Cats 25-5, 25-9, 25-8 in a North Star League match.
"The girls had some great plays tonight," Kootenai coach Lacey Bohannon said. "Their coverage and serving continues to get better every game. We definitely have things that will continue to be worked on, but there's always progress."
Hannah Stiles had two digs and Lupo, Tuesday Glessner and Kiera Bohannon one dig each for Kootenai (0-9, 0-2 NSL), which travels to Mullan on Thursday.
Clark Fork is 5-3, 2-0.
Lakeside d.
Mullan
MULLAN — Tylah Lambert had 10 kills, 10 digs, seven assists and two aces as the visiting Knights downed the Tigers 22-25, 25-18, 25-14, 27-25 in nonleague play at the Mullan Pavilion.
Arianna Havier Gorr added six kills, 15 digs, three assists and two aces for Lakeside (2-5).
Martina Rivera had seven kills, three aces, 16 assists and 11 digs, Kimberly Pluff seven kills and 11 digs.
"The girls started out a little slow, but they stepped up and played their game," Lakeside coach Te'a Kolar said.
Lakeside plays host to Genesis Prep on Thursday.
• BOYS SOCCER
Coeur d'Alene 1
Sandpoint 1
SANDPOINT — Liam Martin scored in the 31st minute for the Vikings in a nonleague draw with the Bulldogs at Memorial Field.
"We knew we would have to step up, or they would walk all over us," Coeur d'Alene coach Braden Ridgewell said.
Sandpoint evened the score on a goal by Eoin Eddy in the 61st minute.
Coeur d'Alene (6-1-2) hosts Moscow on Saturday.
Sandpoint (8-0-3) hosts Lakeland tonight.
First half — 1, Cd'A, Liam Martin (unassisted), 36:00. Second half — 2, Spt, Eoin Eddy (Randy Lane), 61:00.
Shots on goal — Cd'A 5, Spt 9.
Saves — Cd'A, Dylan Jones 4; Spt, Roman Jiles 3.
• GIRLS SOCCER
Sandpoint 1
Coeur d'Alene 0
COEUR d'ALENE — The Vikings turned the ball over at the top of the 18 early in the second half and Kelsey Cessna scored the game's lone goal for the Bulldogs on senior night on the football field at Coeur d'Alene High.
"The second half we played well, we controlled the game; they just capitalized on a mistake," Coeur d'Alene coach Andy Vredenburg said. "Really proud; the girls could have let down, but fought back, had a lot of opportunities, just couldn't finish."
Coeur d'Alene plays at Moscow on Saturday.
Sandpoint is 6-4-2.
First half — none. Second half — 1, Spt, Kelsey Cessna (unassisted), 46:00.
Shots on goal — Spt 5, Cd'A 12.
Saves — Spt, Lilliana Brinkmeier 12; Cd'A, Jay Ziegler 4.
Timberlake 2
Post Falls 2
SPIRIT LAKE — Sophomore Lucy Simpson scored two goals for the Tigers in the first half, but a penalty kick score by senior Teagan Chatterton in the 58th minute was the difference in a nonleague draw at Van Tuinstra Memorial Field.
"It was good to play Post Falls," Timberlake coach Steve Michael said. "We moved the ball around well and had some missed opportunities. It was a good game and we had some positive building moments."
Senior Tapanga Rojas had five saves for Timberlake (5-5-1), which travels to Grangeville today.
Sophomore Ellie McGowan had 15 saves for Post Falls (0-10-1), which hosts Lewiston on Thursday.
"She was a beast and was just in the right place at the right time," said Michael of McGowan. "She played a great game. I'm glad she's not in our league."
First half — 1, TL, Lucy Simpson (Alexis Sturgill), 21:00. 2, TL, Simpson (unassisted), 29:00. 3, PF, Jaina Grothe (unassisted). 35:00. Second half — 4, PF, Teagan Chatterdon (penalty kick), 58:00.
Shots on goals — PF 6, TL 18.
Saves — PF, Ellie McGowan, 15; TL, Tapanga Rojas 5.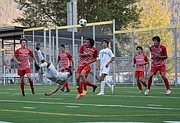 Recent Headlines
---