Cd'A Chamber: A voice for public policy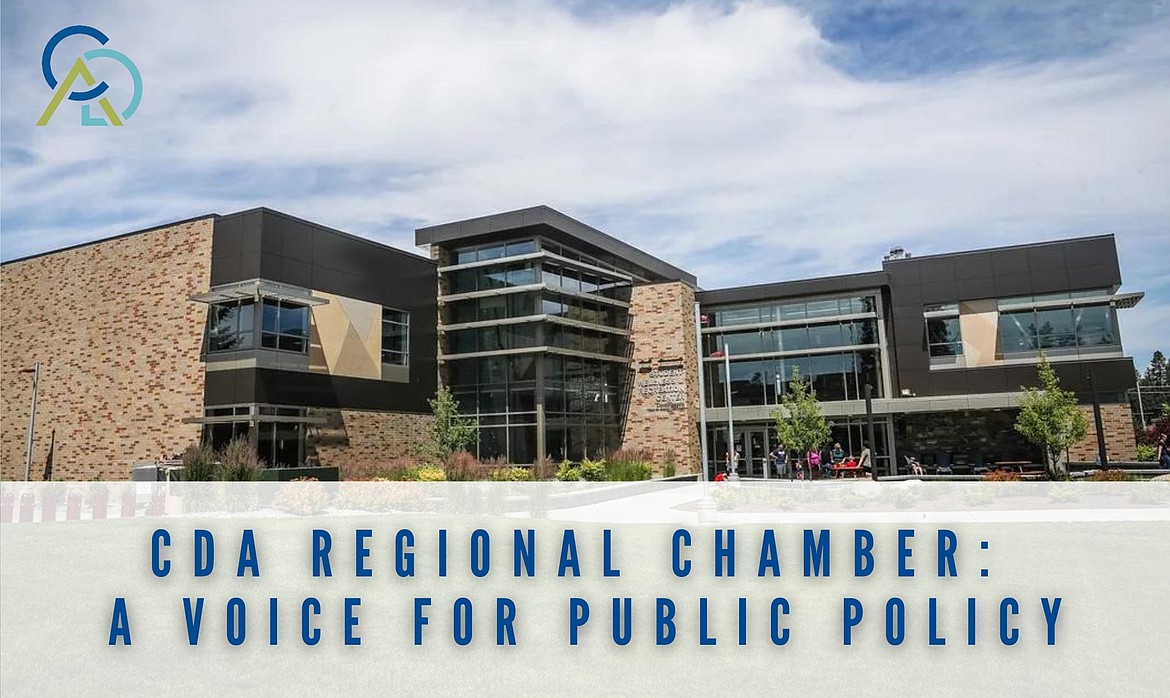 Coeur d'Alene Chamber of Commerce
Courtesy photo
by
LINDA COPPESS/Special to The Press
|
September 25, 2022 1:00 AM
Fall is quickly approaching, and along with it comes election season. The people elected into office this November could significantly alter our economic landscape, through potential changes to education, housing, and other areas that could have a lasting impact on business growth and economic success.
Our CDA Regional Chamber is proudly partnering with all Chambers of Commerce in Kootenai County through our joint public policy committee to be a voice for business and we encourage you to use your voice and vote. We advocate for business growth, a strong economy, and preserving our beautiful North Idaho quality of life. We need to see a record number of voters this November.
What's at Stake?
Public policies handed down through governmental elections impact our lives on many levels. These initiatives can affect businesses directly, such as through minimum wage laws. Other ordinances might not seem as impactful in the short term but can produce a serious long-term influence.
For example, key candidates on this ballot could change the face of education in our community. Educational policy has the power to create positive or negative repercussions in the lives of our students, our future workforce. This has a direct impact on the economic welfare of our local economy, and therefore the success of our businesses.
What Can You Do?
Your vote matters. Your freedom to vote is both a privilege and a right. Exercise your right responsibly by doing the work to understand each candidate's position on important issues that will impact our quality of life.
At the Coeur d'Alene Regional Chamber we share a vested interest in the well-being of our beautiful region. Here are some things you can do to prepare for the upcoming election:
Stay Informed. For more information regarding the upcoming election, find the 2022 Idaho voters pamphlet. There are many resources online as well that can help further your understanding of what is on the ballot and why it matters.
Get Out and Vote. Election Day is Nov. 8. Go to the polls that day to vote in person or request an absentee ballot here (or online at voteidaho.org). Requests for absentee ballots can be dropped off, mailed, emailed or faxed to the county elections office. The last day to request an absentee ballot is Oct. 28 at 5 p.m.

For votes on an absentee ballot to count, the completed absentee ballot must be received by the county Elections Office by 8 p.m. on Election Day, Nov 8. Completed ballots can be dropped off or returned by mail.
Early in-person voting will be available at the county Elections Office from 8 a.m. to 5 p.m., Oct. 24 through Nov. 4.
Kootenai County Elections
Physical Address: 1808 N. Third St., Coeur d'Alene
Mail: P.O. Box 9000, Coeur d'Alene, ID 83816
Email: kcelections@kcgov.us
Phone: 208-446-1030
Fax: 208-446-2184
Our mission is truly our members. We are the voice of business and would love to have you on our public policy committee. As always, please join us at all of our upcoming events:
NIC BOARD OF TRUSTEES CANDIDATE FORUM — Wednesday, Oct. 5 Schuler Auditorium, North Idaho College 5:30-7:30 p.m. Hear directly from the candidates running in zones 1, 2 and 5. RSVP here.
UPBEAT BREAKFAST — Tuesday, Oct. 11, 2022, The Coeur d'Alene Resort 7-8:30 a.m You don't want to miss this valuable, monthly networking event! Register here.
NAVIGATING THE GROWTH OF KOOTENAI COUNTY — Friday, Oct. 21, 2022, The Best Western Plus Coeur d'Alene Inn, 8-11 a.m. Get informed by an all-star lineup of experts in Kootenai County. Register here.
These events can be found at cdachamber.com.
Recent Headlines
---