PREP ROUNDUP: Lakeland sweeps Sandpoint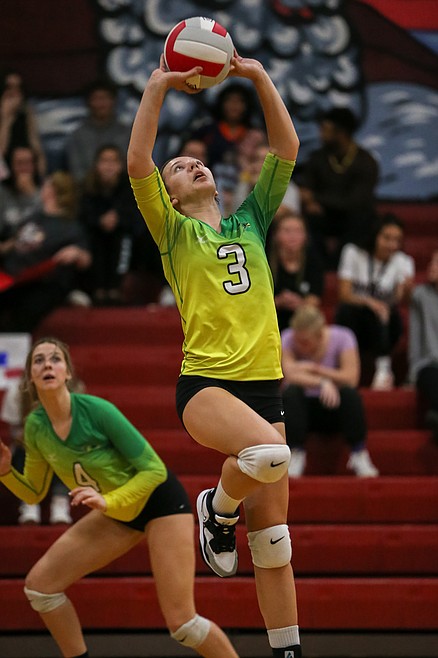 JASON DUCHOW PHOTOGRAPHY Ella Terzulli of Lakeland sets as teammate Layla Benson watches Thursday night at Sandpoint.
|
September 23, 2022 1:15 AM
• VOLLEYBALL
SANDPOINT — The Lakeland Hawks extended their winning streak to 10 straight matches with a 25-19, 25-23, 25-14 victory over the Sandpoint Bulldogs in Inland Empire League play Thursday night at Les Rogers Court.
Addie Raebel had 10 kills for Lakeland (15-6, 4-1 IEL). Ziya Munyer had nine kills and seven blocks, Kenna Simon nine kills and five blocks, Olivia Zazuetta 17 assists and three aces, Ella Terzulli 18 assists, Ellie Carlson 14 digs, Addie Hocking 12 digs.
"We started slow, but finished strong," Lakeland coach Kelsie Badger said. "We've had some players step up the last couple of matches with Lila Kiefer out due to an ankle sprain. We made a lot of unforced errors, but battled back every time. Ziya Munyer had another big night, both with kills and blocks."
Sandpoint is 1-8, 0-4.
"Lakeland has some pretty big hitters and a pretty good libero, so if we don't serve tough and hit tough at them, they can do some damage," Sandpoint coach Karen Alsager said.
Lakeland plays at the Linda Sheridan Classic today and Saturday in Spokane.
Mead d.
Post Falls
SPOKANE — The visiting Trojans won the first set before falling to the Greater Spokane League power Panthers 23-25, 25-22, 25-17, 25-21.
Kylie Munday had 15 kills, 17 assists, seven digs and two aces for Post Falls (14-2). Trinity Byrne had nine kills, Kaelyn Nagel 11 assists, Sam Anderson three blocks, Lexi Norisada 12 digs, Maddie Brazee four aces.
Danikah Johnson had 13 kills and three blocks, Cassie Moeller 11 kills and Romy Tyler 10 kills for Mead. Brielle Wilson had 35 assists and 15 digs, Olivia Paul 15 digs and four of the Panthers' 10 aces.
Post Falls plays at the Crossover Classic tonight and Saturday in Spokane.
St. Maries d.
Orofino
ST. MARIES — Ava Stancil had 12 kills, Tayla Janssen seven for the Lumberjacks in a 25-16, 22-25, 25-20, 25-21 win over the Maniacs in a Central Idaho League match.
Mia Asbury had six kills and three aces, Lily Daniel 34 assists, Berkli McGreal 18 digs, Abbie Wilks 10 digs and three aces for St. Maries (8-3, 4-0 CIL).
"I'm thankful for my team and their ability to really work together on the court," St. Maries coach Rachele Fischer said. "They are doing a great job of celebrating the big and small points. We have everyone contributing on kills, our passing is improving and we are being aggressive with our serving, which has sometimes gotten us in a situation where we had to dig ourselves out of a hole. We are moving in the direction we want to see midway into the season."
St. Maries competes in the Crossover Classic today and tomorrow in Spokane.
Orofino is 3-6, 1-3.
Clark Fork d.
Lakeside
PLUMMER — Arianna Havier-Gorr had 12 kills and 40 digs for the host Knights in a 25-19, 25-22, 25-19 loss to the Wampus Cats in nonleague play at Ron Miller Court.
Kimberly Pluff added 30 digs and 13 kills, Martina Rivera 25 assists and seven kills, and Tylah Lambert 30 assists and 12 digs for Lakeside (1-5), which plays at Mullan on Tuesday.
"The girls played hard, and we are so proud of the growth they have had since the beginning of the season," Lakeside coach Te'a Kolar said.
Genesis Prep d.
Mullan
MULLAN — Kennedy Prendergast had 19 assists, six digs and two blocks for the Jaguars in a 25-16, 25-6, 25-14 nonleague win over the Tigers at the Mullan Pavilion.
Bella Anderson had six digs, five aces and five kills, Madi Cooper five digs, five kills and four aces, Camryn Nichols 10 kills and four aces, Katie Plummer 11 digs and five aces and Shayla Hill five kills and five digs for Genesis Prep (5-2).
"We played great, especially for our third match this week," Genesis Prep coach Paula Thurston said. "Mullan is always scrappy and fights hard. There were some really good rallies, and I'm happy with how the girls were able to finish each one. We were able to try some new things and that was really fun too."
Genesis Prep faces Wallace in a Scenic Idaho Conference match at The Courts in Post Falls on Tuesday.
Wallace d.
Kootenai
HARRISON FLATS — The Miners defeated the Warriors 25-5, 25-8, 25-10 in a nonleague match.
No other information was available.
• BOYS SOCCER
Lake City 5
Post Falls 0
POST FALLS — Bryce Snow recorded a hat trick for the Timberwolves, who scored all five goals in a span of 18 minutes to beat the Trojans in an Inland Empire League match.
"We started the first-half strong on the attack," Lake City coach Kevin Jump said. "We established possession and had some quality shots on goal. Credit to Post Falls for having a stout defense and some great goalkeeping, because it took most of the first half until we scored. Our three seniors provided some excellent leadership, along with some outstanding play in the field."
"We had great possession and were moving the ball really well," Post Falls coach John Mueller said. "It just came down to a simple error. A shot came in and bounced off a patch of grass and went in. They came in hard again after that and caught us trying to orient ourselves and were able to capitalize."
Benji Deming had three saves for Lake City (6-2-1, 5-1-0 IEL), which hosts Lakeland on Monday.
Post Falls (1-6-1, 0-4-1) travels to Lewiston next Thursday.
First half — 1, LC, Bryce Snow (Beckham Dodge), 34:00. 2, LC, Snow (Gavin Schoener), 36:00. Second half — 3, LC, Snow (Dodge), 45:00. 4, LC, Jacob Molina (Connor Jump), 47:00. 5, LC, Kai Delio (Jump), 52:00.
Shots on goal — LC 7, PF 3.
Saves — LC, Benji Deming 3; PF, Dominic Roberts 2.
• GIRLS SOCCER
Lake City 9
Post Falls 0
COEUR d'ALENE — Seniors Elliotte Kortus and Georgia Whitehead recorded hat tricks on senior night for the Timberwolves in an Inland Empire League win against the Trojans at the Irma Anderl Soccer Complex.
Fellow seniors Olivia Azzolini (two goals and an assist) and Regan Cherry (one goal, one assists and Delaney Moczan (two assists) also scored for Lake City.
"A lot of times, on senior night, they can try to force the issue," Lake City coach Matt Ruchti said. "But the girls really played unselfish soccer. The types of goals we scored were the best we've made all season. It was an all-around team effort tonight and I really enjoyed watching them play."
Lake City (10-0-0, 6-0-0 IEL) travels to Lakeland on Monday.
Post Falls (0-9-0, 0-6-0) faces Coeur d'Alene Charter at The Fields in Post Falls on Saturday.
First half — 1, LC, Elliotte Kortus (Georgia Whitehead), 7:00. 2, LC, Whitehead (Delaney Moczan), 23:00. 3, LC, Olivia Azzolini (Kortus), 29:00. 4, LC, Whitehead (Reagan Cherry), 32:00. 5, LC, Kortus (Moczan), 35:00. Second half — 6, LC, Azzolini (Whitehead), 44:00. 7, LC, Whitehead (Kortus), 47:00. 8, LC, Kortus (Azzolini), 60:00. 9, LC, Cherry (MacKenzie Goings), 74:00.
Shots on goal — PF 1, LC 28.
Saves — PF, Ellie McGowan 12; LC, Acaja Scott 1.
Recent Headlines
---