Gridiron Guesses: Numbers add up closer than you think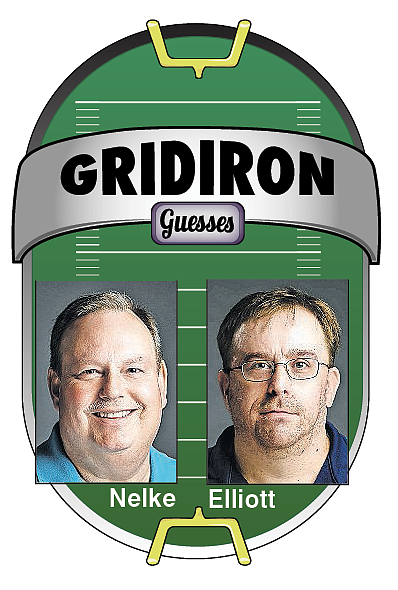 |
September 23, 2022 1:15 AM
By MARK NELKE
and JASON ELLIOTT
Sports writers
Football is a numbers game.
Eventually, if you have enough, it's going to be good for your team.
We're guessing.
With Coeur d'Alene at 65 players on its roster, compared to 36 for Lakeland, you might expect a lopsided game.
Then again, experts don't often add heart to the equation.
"Man, you were way off on that final score," a valued reader told Jason as he made his way to his car last Friday after Coeur d'Alene beat Lakeland 14-13 at Corbit Field in Rathdrum. "I think you might have underestimated the Hawks, buddy."
To be fair, this reader has known Jason since his mother was Jason's fifth-grade teacher at Wallace Elementary School.
But, it's now noted.
Lakeland (4-1) hosts another 5A opponent this week as Post Falls (3-1) visits tonight in the annual Battle for the Prairie football game.
"Hopefully we can get through it fairly healthy," Lakeland coach Mike Schroeder said. "We're in the meat of the schedule, but it's going to be a good test to see where we're at. It's going to be a good barometer for us to find out where we're at in the 4A division."
Post Falls enters on a three-game winning streak after whipping University 41-0 last Friday in Spokane.
Post Falls has won the last eight meetings between the schools, and 12 of the last 13 — with Lakeland's lone win coming at home in 2012.
Woodinville (2-1) visits Coeur d'Alene (2-2) tonight in a nonleague game.
"They're a good football team," Coeur d'Alene coach Shawn Amos said. "We've got to clean a few things up, but they'll be a tough opponent. We're going to have our work cut out for us with them and Union (on Sept. 30) coming up."
Woodinville has won two straight games since an opening game setback to 'Aiea, Hawaii, on Sept. 1.
Lake City (1-3) travels to Moscow (0-4) tonight.
The teams met last year for the first time since 2004, with Lake City winning 26-12. The T-Wolves are 8-0 all-time vs. the Bears.
Last year's game between Timberlake (2-1) and St. Maries (0-3) was canceled due to a COVID outbreak within the Lumberjacks program.
Timberlake has won the last two meetings, in 2019 and '20.
As for the picks, Mark and Jason both went 6-0 last week, and are both 22-4 on the season.
Tonight's Games
Woodinville (2-1) at Coeur d'Alene (2-2), 7 p.m.
NELKE: Woodinville has allowed just 15 points total in its last two games, both wins, so this could be another defensive battle for the Vikings.
Coeur d'Alene, 14-13
ELLIOTT: Coeur d'Alene seemed to get some things figured out in the second half of last Friday's game.
Coeur d'Alene, 24-22
Lake City (1-3) at Moscow (0-4), 7 p.m.
NELKE: Lake City has had a hard time stopping teams of late, yielding 104 points in its last two games. But Moscow has allowed an average of 46.8 points in its four losses.
Lake City, 46-22
ELLIOTT: Lake City just has more skill at receiver and running back right now.
Lake City, 34-14
Post Falls (3-1) at Lakeland (4-1), 7 p.m.
NELKE: Lakeland actually played Coeur d'Alene tougher than Sandpoint did. But, in part because another valued reader told us to stop picking the same teams ...
Post Falls, 23-21
ELLIOTT: Lakeland's last win in the series came on a game-winning field goal from a kicker that went on to play at Idaho.
Lakeland, 23-21
Timberlake (2-1) at St. Maries (0-3), 7 p.m.
NELKE: St. Maries is winless, but led 21-16 at Kellogg at halftime last week, before the Wildcats scored 28 unanswered points after intermission.
Timberlake, 38-24
ELLIOTT: Timberlake gets ready for its rivalry game next week with Lakeland with a big win on the road.
Timberlake, 34-12
Clark Fork (2-2, 2-1 North Star League) at Kootenai (0-4, 0-3), 7 p.m.
NELKE: Clark Fork owns one-sided victories over Wallace and Lakeside, who own one-sided wins over Kootenai.
Clark Fork, 54-6
ELLIOTT: Clark Fork might be one of the best teams in the league this year.
Clark Fork, 48-12
Lakeside (1-2, 1-2 North Star League) at Mullan/St. Regis (4-1, 3-0), John Drager Field, Mullan, 3 p.m.
NELKE: Lakeside tries to hang with the Tigers/Tigers, who are still pretty good after losing some key folks to graduation last year.
Mullan/St. Regis, 56-22
ELLIOTT: Mullan might be out to prove something today. Lakeside got its first win in the Tyler Petty era last week at Kootenai.
Mullan/St. Regis, 44-20
Recent Headlines
---