KŌSH
by
TOM RICHARDS/Musician Spotlight
|
September 23, 2022 1:00 AM
Kōsh Shioya came closer than most to the young man's dream of rock stardom.
When his band — and his dream — fell apart, he says that he "lost his identity" and did not perform for more than 10 years. Without that failure, however, he says he would not have ended up in North Idaho living a great life and performing regularly as a solo artist and with several local bands.
Kōsh was born in California to parents who had immigrated from Japan in the mid 1950s. His father was a teacher of traditional Japanese folk music and his mother was trained in Odori, a Japanese folk dance style. His father was part of a group recruited to come to America to work in vineyards in Napa Valley. The immigrants formed a tight-knit community which Koshi Shioya was born into, the youngest child in his family and the only one "made in USA," as his parents would say.
In addition to his community's traditional Japanese music, Kōsh remembers a love of Elvis Presley and the Jackson 5 as a child. (Many of his non-Japanese friends thought that 'Koshi' sounded like a girl's name so he went with the nickname Kōsh which he has used since childhood). His older brother was a fan of heavier rock, leading Kōsh to his first 8-track tape, a Grand Funk Railroad album. KISS released their second live album — "Alive II" — in 1977, which captured Kōsh's imagination. At that moment he decided, "I wanna be a rock star!" and started learning guitar.
Kōsh joined a rock band as a guitarist and singer. His band opened for Tsunami, a Bay Area band that had a contract with Enigma records and had just released a single, "The Runaround," that had made it to No. 60 on the pop charts. Tsunami was moving to L.A. to record their next album when one of their two guitarists quit. The band asked Kōsh if he would like to join them on guitar and backup vocals.
This was a dream come true — at the age of 19 he had been asked to join a band with a hit single and a record contract! Kōsh moved to L.A. with the band, but the group's lead singer never made it, dropping out for personal reasons. The band members moved back to the Bay Area to try and regroup. They recorded two more albums for a smaller record label, but were not able to achieve any further radio success and eventually broke up. Kōsh earned a real estate license and began work as a Realtor. He says that by the mid '90s he had "lost his identity" and stopped performing entirely.
Burned out and looking for a new direction, Kōsh moved to Coeur d'Alene in 2007. He went to work for Century 21 where he was encouraged to play and sing at a company holiday party. One guest at the party worked at The Coeur d'Alene Resort and arranged for him to pick up a few private events at The Resort, which led to a standing gig playing on The Resort's floating stage five nights a week for the next four years. He is now playing regularly at venues around the Coeur d'Alene area as a solo artist as well as playing in two bands. He describes SuperChrome as a "party band" that plays favorites from the past several decades and mainly plays private parties. Paper Flowers is his latest endeavor — a Fleetwood Mac tribute band that recently played a sold-out show at the Jacklin Arts and Cultural Center earlier this month.
Kōsh describes his solo sound this way: "Imagine you are on a tropical vacation at a nice resort and in the corner there is this great-sounding musician…" This description comes from a vacation years ago that Kōsh took to Hawaii where he did in fact hear some great music played by a musician on the corner of a deck. He says that playing solo steadily at The Coeur d'Alene Resort forced him to relearn the art of a solo musician — coming up with new arrangements for acoustic guitar and voice to make the most out of great songs originally recorded by bands.
Kōsh says he has learned to find joy in learning music by other songwriters. On a given night you may hear songs by Pink Floyd, Journey, Dolly Parton, Bob Marley, the Beatles — Kōsh may be the only artist in North Idaho brave enough to tackle a song by Rush as a solo artist!
Kōsh has this to say about his early brush with rock stardom: "If it weren't for this failure, I never would have ended up here." "Here" is North Idaho, where the singer and guitarist has found a home and joy in interpreting great music for new audiences.

Here is where Kōsh can be heard this fall. View the calendar at koshmusic.com for updates:
Wednesday — Seasons of Coeur d'Alene
Thursday — The Red Wheel Bar and Grill, Spokane
Oct. 6 — Chinook Spirits, Coeur d'Alene Casino
Oct. 12, 19 and 26 — Seasons of Coeur d'Alene
Oct. 20 — Cork & Tap, Riverstone
Oct. 28 — The Bee's Knees Whiskey Bar, Hayden
• • •
Tom Richards is a music lover, the lead singer in local blues band Dr. Phil & the Enablers and the owner of The Snake Pit.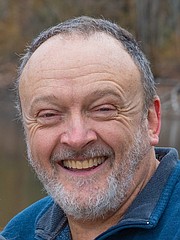 Recent Headlines
---