THE FRONT ROW with MARK NELKE: A walk down memory lane for Lake City High football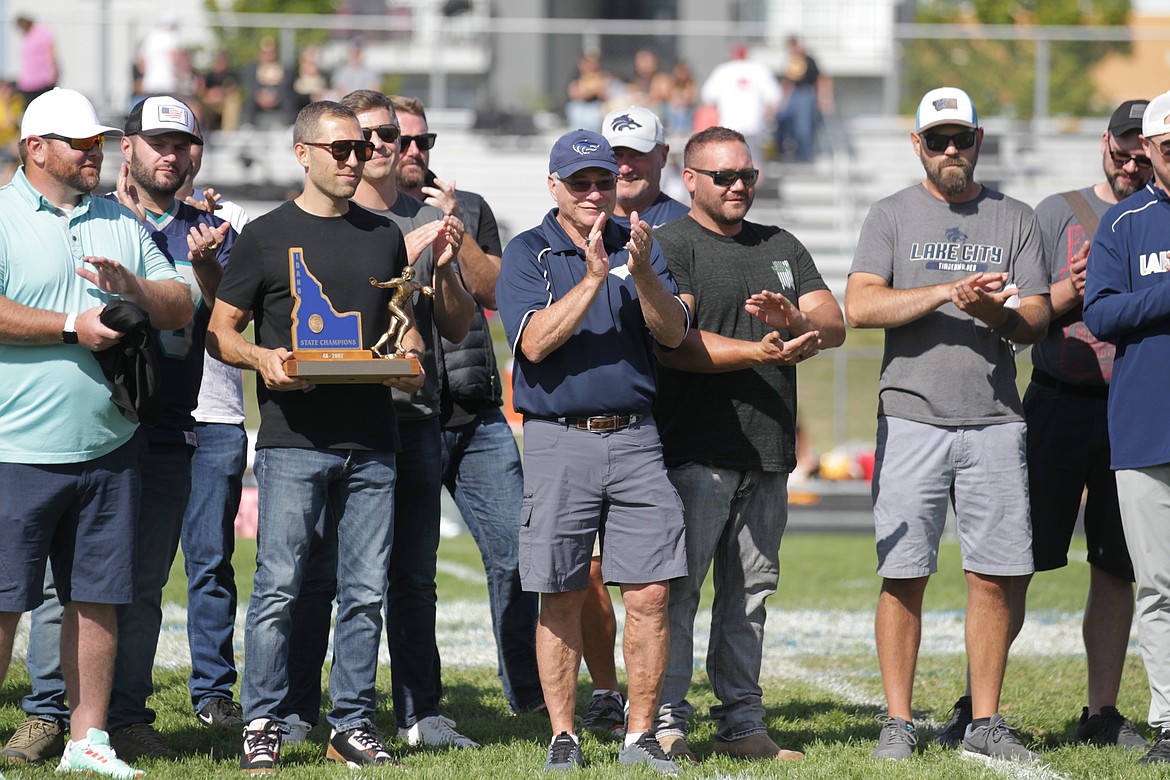 Photo by MARK NELKE The state 4A champion 2002 Lake City High football team, coached by Van Troxel, center, was honored last Saturday at halftime of the Lake City-Bishop Kelly football game in Coeur d'Alene.
|
September 22, 2022 1:30 AM
Van Troxel smiled and clapped as he and a few dozen of his former players strode out to midfield at halftime last Saturday afternoon.
He looked like part proud coach, part proud father as he was surrounded by a couple dozen of his former players, as Lake City High's 2002 football team, a 9-3 squad which captured the first state championship in program history, was honored.
"You walk out there with a special group of young men, maybe not the most talented group in the world, definitely had talent, but we had other teams that were bigger, stronger, this and that, but they just had the right ingredients," Troxel recalled after the game, won by Bishop Kelly 49-14. "They were smart, they had grit. They wouldn't quit no matter what happened out there. It's really a very special feeling. And then, to be able to be back at Lake City High School, that's special, because that's where all the memories were made. Some of the greatest games in North Idaho have been played on this field. It just makes you feel really good to be able to come back and share quality time with such a great group of young men."
Troxel started the Lake City program in 1994, and coached the Timberwolves for 22 seasons.
AS IT turned out, Bishop Kelly and its coach, Tim Brennan, have some history against Troxel and the T-Wolves.
The Knights played at Lake City in the state 4A playoffs in back-to-back seasons. In the quarterfinals in 2000, BK scored a touchdown and two-point conversion in the fourth quarter to tie it up, then won it on a pick-6, 35-28.
"We actually watched the highlights of that game on the way up, on the bus," Brennan said. "We have a DVD of great finishes in our history at BK, and that was one of them."
Brennan and Troxel have been friends for more than three decades, even coached together once in a state all-star game.
But when told that story of the 2000 game, Troxel, still the competitor, replied:
"He didn't talk about the (2001) game though, did he, when they came back up here," Troxel said, referring to Lake City's 40-14 rout in the 4A semifinals. "Our guys talked about it."
THAT ASIDE, Brennan said he was proud to be part of Saturday's event.
"Obviously it's a great honor for him; very deserving of what he has done for Lake City and high school football, and kids through his career," said Brennan, who was able to visit with Troxel before the game, and posed for a picture with him.
Brennan, in his 12th season in his second stint as BK coach, and 27th overall with the Knights, had a heart attack in late April.
"No indication, no family history, nothing," said Brennan, 63. "Happened at school … it was in the morning, before school started, and I just had a chest pain, went by the nurses' office and she took my blood pressure and it was really high. My wife (who works at the school) took me to the hospital, and they said 'Yeah, you had a heart attack' and I had to have open-heart surgery."
IN FALL 2002, when Lake City was winning its first state title in football, Brian Fulp was in the sixth grade at Priest River Elementary School.
Now, he's in his fifth season as Lake City football coach — only the third head coach in program history.
"Coach Troxel addressed the team before the game," Fulp said after the BK game. "I thought that was pretty cool for them to watch him speak … that's when they were really rolling."
Fulp said he hadn't even started playing tackle football at that time.
Fulp was hired as a teacher at Lake City in 2015, Troxel's last year as football coach. Fulp and Troxel coached track and field together in the spring of 2016, and Fulp became only Lake City's third head coach in fall 2018.
"A lot of people think he's a hard-nosed type of guy, that's how he comes across," Fulp said of Troxel. "But he cared about his guys; he made a lot of personal connections, and that's definitely something I try to do.
"And you can see that — a 20-year reunion, and all those guys show up to be with him; that's pretty special," Fulp added. "If I can do that, I would feel pretty good."
Mark Nelke is sports editor of The Press. He can be reached at 208-664-8176, Ext. 2019, or via email at mnelke@cdapress.com. Follow him on Twitter @CdAPressSports.
Recent Headlines
---