Long-ago souvenir brings rush of memories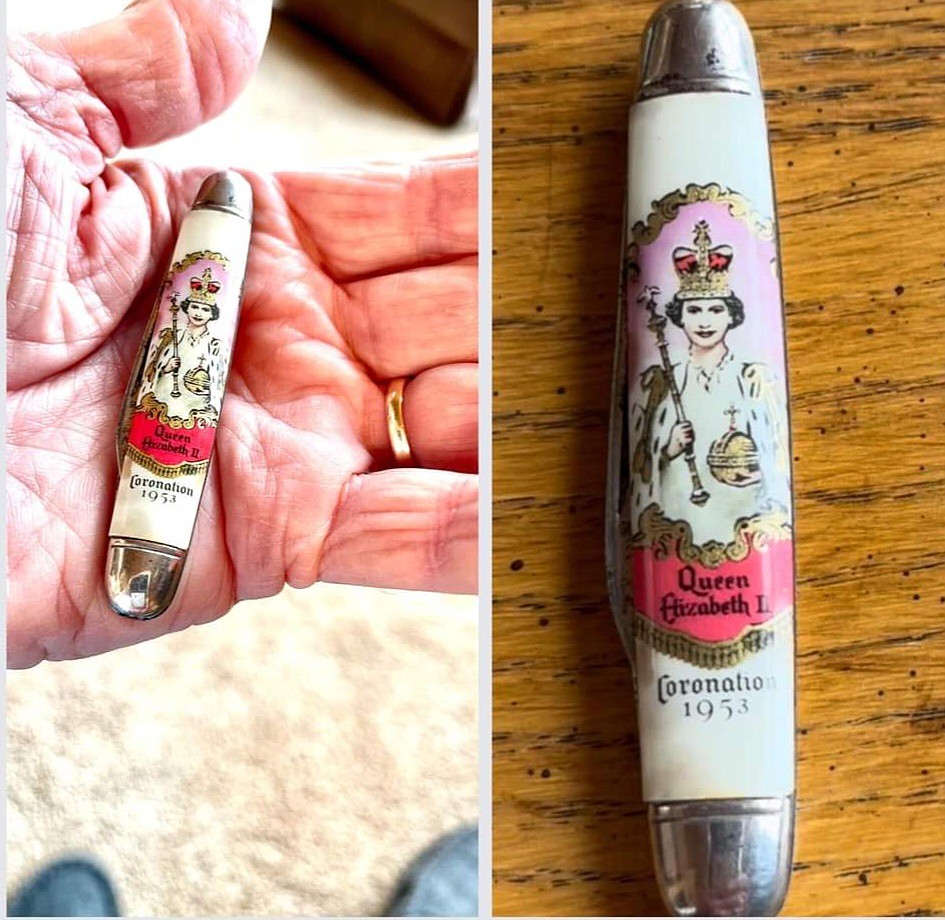 Jim Custer's 1953 souvenir coronation pocketknife.
Photo courtesy of Jim Custer
|
September 14, 2022 1:00 AM
Coeur d'Alene's Jim Custer and his bride of 58 years, Jennifer, have had a most interesting life, including meeting and then marrying while skating in the Ice Capades. In 1976, they founded Jim Custer Enterprises, producing consumer shows and sales throughout the Pacific Northwest. The company is now owned by their daughter and son-in-law.
But this week it was a memory of Jim's that caught my eye. While people around the world have been reacting to the death of Queen Elizabeth, it brought a recollection for Jim of a trip with his parents in 1953, when he was 13. During the trip in western Washington, Jim said they stopped at a movie theater to watch a newsreel of the Queen's coronation. (Remember, this was a time before a 24-7 news cycle on television and streaming services, long before the Internet.) Afterward, the family went to a gift shop where Jim bought a coronation pocket knife as a souvenir. The blade is stamped Richard's Sheffield England.
This week the octogenarian brought out the keepsake and was awash in memories, not just of the young queen, but of the adventure with his parents.
"It seems more meaningful now than ever before to hold this knife in my hand and relive the memory of that trip so long ago," he said. "RIP Queen Elizabeth."
•••
On Saturday, via the Bunco trail head, my husband and I found blue skies at 5,000 feet on Bernard Peak at the southern tip of Lake Pend Oreille. It was a dusty, smoky, bumpy ride on our side-by-side with friends Rod and Susie Heitstuman and some of the stunning vista views were obscured by forest fire smoke. The high point figuratively was coming down into lovely little Lakeview. It was my first time there and it didn't take me long to shed my shoes and roll up my pant legs to enjoy the refreshing and clear water at the boat launch docks.
Usually Bert rides with his buddies and only occasionally do I join him. While getting dirty and jostled by rough trails isn't at the top of my fun list, it's only on those roads less traveled that I can experience the absolute unspoiled beauty of north Idaho. I prefer lakes, rivers and anything on or in the water so Saturday's 40-mile round trip ride had something for both of us.
•••
Only 96 more sleeps until Christmas! This is a reminder to people like me who are sometimes surprised mid-December that Christmas is coming.
•••
Happy Birthday today to Leslie Orth, Connie Glass, Tammy Rubino, Diane Lemas, Wayne Dust and Anna DeTar. Tomorrow Pat Near, Claudia Brennan, Brad Medlock, Jerry Deitz, Jean Wright, Shannon Englander, Kathie Colosimo, Angie Purcell, Liese Razzeto and Nick McDonald take another trip around the sun. On Friday Jeff Thompson, Courtney Hurt, James Hoialman, Charollett Morehouse and Terrie Lynn Gonzales (60!) celebrate. Steve Widmyer, Betsy Martin, Jeff Crandall, Harmony Conley, Connie Evans, Russ Giles, Marq Riffe and Lynda Wright share September 17 birthdays. Brad Peugh, Ellen Delavan, Jaimee Cox, Eric Benjamin, John Holm, Jennifer Schroeder and Debra Smart blow out the candles on Sunday. On Monday Steve Eller, Rich Kempton, Kara Fredekind, Debbie Sala, Jeanne Wright, Brock Morrow, Marshall Baltzell and Karen Lindbergh do the birthday dance. On Tuesday Julie Chadderdon, Hank Martin, John Stevens, Craig Brosenne, Haley Walker, Joe Roope and George Balling put on their party hats.
•••
Kerri Rankin Thoreson is a member of the National Society of Newspaper Columnists and the former publisher of the Post Falls Tribune. Main Street appears every Wednesday in The Press and Kerri can be contacted on Facebook or via email mainstreet@cdapress.com. Follow her on Twitter @kerrithoreson.
Recent Headlines
---