Huckleberries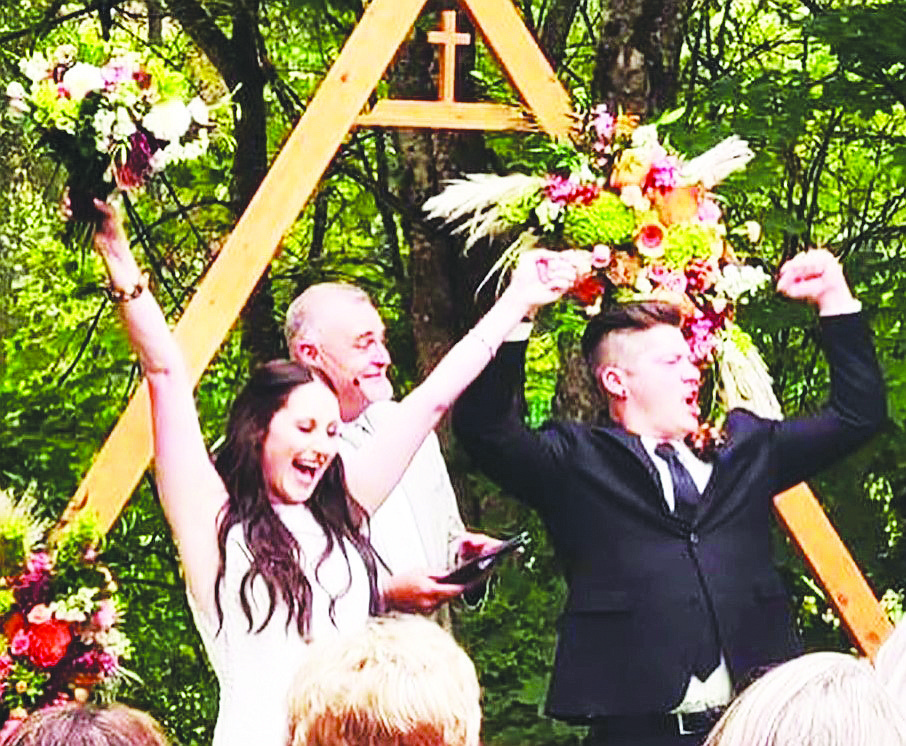 Daniel Osborne and new wife, Abbey, celebrate after exchanging vows.
Courtesy photo
|
September 11, 2022 1:00 AM
Abbey Alexander won't soon forget her outdoor wedding.
First and foremost, on Sept. 3, she married her True Love, Tennessean Daniel Osborne, in the flower-laden yard of her parents, Mitch and Keri Alexander of Big Creek (Shoshone County). But she, her new hubby, the wedding party, and guests endured a 15-minute temper tantrum by Mother Nature first.
Fortunately, Grandmother Sherry Krulitz of Pinehurst relates, the photographer had taken most of the pictures before the deluge. Then, chairs were wiped off and the sun came out for the service.
Afterward, the chairs were moved to the tennis court for the reception.
And Mother Nature struck again.
Everyone pitched in to move tables and chairs under two big tents as lightning, wind and heavy rain hammered the event. You can imagine the crazy scene under the Big Tops as drenched friends and family hustled to push round tables together.
And then the sun came out again. And stayed out.
"A beautiful reception was held with wonderful food, fun, dancing and lots of love shared," Sherry said.
And then Sherry made an important connection.
"It's a perfect example of what a marriage will be," she told Huckleberries. "There are times when you have to weather the storm, and when the clouds pass, the sun shines bright and love flows."
So, Mother Nature wasn't a party pooper, after all. She was just teaching a valuable life lesson to the newlyweds.
He loves Republicans
The end is nearer now than it was in 1977 when Pat Boone swung by Coeur d'Alene for a "God and Country" fundraiser. Yeah, that Pat Boone – the clean-cut 1950s-60s pop singer/evangelist who popularized "Ain't That A Shame," "Love Letters in the Sand" and "April Love."
He was 16 years removed from his last of six No. 1 records when he appeared at the Republican event in the North Idaho College gym. But to the 500 partisans, who paid $5 apiece to attend, he was a rock star. And he was serving red-meat conservatism to the crowd, with a Bible in one hand, white shoes on his feet, and four Oldies but Goodies songs on his lips.
One of the great divides between the two major political groups, he said, was this – Republicans stress "divine rights," whereas Democrats emphasize "human rights." Then, he added: "I sense that time is running out. I sense the Second Coming is imminent. Unless there is a revitalization of America, we are hastening the day when Jesus will come."
By the way, time hasn't run out on Boone. He's alive and kicking at 88.
She loves them not
On her Sept. 6 birthday in 2012, Christie Wood, then the CPD spokeswoman and a North Idaho College trustee, awoke "with a plan that would set the world on the right course for me again." She visited the county clerk's office to change her voter's registration from "Republican" to "Unaffiliated."
She told Huckleberries at the time: "It felt so good to be free of ideals and platforms I do not support. The state Republican platform failed to include support for human rights. The national Republican platform has no exceptions for abortions, even if a woman is raped. What has happened to the party that used to be celebrated and recognized for the great people in it like Nelson Rockefeller? Oh, let me guess – too moderate. Not pure."
And you wonder why the mere mention of the CDA councilwoman's name makes local GOPoohbah Brent Regan & Co. foam at the mouth?
Fan Mail
In my Aug. 28 Huckleberries, I told of the Jay-C-Ettes anti-Communism school endorsed by CHS football coach Cotton Barlow in fall 1962. The accompanying photo shows Barlow and Jay-C-Ettes president Mrs. Robert Hallvik reviewing the anti-Communism curriculum while CHS student leaders watch. You know Mrs. Hallvik by another name: Evalyn Adams. "The person receiving the endorsement from Cotton Barlow was me," emails the former Kootenai County commissioner. "I helped to coordinate the Americanism (Anti-Communism) School. I think we did that a couple years. The picture brought back good memories from 60 years ago!" Evalyn went on to become the first woman to serve as a commissioner and the only woman to serve two terms.
Huckleberries
· Poet's Corner: The yellow bus came by today/and carried summertime away – The Bard of Sherman Avenue ("School").
· Some may think that Matt Shirley (@MattSureLee), the Instagram chart creator, dissed Idaho with his graphic, "The Best Attraction in Every State." Idaho and Mississippi are the only ones whose main attraction is "Nothing." Washington gets credit for Mount Rainier and Oregon for Crater Lake. Rather than spout off about our lakes and mountains, we should grin and bear the dis. It could have been worse. Shirley could have listed our main attraction as "potatoes."
· TeeHee Shirt (message on a gray shirt worn by a chunky fortyish guy at Food Mart in Tri-Cities Monday): "Education is important. Fishing is more important." He would be at home in North Idaho.
· On Sept. 10, 2012, Mayor Sandi Bloem was joined by other dignitaries to break ground on the McEuen Park overhaul. Disingenuous opponents said that the city had spent $20 million to transform a park into a park. And they tried and failed to recall Bloem and three council members. Nevertheless, Sandi & Co. persisted. The city replaced a park of three underused ballfields and a huge, gray parking lot with a greenspace jewel that attracts residents and visitors year-round.
· In a Business Bits column from Sept. 10, 1987, Nils Rosdahl describes the State of Downtown Coeur d'Alene in the late '80s as rumors ran rampant about a mall proposed for Hanley Avenue and Duane Hagadone's plans for the old Rutledge Mill: "The downtown is dotted with empty buildings, and East Sherman is plastered with 'For Lease' signs. … While several Sherman Avenue businesses slowly sink, mini malls continue to sprout on all the fringes and the Hanley Mall (Silver Lake Mall) maintains its 'We Are Alive' stance." Not to worry. Everything turned out OK.
Parting Shot
Darrell Kerby has advice for newcomers, especially those who moved here with a political chip on their shoulders. "Idahoans," says the ex-Bonners Ferry mayor, "have held true to the traditional American values of live and let live, community volunteers, pride in their children and schools, pride and respect for veterans and the American Flag." Gem Staters have held those values for so long, Darrell continues, that "we have attracted many new citizens from around the nation." Rather than try to change Idaho, Darrell suggests "Let Idaho change you." Now, there's a slogan in search of a bumper.
D.F. (Dave) Oliveria can be contacted at dfo@cdapress.com.
Recent Headlines
---