Huckleberries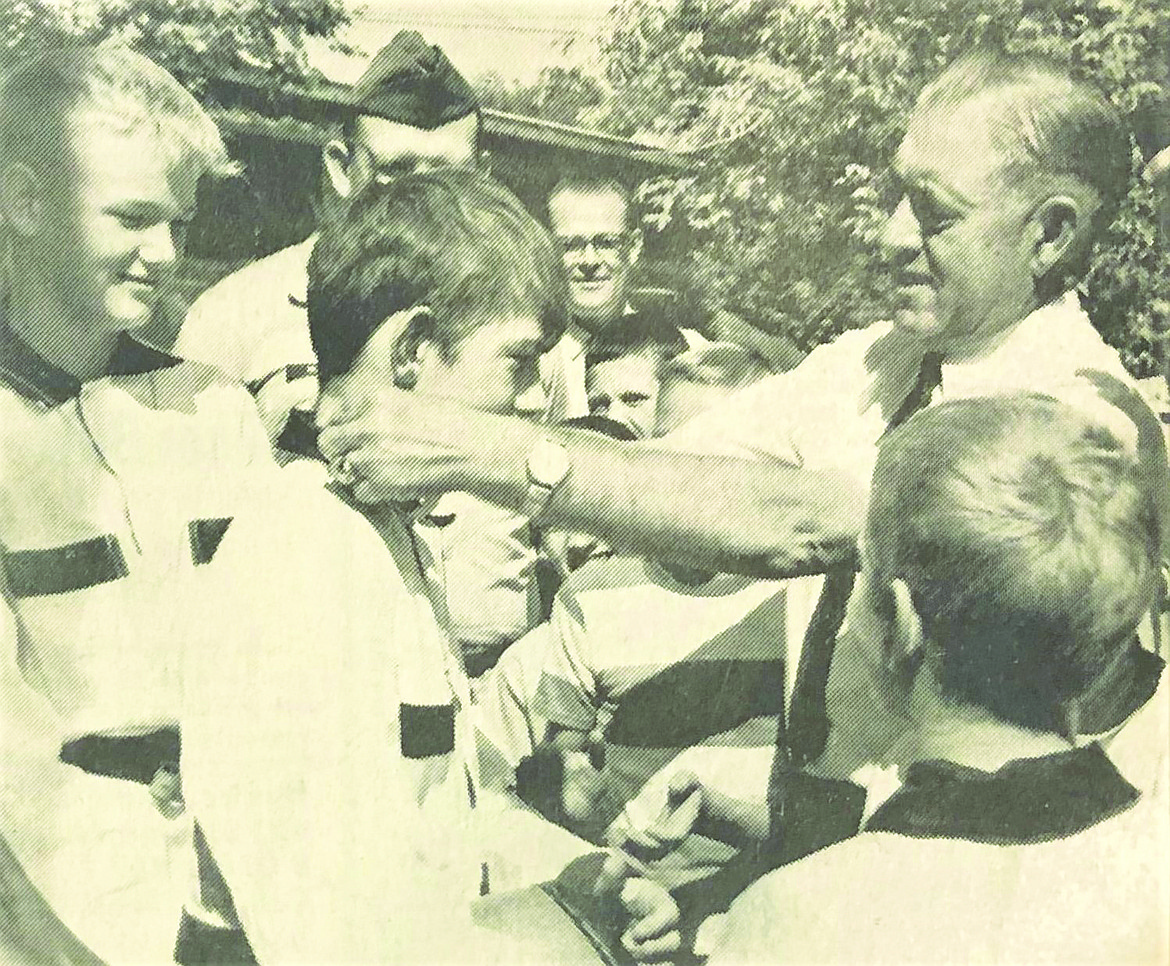 Mayor Larry Gardner presents Jon Mueller with a medal.
|
September 4, 2022 1:00 AM
Almost two years before Neil Armstrong made that "one giant leap for mankind," five Coeur d'Alene boys took baby steps for amateur space fans everywhere.
At 10:55 p.m. Wednesday, Aug. 16, 1967, the pre-teens entered a 42-foot-high, plywood rocket ship at 10th and Pennsylvania and didn't leave until Aug. 31, 14½ days later.
Once the hatch closed, it was shut for two weeks. The goal of the five – "Captain" Steve White, Jon Mueller, Mark Bentley and the Wright twins, Bruce and Brian – was to simulate a space journey to the moon and to test their ability to handle confinement for a long period.
"We were like-minded kids who lived on the same street and were space crazy," remembers Jon Mueller, a retired Coeur d'Alene landscape architect. "We were young and into the moment. It was our good fortune to have parents who supported us."
The boys, all ages 11 and 12, received donations of lumber from the DeArmond Mill and $300 worth of canned food from Albertson's. Steve White's father helped them build the rocket in his yard in three stages. The wooden spaceship was named after Steve White's mother, Idona.
The lower stages served as the kitchen and bathroom. The middle stage was the living quarters and for sleeping. And the nose was the command module, complete with a dash, fake TV, and switches.
The rocket was only eight feet in diameter. The boys accessed the various stages by ladders. And they spread out throughout the craft to give themselves space, especially after arguments.
With five boys, Jon recalls, the atmosphere within the craft was "odoriferous."
On the final day, a large crowd, including students from the nearby St. Thomas elementary, cheered the boys for the last hour of their journey. The five then dropped through a port hole at the bottom of the spaceship, one at a time, to be greeted by Mayor Larry Gardner and congratulatory calls from Idaho governor Don Samuelson and Idaho U.S. senator Frank Church.
In a telephone call, Church told the boys, "I want you to know that I have been in contact with National Aeronautics and Space Administration officials this morning, and they tell me this is no mean achievement. Living together in isolation for that length of time is a most difficult task."
NASA sent each boy a pictorial book of the earth as seen by Gemini astronauts and a replica model of the Apollo command module that would one day take Americans to the moon. They were also featured in a half hour KXLY special narrated by Ron Bair, "The Return of the Mini-Nauts."
Jon has lost track of his rocket buddies. One became a pharmacist. The Wright twins moved.
Jon compares the simulated flight of the Idona to the movie, "Sandlot," a golden adventure of childhood in a small Norman Rockwell town.
Fighting City Hall
Duane Hagadone's bid for city annexation of his proposed golf course 35 years ago didn't go smoothly.
Duane ran into four, equally strong-minded planning commissioners who were hell-bent on upholding the city's shoreline ordinance, which limited construction heights to 20 feet within 150 feet of the lake. Duane wanted that restriction waived. He had plans to add 200 to 300 more rooms to his resort, along with the golf course and other tourist amenities.
After a 5 1/2-hour meeting on Monday, Aug. 24, 1987, planners voted 4-2 to keep the shoreline rules in place, despite overwhelming business support for the project.
Duane had warned he would pull the request for annexation if the city didn't remove all roadblocks by Sept. 1. He did so on Aug. 31. And then he blasted the four planners – the late David Potts, Lee Ray, Dennis Davis, and Janell Burke -- in a full-page open letter in his CDA Press, claiming their actions were "politically motivated." Three of the four planners fired back.
Ultimately, the county OK'd a rezoning request for the old Rutledge mill site to enable Duane to begin construction. And the rest is his-story.
Crash & burn
CDA's Kristina Wright Swaim learned a hard lesson Aug. 22: A bike crash at age 49 feels differently than one at 19. For one thing, Katrina said, she needed about 10 minutes to ease herself off the ground and run a system's check on her vintage 1970s body. Her elbow took the blunt of the crash, caused by an "evil speed bump" on Marlborough Avenue. She also hurt her shoulder, head, and left butt check. Fortunately, Katrina was wearing a helmet, which protected her head when it hit the pavement. Katrina scanned the road for other sneaky speed bumps as she pedaled home, dripping blood and saying a prayer of thanks. Later, as she nursed her wounds, and began to bruise in technicolor, she was certain she'd be back on her bike soon, but not without adding elbow pads to her anti-crash armor.
Fan mail
Former city attorney Mike Gridley responds to the Parting Shot in Huckleberries Last: "The vast majority of people around here (and everywhere in my experience) are decent, respectful, helping human beings. Unfortunately, as you point out, all of us, including children, are subjected to obscene, hateful stickers on a regular basis. Free speech is one thing; obnoxious bully stickers are something else."
Huckleberries
·Poet's Corner: Regarding turnips,/I will waste no verse/and rutabagas/are in my view worse – The Bard of Sherman Avenue ("Root Veggies").
·'Tis the time of year when CDA's Allisa Haakenson Chipman recalls winning the automotive version of Crazy 8's. On Aug. 28, 2019, she'd just left the house in her then 8-year-old Jeep Compass when she noticed the mileage on the odometer: 88,888. She probably should have gone to the Coeur d'Alene Casino. Her Jeep now has 118,000 miles on it and still runs well.
·Bumpersnicker (on 90s truck with a camper, spotted in Portland): "I only root for three teams: SF 49ers and anyone playing the Seachickens and Cowgirls."
·TeeHee Shirt: CDA's Janna Rankin Scharf continues to look on the sunny side of her recovery from knee-replacement surgery in mid-August. Now, she's sporting a blue T-shirt with red lettering that proves she's in tune with the times. It reads, "Make My Knees Great Again" and "Let's Go, Lyman," the latter being an appreciative nod to her knee surgeon, Dr. Jeffrey Lyman.
·Let's see if your definition of CDA's Midtown resembles the one offered by Midtown merchants 25 years ago, including Teresa Capone of Capone's Sports Pub – "a 12-block stretch of Fourth Street from Harrison Avenue south to Indiana Avenue." In the Aug. 25, 1997, CDA Press, the Midtowners asked the city for the same redevelopment TLC it was giving downtown.
Parting Shot
Here's a math problem for you: How many presidential elections could you vote in if you were born on Oct. 4, 1921? The answer is 20, according to CDA's Steve Peak. His mother, Dorothy, who arrived here the year St. Helens blew, died at age 100 on Flag Day. She voted in 20 presidential elections beginning with FDR's successful bid for a fourth term – and didn't stop. The former one-room schoolhouse teacher "was of sound mind" when she died of heart failure. She probably would have voted in Tuesday's school levy election had she lived longer, unlike 79 percent of the district's registered voters who didn't.
D.F. (Dave) Oliveria can be contacted at dfo@cdapress.com.
Recent Headlines
---