Huckleberries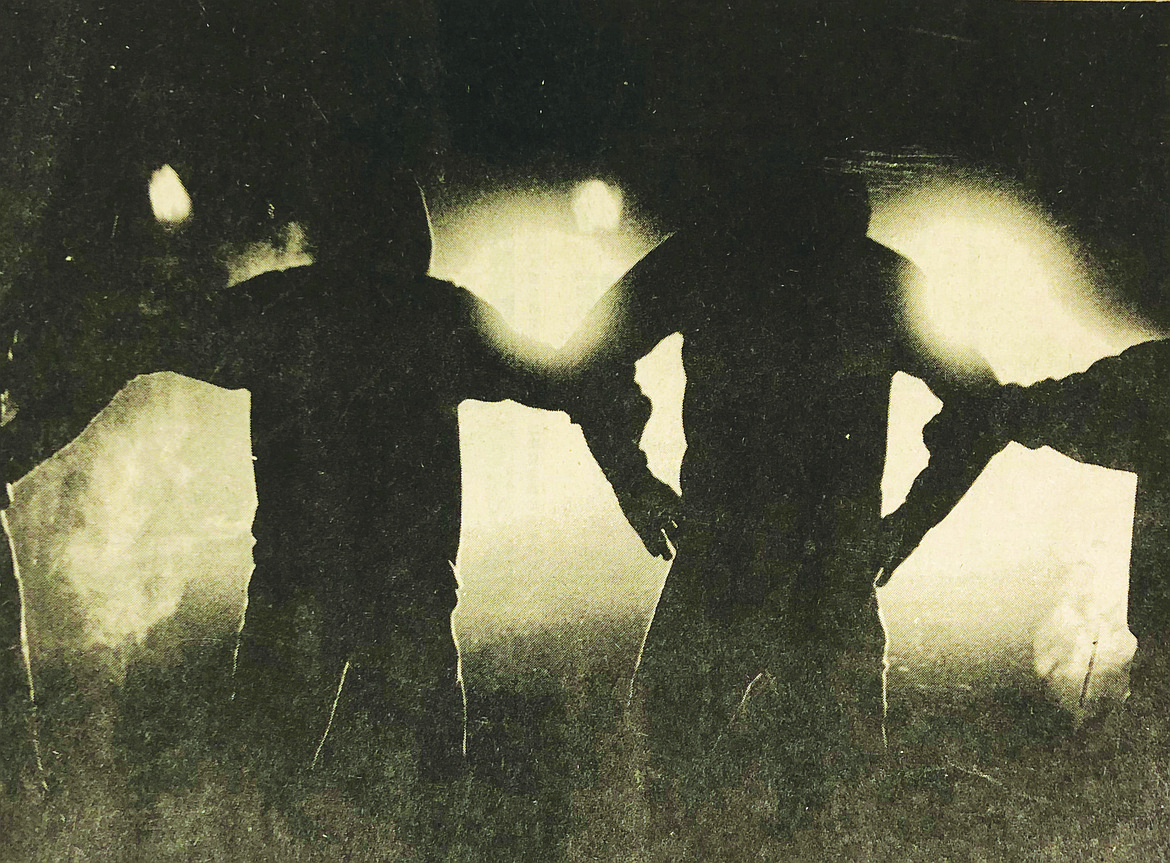 Bob Hoover's 1982 photo of the Coeur d'Alene Press staffers and wives stretched in a human chain across Highway 41.
|
October 30, 2022 1:00 AM
An old North Idaho ghost story begins:
"The night is so black that Highway 41 is just a string of broken yellow lines in the glare of the high beams. The driver, lulled by the fog and the sweep of his windshield wipers, doesn't see them at first. Dark figures in the road."
Old-timers know where this tale, published in the Press 40 years ago today, is going. In his headlights, the motorist sees a chain of hooded figures, arms linked, in a row across the highway.
"The tires squeal, but it's too late" the article by Bill Graves and Bill Geroux continues. "He hears a sickening thud. He knows he hit one of them. Heart pounding, he staggers out of the car, afraid to look. But he does look, and sees nothing, no one. He's all alone."
Spokane TV stations ate it up, airing segments about Rathdrum's "satanic connection" and the Human Chain haunting Highway 41. On his national talk show, Johnny Carson and a guest — some say it was singer Stevie Nicks — discussed the black arts of Rathdrum. The gothic tale was retold in two books, including one published in 1982 by Reader's Digest.
Such was the paranoia and fear surrounding the Human Chain sightings that many avoided traveling Highway 41 to Rathdrum at night. Others refused to buy a house in the bedeviled town of 1,361 souls.
You may dismiss this story as a tall tale. But Doug Clark doesn't.
In 1974, the former Press editor was an aspiring journalist at Eastern Washington when he first heard the account of the devil worshipers of Rathdrum who hunted motorists.
A cynic with a built-in BS detector, fashioned over 47 years in the newspaper business, Clark knows something the rest of us don't. The legend is true. There once was a human chain. He was part of it.
In fall 1982, Clark was the zany ringleader of a crackerjack staff of reporters and editors, including Graves and Geroux. Staffers worked hard, won awards, and if they had fun, too, all the better.
Americans at the time were obsessed with the occult, witches and the devil.
Graves, meanwhile, was fascinated with the Rathdrum human-chain story and concerned that the scary legend was petering out. He also owned a house on the northern edge of the Rathdrum Prairie, a stone's throw from Highway 41, a place he bought from Clark.
As Halloween 1982 approached, Clark and Graves conjured a "Chain Party" at Grave's house, to boost the fading legend.
Newsroom staffers and spouses were invited to don costumes, replete with hoods or horns, eat chili and march to Highway 41. There, they would wait for an unsuspecting motorist. The Press byliners who attended were Clyde Bentley, Nils Rosdahl, Ric Clarke and, of course, Clark, Graves and Geroux.
To avoid danger, the "devil worshipers" scattered as soon as headlights hit them.
Clark tells Huckleberries that he never had as much fun and produced such quality journalism as during his seven years (1976-83) at the Press: "It was everything I always envisioned journalism to be."
And he added one more thing: "I can guarantee you that there was a human chain."
A cool actor
Dave Wagner remembers when Andy Griffith came to town to film a short-lived ABC TV series, called "The Yeagers."
As a 12-year-old, Dave and much of the community listened to Bob Hough, of KVNI's "Hough and Stuff," for useful information, including where the bluebacks (kokanee) were biting in Lake Coeur d'Alene and where they might migrate next.
"Back then," Dave tells Huckleberries, "you could limit out from a shore or a dock in no time."
In fall 1979, Hough reported the bluebacks were headed for Beauty and Wolf Lodge bays. That was Dave's signal to grab fishing supplies. So, he went to Buttrey's in the original Coeur d'Alene Mall.
As Dave looked over the fishing tackle, a guy behind him said, "Would this spinner work around here?"
It was Andy Griffith.
Dave confirmed that the spinner should be a good one, and encouraged by the actor, gave a primer on lake bluebacks.
"He seemed genuinely interested, and he purchased the blueback tackle I recommended," Dave recalls. "I thought it was pretty cool that he would take time to listen and take fishing advice from a kid."
Seems Sheriff Taylor had honed his listening skills during opening credits of all those years he walked to his fishing hole with bare-footed son, Opie.
Quite a bargain
I've been writing this column since January 1985. And one of my first items, published Feb. 17, 1985, amuses me still: "Doug Eastwood got quite a bit of mileage from his comment weeks ago that people shop around for cemeteries like they do for groceries. His statement about new regulations at Forest Cemetery was picked up by USA Today, which emphasized the third-off sale of plots in the graveyard's Kinzer addition. Eastwood, city parks and cemetery director, said he has had five or six inquiries about Kinzer since the city council dropped plot prices from $500 to $350 but still no takers. The cemetery board may have to advertise its bargain." P'haps folks back then weren't dying to get in.
Huckleberries
· Poet's Corner: It won't burn your skin and/it won't leave a stain – /this stuff that's been falling/is what we call rain" – The Bard of Sherman Avenue ("In Case You've Forgotten")
· Larry Bieber has discovered that politics are rougher than Coeur d'Alene High sports competition. A candidate for the Idaho Legislature, the former, long-time girls' softball coach Facebooked: "Anybody know who would steal a 4ft X 8ft political sign near the US 95/Aqua exit? As a newbie in this political game, I am just seeing if anyone has a logical reason to do this?" Let's see: 1. Meanness, 2. Pettiness, 3. Partisanship, 4. Ends justifies means, 5. All of the above.
· I'm not sure how you prefer to shorthand "Coeur d'Alene": CdA? Cd'A? Or CDA? The last in the list is easiest. Simply hold down the right shift key and peck away. But the Coeur d'Alene Press of 75 years ago offered a fourth choice, C.D'A., that – fortunately – isn't used today.
· You may know that Sorensen Magnet School was named after pioneer Lake Coeur d'Alene captain C.P. Sorensen. But do you know who did the naming? In October 1972, sixth-grader Gayle Riba submitted the winning name for the former IHM school at 310 9th St.
· At 1:30 a.m. on Halloween 1987, Potlatch workers shut the bandmill saw for the last time, signaling the beginning of the end for the Rutledge Mill. Most of the 225 employees would continue processing lumber for a time. But the mill gradually closed department by department. Today, of course, the Coeur d'Alene resort golf course covers the old sawmill site.
· The biggest issue in the 1997 CdA elections? Traffic congestion. By a city mile. In a Press sponsored poll of seven issues, 53.2 percent of 199 residents said traffic was its biggest concern, followed by tax relief, Sanders Beach, and downtown renewal. Ah, the good old days.
Parting Shot
I can't recall when I last tuned into KVNI-AM radio. After Kerri, Joe, and other live talent left the place, I listened only when the station went all sports for a time. Why am I telling you this? Early on, KVNI was, as they said in the 40s, "cooking with gas." The station launched on Nov. 1, 1946, with the words: "Good afternoon, ladies and gentlemen, this is KVNI, the voice of North Idaho, beginning its first day of broadcast." On Oct. 31, 1947, the Press headline above the first anniversary story read: "Popular station ends first year on air." The ensuing story spelled out the many services the station had provided for the community in its first year of operation. Alas, a headline today describing KVNI's impact on Coeur d'Alene during its 75th year of operation, might be summed up in one word: "Meh."
D.F. "Dave" Oliveria can be contacted at dfo@cdapress.com
Recent Headlines
---