STATE HIGH SCHOOL SOCCER TOURNAMENTS: Familiar foes for some at state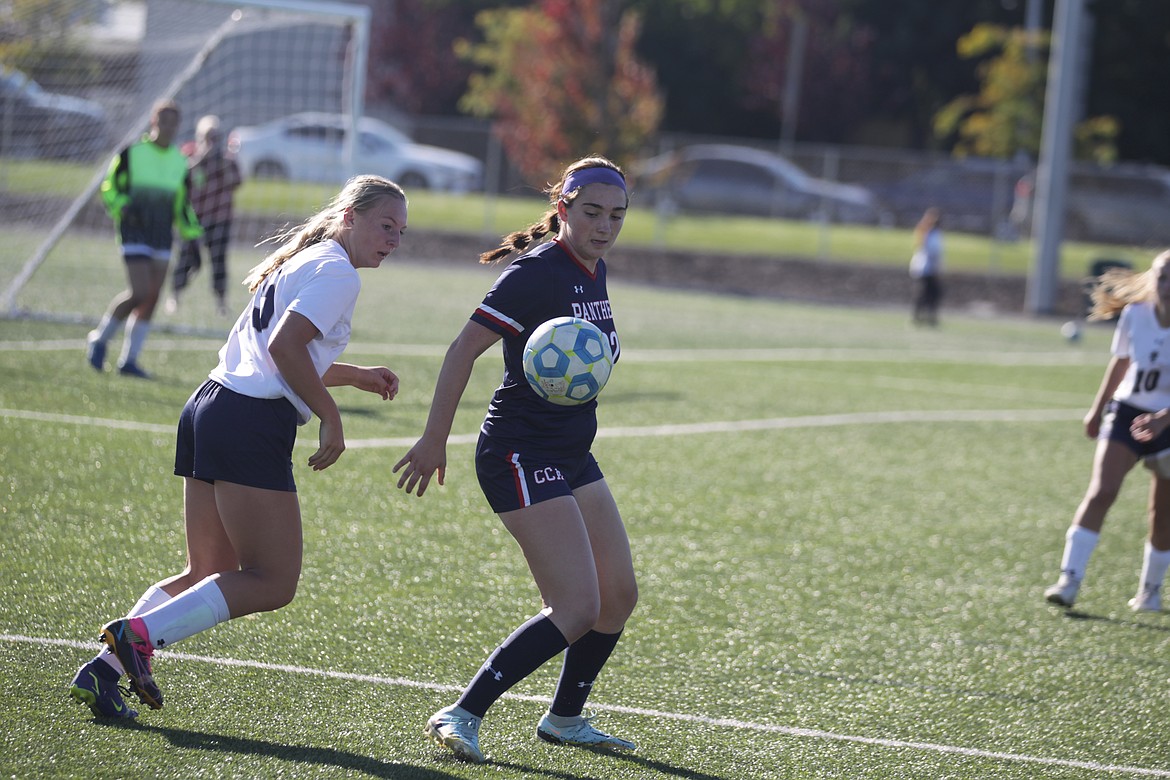 JASON ELLIOTT/Press Coeur d'Alene Charter junior midfielder Maddie Daigle plays a pass against Timberlake freshman defender Payton Young during the second half of last Saturday's 3A District 1-2 girls soccer championship match at The Fields in Post Falls.
|
October 20, 2022 1:15 AM
By JASON ELLIOTT
Sports writer
At this point, it's like starting over.
That is, except for those teams that will very familiar faces in the opening round of the state high school soccer tournaments in Ammon and Twin Falls a little later today.
In 5A boys, Coeur d'Alene — seeded fourth — will open against Lake City — seeded fifth — at Hillcrest High in Ammon.
The 3A girls tournament will open with top seeded Coeur d'Alene Charter facing eighth seeded Timberlake at the Sunway Soccer Complex in Twin Falls.
The higher seeded teams locally claimed regional titles last week.
"I'm not sure how either of us feel about that," Coeur d'Alene Charter coach Stacy Smith said of opening with Timberlake. "The opportunity to go to state is to play the best teams from around the state and we're playing what we'd consider our best opponent in our league. But it's a good game for both of us for different reasons."
Timberlake coach Steve Michael agreed.
"You get comfortable playing them and the girls hopefully get a better understanding of how Charter is going to respond and attack," Michael said. "That will help us build our program with our players and confidence."
Lake City's girls will begin its attempt to repeat against Thunder Ridge of Idaho Falls today at Bonneville High in the opening round of the 5A girls tournament.
"I think we've got a bit of an edge this year," Lake City senior forward Georgia Whitehead said. "I think teams are going to be scared of us this year. Last year, they didn't see us coming and this year, we're coming in strong. We're really confident this year and we're ready to battle and have the team to do it this year."
All matches will be streamed at www.nfhsnetwork.com. A fee is required for the tournament.
5A GIRLS: Lake City (15-0-0) faces Thunder Ridge (12-4-4), a team they beat 4-0 last August at the Irma Anderl Soccer Complex in its fifth game of the year.
Lake City was ranked third in last year's tournament and won the title game 1-0 over Boise.
"We haven't talked about MaxPreps one time this year," Lake City coach Matt Ruchti said. "Our kids don't follow it or look at it. We didn't look at it last year and we're not going to look at it this year. All we know is that eight teams go down there and you've got to win three games to be a state champion, so we'll focus on that game and see how we do."
Today's winner faces either Eagle or Centennial, who beat Coeur d'Alene 2-0 in a state play-in match last Saturday at Lewiston High.
"It's going to take a huge effort, no matter what position you're in when you're trying to play three games to be a state champion. So we'll focus on that first game and just see how we do."
5A BOYS: Coeur d'Alene and Lake City split regular season matches, with the Vikings getting a 1-0 win over the Timberwolves in the regional championship match.
"We just need to defend as a unit and play as a team," Ridgewell said. "We know down south those teams are quality programs and don't play the way the teams up north do. They'll come in with a different approach, but we have high IQ soccer kids on this team. If any team can do, I think this one can."
Lake City lost in the third-place game at state last year. Coach Kevin Jump is in his first year with the Timberwolves.
"Our games with Coeur d'Alene have been really close this year," Jump said. "We're a young team, but the boys play hard and defend really well. If we can do that this weekend, we should be in good shape."
Timberline of Boise (17-0-2), last year's champions, are the top seed and face Madison of Rexburg (8-10-0) in the opening round.
3A GIRLS: Coeur d'Alene Charter advanced to state for the 10th straight season by beating Priest River in the District 1-2 semifinals last Friday. The Panthers beat Timberlake 4-0 last Saturday at The Fields in Post Falls to win a seventh straight district title, all under Smith.
"One way or another, we're going to have to find a way to win," said Smith, who coached Charter to five straight titles from 2016 to 2020 before finishing as consolation champions last year. "It's not always going to be pretty. We're going to have to find a way to battle teams that play us differently. We've seen a few different versions of team's loading the box defensively and having to play the ball in. We also had some trouble with Timberlake's offside trap (in the district championship), but there's some fixes for that in case we see that again."
Timberlake is back at state after going 0-2 last season.
"We're still young and building that confidence with one another right now," Michael said. "We've got some younger players and are trying to get everyone on the same page. But we also didn't get here by chance. A lot of our players have no idea what state is like, so it's like taking that first team down to state in 2010 and not having an idea of what to expect. We definitely want to compete and have enough experienced players to do that."
Fruitland (13-2-1), the defending champion, is the fifth seed and opens with Teton (10-4-2). That winner will face the Charter-Timberlake winner.
3A BOYS: Timberlake is back at state for the first time since 2020 after winning its second district title in three seasons.
It's last year's loss in the district semifinals that Tiger coach Justin Mooney believes this run was started.
"We had the potential to do well at state, but came up short in the game we needed to move on," Mooney said. "That left a bitter taste in all of our returning players mouths. Everyone showed up ready at the start of the season with a strong desire to work hard and do whatever it takes to get to state."
Timberlake beat Bonners Ferry on penalty kicks last Saturday in the regional title game.
"We have a wide variety of players that can score goals, we don't focus on getting the ball to 1 or 2 key players to score," Mooney said. "We have 11 players on the field and any one of them could be a threat. An assist is just as good as a goal for the team."
Defending champion Sugar-Salem (16-2-0) is the third seed and opens with sixth seeded Bonners Ferry (15-2-1).
4A BOYS: Sandpoint (11-0-3) is the top seed and opens at state against Bishop Kelly (8-5-5) of Boise in today's late match at The Fields in Post Falls starting at 3 p.m.
The Bulldogs finished runner-up to Bishop Kelly in last year's tournament at Brothers Field in Caldwell.
4A GIRLS: Sandpoint (8-5-2), seeded second, opens at state against Vallivue (11-6-1) today at 10 a.m. at The Fields in Post Falls.
Sandpoint's last title came in 2019.
Twin Falls (14-2-2), the defending champion, is the third seed and will face Canyon Ridge (12-2-3) in the opening round today at noon.
Recent Headlines
---