Huckleberries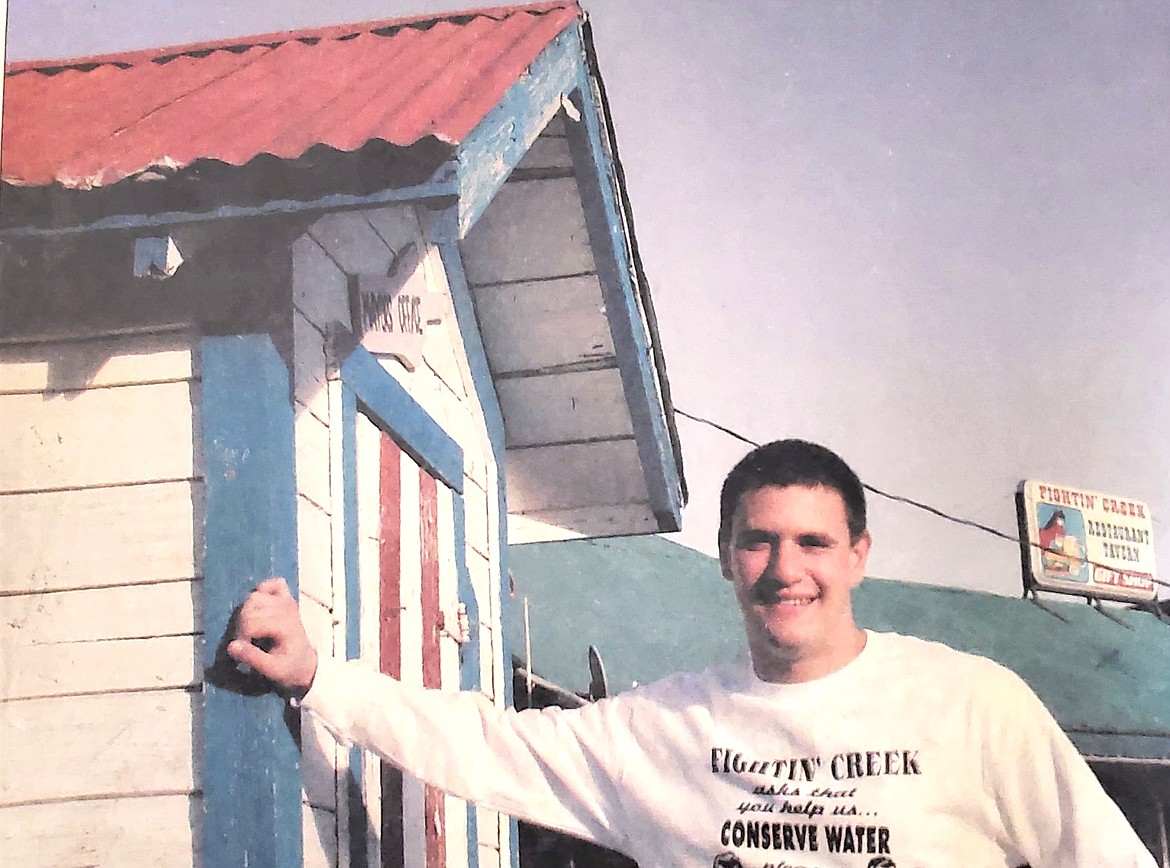 Fighting Creek mayor-elect Nick Lepire in 2003.
|
October 9, 2022 1:00 AM
Nick Lepire is proud to say he won the next-to-last Fighting Creek "mayor's race" by smearing his opponents, stuffing the ballot box and bribing fence-sitters with beer.
Some accused him of nepotism, and they were right. Others claimed he openly campaigned in the election's only polling place, the Fighting Creek Bar & Restaurant, and they were right.
By hook and crook, Nic received 705 votes on Election Day 2003 to best a field of 10 and, at age 19, become the youngest mayor of the one-time spot along Highway 95, 15 miles south of Coeur d'Alene.
The erstwhile mayor's race, of course, was pure spoof, a relief from the toxic world of partisan politics.
Anyone, dead or alive, could run. But cats – or was it dogs? – were excluded. Customers were allowed one vote per beer. And the bar flies were for sale to the highest bidder.
The Fighting Creek shenanigans would start on Oct. 1 and end on Election Day in November.
"Patrons had a month to do their drinking and voting," said Nic, now a Bonner County deputy prosecutor.
As mayor, he had only two official duties: Organize the community's horse-shoe contest and keep the two-hole, Ma-and-Pa outhouse behind the tavern clean and stocked with toilet paper. The outhouse doubled as the mayor's office and the Fighting Creek Chamber of Commerce.
Nick told Huckleberries that political partisans of all stripes today could learn a lesson from the faux Fighting Creek races of yesteryear: "Slow down. Have a drink. And don't take yourself so seriously."
In 2003, Nick had an advantage over his competitors. On weekends, he returned from the University of Idaho to tend bar for his mother, Janell Chmelar (now Ritzenthaler), who owned the Fighting Creek Bar. Nick was 12 in 1995 when his mother bought the place from Fred Gabourie.
Fred started the mock mayor's race in 1987 as a fun event for customers. The frivolity would last until February 2005 when Janell sold the bar. The new owner razed the buildings and set up a smoke shop.
Some of the approximate 18 Fighting Creek mayors took their job more seriously than others.
Dick Wandrocke promised to change the weather and he did. Logger Lee Peone was labeled a "bridesmaid" because he ran several times without winning. So, he appeared for one inauguration in a wedding dress and logger boots. And one mayor dug a new hole for the chamber of commerce building and moved it.
The mayors were given pewter mugs with their names etched on the side. The bottom of the mug was glass to enable bartenders to see when a mayor or former mayor needed a refill.
Elected in 2004, Steve Young was the last Fighting Creek mayor. He completed only three months of his term before Nick's mother sold the business.
Nick and some of the other former mayors reunite sometimes. On April Fool's Day, they occasionally gather at Rockford Bay Marina to take their version of the Polar Bear Plunge.
It's hard to arrange reunions, Nick said, because their old gathering place now exists only in folklore.
Stylin' goose
You Might Be a North Idaho Old-timer, if … you remember the Well-Dressed Goose of Dalton Gardens.
Starlene Staudt once delighted motorists passing her home at 7351 Fourth St. by dressing her 80-pound yard ornament in various outfits.
The goose, a present from her mother, Dorothy Roberts of Kingston, might be decorated as an Elvis impersonator one day and Daniel Boone, the Easter Bunny, or Santa Claus the next.
By the time Press reporter Rita Hollingsworth interviewed her in October 1997, Starlene had decked out her goose for seven years. She first outfitted it in U.S. Marine camo fatigues during Operation Desert Storm to honor her grandson, Doug Staudt, who was serving in Kuwait.
Starlene told the Press at the time: "I thought people would kind of get tired of it, but they haven't. The goose belongs to this town and these people, not me. It's theirs."
Band to play on?
The "Music Man" may be gone, but his summer concerts will go on, if Doug Eastwood has anything to say about it. The former city parks director is searching for a person or group to run the summer concert series in honor of the late Chris Guggemos. "They can contact me," Doug told Huckleberries, "And I can show them the groundwork that has already been done." Doug believes it would be "a loss to the community if there were no more Sunday afternoon concerts in historic Coeur d'Alene City Park," If the concert series continues, Doug wants to reserve one Sunday next summer for a memorial concert in honor of Chris. The Music Man's far-flung nine siblings would be invited to attend.
Huckleberries
• Poet's Corner: Loveth thy neighbor,/so Jesus has said,/excluding the ones/that you prefer dead – Bard of Sherman Avenue ("Reverend Robertson" or "Onward Christian Soldier?").
• Tom Addis learned long ago that the secret to success was finding a job you enjoyed doing. Thirty years ago, at age 52 (Oct. 5, 1992), the Coeur d'Alene car dealer told the Press his job was a breeze because he'd had a lifelong love affair with cars. "Being in the car business," Tom said, "is like Arnold Palmer getting paid for what he loves to do."
• Sign of the Times on billboard for Breaking Bread (formerly Davis Donuts) that could be embraced by both Right and Left: "Censorship is the tool used when the lie loses its power."
• Seventy-five years ago today (Oct. 9, 1947), Idaho's U.S. senator Henry Dworshak announced that the navy was abandoning three of its war-time naval training centers, including the one at Farragut. The centers got the ax because they were too far removed from population centers. There was a silver lining in the announcement. The Navy planned to keep 48 acres at Farragut for an experimental field station. And, of course, we have the magnificent Farragut State Park now.
• During his year as Fighting Creek mayor (1991-92), Dick Wandrocke went to Hell and back – at his own expense. That's Hell as in a tiny spot in the Cayman Islands. So, when a constituent would tell him where he could go, Dick would smile and say, "I've already been there."
• Fifty years ago (Oct. 3, 1972), Press editors proved they had a funny bone by publishing a photo of Councilman Howard Hudson blowing out 63 candles on his birthday cake. The cake was presented to Howard at his business, Hudson's Hamburgers, by Betsy Darling of the nearby Harvey's store. And the gag? Fire Chief Joe Turk was lurking nearby with an extinguisher.
Parting Shot
Tom Morgan of the Lake City Bicycle Collective admits he was a bit down recently until he saw a homeless man sitting on a curb near the post office. He asked the man if he'd eaten that day. And the man said he hadn't. So Tom bought cokes, sandwiches and bananas from Zips and shared a meal with the man. Then, Tom asked the stranger how he got around. The vagrant responded by pointing to his worn shoes. "Listening to his stories and realizing that he didn't know where he would sleep that night gave me a real dose of perspective," Tom said. Tom then gave the man a bike from his co-op. "We were both smiling as he pedaled away," Tom said. And that's how you entertain angels unawares.
D.F. "Dave" Oliveria can be contacted at dfo@cdapress.com.
Recent Headlines
---