Come get a taste
by
NILS ROSDAHL/Special To The Press
|
October 9, 2022 1:07 AM
More than a wine retail store, Terroir Fine Wine has opened in Suite 6 at 4025 Government Way.
Sommelier (credential wine stewart) owner Trevor Treller offers wine classes (tastings with educational instruction), a monthly wine club and an on-premise wine license for guests to enjoy wine in a leather seating area.
Hours at Terroir (meaning "the land's") are 10 a.m. to 6 p.m. Tuesday through Saturday and 10 to 2 p.m. Sundays. Phone 208-660-9028. Check www.winecda.com.
Olive + Arrow Boutique opens on Fourth Street
The women's clothing store Olive + Arrow Boutique has opened in Suite B at 510 N. Fourth St.
Renee Faller started the business online in April and is assisted by her daughter Selah. Hours are 11 a.m. to 3 p.m. Tuesday through Saturday.
Phone 208-661-6696. Check www.shopoliveandarrow.com.
Northwell Medical Solutions on Ironwood
Personalized service for each patient is the object of Dennis and Caralyn Dwyer in Northwell Medical Solutions in Suite 3 at 1025 W. Ironwood Drive (lower level).
The Dwyers offer personalized weight-loss solutions with onsite certified health evaluations, vitals, administering medication education with licensed physicians on Telehealth for all medical consultations and prescriptions.
Hours are 9 a.m. to 5 p.m. weekdays (usually by appointment). Phone 208-900-4343. Check www.northwellmedsolutions.com.
The Den opens in Post Falls
Offering beer, wine and other alcohol beverages, The Den has opened at 761 N. Idaho St. in Post Falls.
Owner T.J. Getzlaff has seating for 45 at the bar, tables and outside with hours of 3 to 10 p.m. Thursday through Saturday. Food will be added later.
Phone 208-277-7400. Check www.thedenpostfalls.com.
Now The Tidbits
A new building for Anthem Pacific Homes is being constructed at Highway 41 and 16th in Post Falls. Three of the four suites 1,800 to 2,000-square-feet are available for office warehouse flex lease through owner Jeremy Voeller at www.anthempacific.com. Phone 208-981-0448.
A large new building with River City Urology to be on the second floor is under construction at Spokane Street and Third in Post Falls. The urology business is expanding from Ironwood in Coeur d'Alene. With completion planned by Feb. 1, the first floor will have a chiropractor and 3,500-square-feet of space available through realtor Josh Beebe of Coldwell Banker Schneidmiller Realty at 208-699-7980.
Rumors are for a North 40 coming to Rathdrum and a Costco at State Line.
The former Wells Fargo building at Sherman and Third will have a Highlands Day Spa, an art gallery and office for owner Pepper Smock's Windermere-Coeur d'Alene Realty.
Watch for a November opening for new buildings called the Appleway Quarter at 271 and 291 E. Appleway (between Baskin-Robbins and Verizon). The 271 building will contain The Wellness Bar and has a 1,200-square-foot commercial space available. The 291 building will have Hometown Chiropractic and Chip Cookie.
The new business will be in the former Live For Blue building at 505 E. Sherman.
Uncorked With Friends will be at 9443 Government Way in Hayden.
Cochinito Taqueria will be in Hayden.
Watch for Prime IV Hydration & Wellness to be in Ironwood Square.
A large building is under construction at 9046 W. Prairie Ave., near Greensferry, for Mountain View Business Center. Contact Royce Johnston at 208-691-3054 for team rental information. For lease information contact Logan Rude at 208-651-8825.
Construction should start soon on a Class A professional office building in the northwest corner of the intersection of Prairie Avenue and Ramsey Road in Hayden.
A new Metro Express Car Wash will be built where the "Coming Soon" sign is at the intersection of Lancaster Road and U.S. 95 in Hayden.
Burke's Restoration is building a new place at 3801 W. Riverbend Ave., in Post Falls. Details soon.
The Thomas George building planned for the corner of Third Street and Front Avenue will be 18 stories mixed with commercial places on the first floor and 60 condominiums above.
Watch for details on new buildings under construction for corporate offices for Rogers Burgers on Government Way and Caliber Collision by Metro Car Wash in Post Falls.
St. Joseph's Ear, Nose, Throat & Allergy Clinic will have a new building at 849 N. Syringa, Post Falls.
Watch for commercial construction west of Highway 41 between 16th and Horsehaven in Post Falls.
Many of 16 commercial spaces are available in the planned Prairie Crossing Shopping Center in the northeast corner of Highway 41 and Prairie Avenue.
A new building for Etco Services is under construction off Huetter north of Seltice and I-90
The PACR office building is under construction at 1857 W. Hayden Ave.
A new Pizza Hut will be in Hayden.
The Mill will be a four-story mixed-use building at Government Way and Mill Avenue with businesses Including Ten/6 Restaurant) on the ground level and 43 apartments above.
Orthopedic Physical Therapy Institute (OPTI) is constructing a new building in Hayden.
Cornerstone, a four-story commercial and residential building, is under construction in Riverstone.
Bruchi's quick service restaurant will soon be in a new building north of the corner of Highway 41 and Mullan Avenue.
Watch for the opening of Vantage Point Brewery across from Michael D's Eatery off Coeur d'Alene Lake Drive.
Gentlemen Sausages will soon be in the former Abi's Ice Cream location at 112 Fourth St.
TownePlace Suites by Marriott Hotel is being built where the Outback Steakhouse was in the southeast corner of I-90 and Northwest Boulevard.
Watch for an Indigo Urgent Care building under construction next to Starbucks in the Crossroads Center off Ramsey Road.
A new commercial and residential building, Midtown Centre, is being built at 821 N. Fourth St.
Watch for major changes with the Burger Bunker and Bunker Bar off Spokane Street in Post Falls.
Donohoe Construction will be in the large new blue building on Seltice west of Post Falls.
Watch for many new places coming to Athol.
Beer One will be at 1207 N. Fourth.
A high percentage of vehicles are shades of white, black and gray that are harder to see as the daylight is less. I'm glad I have a red truck that I can find in the Costco parking lot.
Contact Nils Rosdahl at nrosdahl@cdapress.com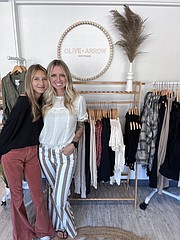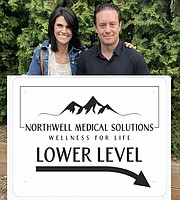 Recent Headlines
---