Huckleberries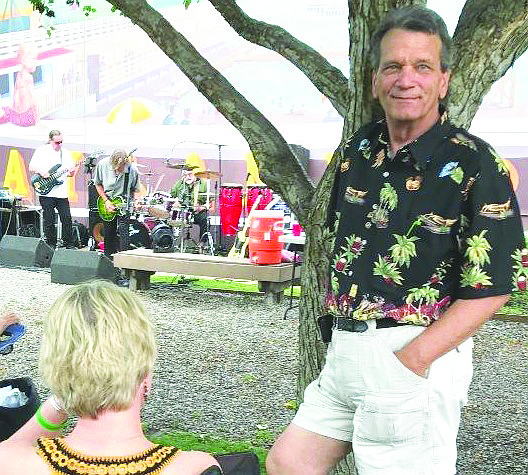 Chris Guggemos at a downtown concert.
|
October 2, 2022 1:00 AM
The Chris Guggemos we embraced as our "Music Man" wasn't the same one who conceived the idea for summer concerts in the park three decades ago.
Chris, who died Monday, was a far different man when he asked parks director Doug Eastwood to help him bring music to City Park – a struggling, bitter one who was mad at the world.
The city official liked the idea of free park concerts but worried that Chris had too much baggage.
Chris was drinking, smoking, getting high, and his language was incredible, Doug told Huckleberries.
"Every word was eff this, and eff that," Doug said. "I couldn't turn him loose in City Park with a loudspeaker. We had worked hard to create a family atmosphere in the park."
Then Doug surprised Chris.
He started telling the future concert promoter about the Gospel and the transforming power of the cross of Jesus Christ. Chris, who'd been raised Catholic, was astonished by what he was hearing, so much so that he sought out a local priest who agreed with what Doug had said.
Next, Chris found himself praying with a downtown restaurant owner. He was so baffled by what was happening he called Doug. And was invited to join Doug and Doug's pastor, Cliff Howry, for lunch. Chris told his story to the minister, who responded with the Gospel. And the trio stopped to pray.
"After that," Doug said, "he recognized that cigarettes were doing him no good, so he quit them. He never picked up another joint or swore or drank. He was transformed, and it was immediate."
Chris remained faithful to the Catholic church, attending St. Pius X and later St. Thomas, a stone's throw from his home in the Garden District.
Chris's idea for a concert series became a staple of our summers and showcased the musical talent in the region. A true patriot, Chris would begin his concerts by leading the crowd in an a cappella version of the National Anthem. He was known for chiding the audience if it didn't clap loud enough for sponsors. "Oh, come on now," he'd say. "You can do better than that. They're paying the bills."
But he never forgot that "chance encounter" with Doug that changed his life. Each year, on the anniversary of their first meeting, he would remind Doug of what happened the day they met.
Six months ago, when Chris learned that his fight with cancer was almost over, he called Doug and asked him to tell this story at his funeral service.
"Here was this guy with a great idea, but he was the wrong guy," Doug told Huckleberries. "He became a walking, talking symbol of the Lord. Chris was a miracle."
Rough sledding
Tongue firmly cheeked, the afore-mentioned Doug Eastwood refers to the North Idaho Centennial Trail as "23 miles of perpetual nightmare." The trail now, of course, is the crown jewel of recreation pursuits by visionaries over the last 35 years. But the ongoing battles to complete it were daunting.
Twenty-five years ago (Sept. 25, 1997), Doug, a trail booster, was among those at the Huetter rest stop who dedicated the final 4 ½-mile segment, connecting Post Falls with Coeur d'Alene.
A formidable attempt by the Post Falls Highway District and three industrial powers – Central Pre-Mix and the IFI and WI mills – blocked the proposed trail route from going along Seltice Way. "They opposed us for all the wrong reasons," said Doug. "We dealt with all kinds of hearsay and mythical things."
A breakthrough occurred when the Idaho Transportation Department suggested that the trail be re-routed along Interstate 90. It was. Today, of course, the trail also lines both sides of Seltice Way.
"The mills held sway back in the day," Eastwood said. "They were the economic engine in the community. Now they're gone and the trail remains."
And it will outlast all of us.
Fan Mail
Jim Faucher emails: "I really enjoyed reading your piece about journalists and their mistakes (Sept. 25). Back in the day, I made one that I just can't forget. After my Army military service, I was hired as the sports editor of the Daily Idahonian (now the Moscow-Pullman Daily News) in Moscow. One time I was assigned to cover a story out of my usual (sports) area -- a malpractice case against a very prominent Moscow doctor. The day I went into court, the doctor took the stand and gave his defense. I went back to the paper, wrote the story, put on a headline, and sent it out to be printed for that day's paper. No one checked it. The headline was printed just the way I had written it: 'Doctor Testifies In Suit Case.'"
Huckleberries
· Poet's Corner: Come January we'll remember/how bright the sun shone in September – The Bard of Sherman Avenue ("Autumn Thought.")
· Did you know that President Harry Truman stopped for 10 minutes each in Bonners Ferry and Sandpoint 70 years ago (Oct. 1, 1952) to back Democrat Adlai Stevenson's presidential bid. He warned a crowd of 3,000 in Bonners Ferry that GOP candidate Dwight Eisenhower would oppose important projects like the Hungry Horse Dam in Montana. "I think highly of Ike," Truman said to a roar of approval, "but I like him in the Army where he knows what he's doing."
· The late Ron Edinger once was – oh horror of horrors – active in the Young Democrats. That's what the Press reported 55 years ago (Sept. 29, 1967) when the 1966 Outstanding Jaycee announced his first of many runs for CdA council. At the time, the size of the council was being shrunk from eight to six. If elected, Ron promised, "he would strive for continued betterment of the recreational program for our youngsters." And he did.
· In a front-page editorial, titled "United Campaign deserves study," the Press once backed a newfangled idea for community fund-raising – combine all donations into a central fund. "Businessmen, hit frequently for contributions are apt to be 'edgy' when they see drive workers approach," the paper opined on Oct. 2, 1956. Sounds like a good idea.
· Thirty-five years ago (Sept. 28, 1987), at Riverbend Commerce Park, Jobs Plus introduced its first president – Robert L. "Bob" Potter, a former American Telephone & Telegraph executive. He was chosen from among 200 applicants. And he was the right choice. Jobs Plus blossomed under Potter's guidance and remains effective today.
· Many have only memories of the old Wilma Theater. Former Lake City cop Ron Hotchkiss has more. His Wilma treasures include a garbage can full of "Star Wars" fliers and "the handrails that led to the balcony, where daring kids would attempt to sneak without paying the extra cost." Ron was allowed to retrieve what he wanted inside the old theater after the roof collapsed on Dec. 31, 1996, and before it was demolished. Everything else? Gone with the wind.
Parting Shot
Here's one last thought about my friend, Chris Guggemos. He indulged one vanity – his hair. He wore a mullet for some time. Often, he would run his hand through his shoulder length hair and ask, "How's my hair look?" His brother Gary tells Huckleberries that ended about a decade ago when Chris was crossing Sherman Avenue. He was wearing his customary white cargo shorts, a tucked-in shirt, and knee-high white socks. All was well until a punk kid chided him from the sidewalk about his out-of-date hairstyle and fashion. Chris immediately visited a beauty shop and swapped his trademark mullet for a more conservative look. And thus Chris joined the 21st century of fashion.
D.F. "Dave" Oliveria can be contacted at dfo@cdapress.com.
Recent Headlines
---