THE FRONT ROW with MARK NELKE: Kathy Clark fought the battle for women's athletics at Idaho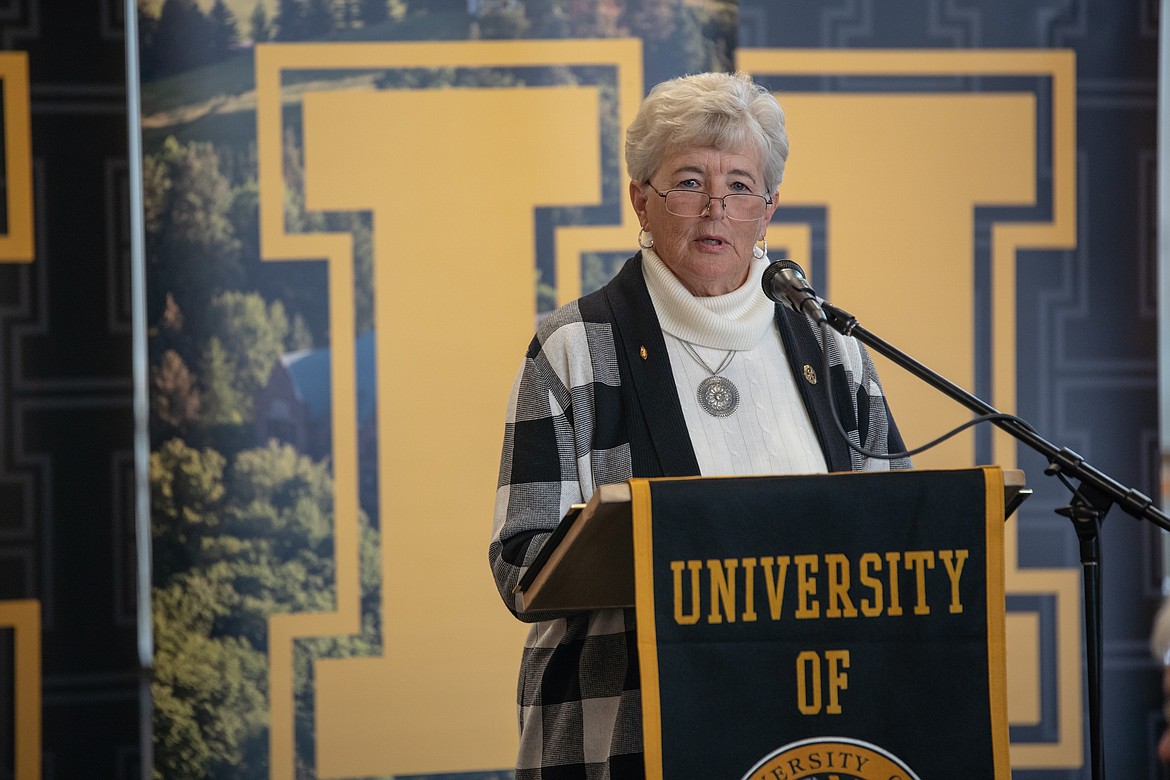 Courtesy University of Idaho Kathy Clark, former senior associate athletic director, and senior women's administrator at Idaho.
|
October 2, 2022 1:30 AM
Kathy Clark might not have been the most popular employee of the University of Idaho athletic department from 1974-99.
But she might have been one of the most important Vandals ever, during her time in Moscow.
In her roles as senior associate athletic director and senior women's administrator, she led the fight for women's athletics in Idaho.
Title IX helped, of course, but the movement also required a human touch.
"It was a struggle, but we never had to go to war," Clark, who now lives in Hayden, recalled the other day. "That was the one, good thing. One, my bosses and the administration, while we might not have been exactly on the same page, the support was there, the realization was there that 'Yeah, it was the right thing to do, and we've got to find a way to do it.'"
On the 50th anniversary of Title IX, legislation which gave women athletes the right to equal opportunity in sports in educational institutions that receive federal funds, from elementary schools to colleges and universities, Clark was honored Saturday as grand marshal of Idaho's homecoming parade in Moscow.
THERE WERE no volleyball and girls basketball teams, per se, when the Salem, Ore.-born Kathy Clark attended Lake Oswego High in suburban Portland, where she graduated in 1963.
"You had playdays," she recalled. "I was on the golf team in high school."
She played basketball and softball at Oregon State, where she was also on the bowling team.
After graduating from OSU, Clark earned her master's at the University of Massachusetts in Amherst. She then taught and coached at UMass for two years, then spent two years teaching and coaching at Wyoming.
Then Idaho came calling.
"I was first hired in 1974 as the first-ever head of women's athletics, the volleyball coach, the track coach, and a full-time instructor in women's physical education," Clark said. "It was a great opportunity to come to the university at that time, and not start the women's program, but certainly help it begin to grow, in that it was more of a glorified intramural program, but I don't want to claim to be the person that started it. I was the first person in charge of directing it full-time, or at least part time."
When Clark arrived, Idaho's women's athletic program "was in its infancy, and I was hired to direct a program that had never had somebody focused on directing the program," she said.
"For instance, women's athletics was in women's physical education when I came, apart from the athletic department, and apart from men's athletics, or men's physical education. So as things grew, and as the program evolved, and times changed, women's athletics came out of women's physical education, and into the athletic department, men's and women's physical education combined into one department, and from that time on, we developed a couple more sports, and with the advent of Title IX, got scholarships, and more opportunities, more money to travel and recruit, and literally become an athletic program."
She said in either 1974 or '75, for the first time, Idaho awarded $250 scholarships to four (4!) women's athletes.
"The budget for that first year for the women's athletic program when I came, I believe, was $9,500," Clark said.
WHEN CLARK arrived in Moscow, the Vandals competed in the Northwest Women's Sports Association, which was Region 9 of the Association of Intercollegiate Athletics for Women (AIAW).
The Vandals were in the smaller of the two divisions of the AIAW, but their teams were pretty successful. The year before Clark arrived, Idaho hosted the AIAW national swimming championships, and Clark would later become director for the AIAW national swimming and diving championships a few years later.
The NCAA took over as governing body of women's athletics in 1982.
While Clark fought for women's athletics at Idaho, "my responsibilities also involved the men, too," she said. "I never supervised men's basketball and football. But for a good long time I supervised all the other programs."
One of her duties was scheduling practice time for volleyball and men's and women's basketball at Memorial Gym, which also was used for P.E. classes and intramurals, etc.
"I wasn't one of Don Monson's favorite people," Clark said of the legendary Idaho men's basketball coach, "when he wanted only what he wanted, and rightly so as a coach. But so did Pat Dobratz, and Tara VanDerveer and women's basketball coaches who wanted just as much success for their teams as for the guys."
Early on, the volleyball and women's basketball teams didn't even play in Memorial Gym. They played in the women's physical education gym, located in another building nearby.
"There were a few bleachers that could be pulled out, but not many," Clark recalled. "There wasn't even a scoreboard in there at first, if I'm not mistaken, so we had to make sure there was a scoreboard."
(Fast-forward nearly 50 years, where the women's basketball team plays in the shiny new ICCU Arena, where Clark's name is on a couple of lockers in the women's locker room, and on a few seats in the arena.)
She also stressed that she was not the first Idaho volleyball coach. She was the first "dedicated" coach. The Vandals played a limited schedule in volleyball before her arrival.
"It was in its infancy, and I took it from there," she said.
Her first season as volleyball coach, Idaho finished 22-6.
"We happened to have some really good players at the beginning," she recalled.
ASKED WHAT she was most proud of from her time at Idaho, Clark said there were a few things.
One was that she and the rest of the administration was able to work together to advance the cause for women's athletics — she didn't have to go to court.
Second, she's proud of the success of her programs, how the student-athletes did academically, and that she was able to hire several outstanding coaches.
One of which was a grad assistant at Ohio State named Tara VanDerveer.
"She'd gone to school at Indiana, and she was a student of the game," Clark recalled. "So she'd sit in Bobby Knight's practices, and sometimes even in his office, learning basketball from the ground up."
She then became a grad assistant at Ohio State when the Idaho job came open in 1978.
"She was young, but I knew she would eat, sleep and breathe basketball, and she did a number of things on campus in her two years on campus to gain all kinds of support. … and won a lot of basketball games," Clark said. "While we had good coaches before Tara, she really kind of kicked us off into the new age, if you will (1978-80), then Pat (Dobratz) came in, and did a great job as well (1980-87)."
After two seasons in Moscow, VanDerveer headed back to Columbus to become head coach at Ohio State. In 1985 she moved on to Stanford, where she's been ever since, winning three national titles.
"You always hope somebody is going to stay there, but that is kind of the niche Idaho has … if you're lucky enough to get somebody on the rise, and they're successful here, they're probably going to end up someplace else," Clark said.
When Clark retired in 1999, VanDerveer sent her a photo of her 1996 Olympic gold medal-winning U.S. women's basketball team as a gift.
"I knew she'd be good," Clark said. "And she's always been so kind to credit Idaho and me in particular … she loved her time at Idaho."
When VanDerveer left Idaho, Clark hired Dobratz, who coached the Vandals to the WNIT title in 1986.
Tom Hilbert was a successful volleyball coach at Idaho, before moving on to Colorado State.
"One of the many things I'm proud of at Idaho — I helped start the beginnings of the academic support services for men and women at Idaho," Clark said. "Tutoring programs, advising connections, making sure students succeed in the classroom."
AFTER RETIRING from Idaho in 1999, Clark moved to Bayview, where she lived until moving to Coeur d'Alene in 2016.
These days, the former high school golfer from the early 1960s can still be found on the links, playing in a ladies league at the Coeur d'Alene Golf Club.
"Title IX has been the single most important thing to help women's athletics develop," she said.
In some ways, Clark is a reminder of how women's (and girls') athletics used to be, and the struggles it took for them to get to where they are today.
"I'm glad Idaho hasn't forgotten who I am," she said with a laugh. "I'm proud that I had a pretty strong role in the development of women's athletics … I'm very glad I was there. It's a great institution. Moscow is a wonderful community and the relationship between the community and institution is fantastic. And I hope it always stays that way.
"It's nice that young girls don't think about that (Title IX) now, but they need to, because it hasn't always been this way."
Mark Nelke is sports editor of The Press. He can be reached at 208-664-8176, Ext. 2019, or via email at mnelke@cdapress.com. Follow him on Twitter @CdAPressSports.
Recent Headlines
---