'It's been a great tool'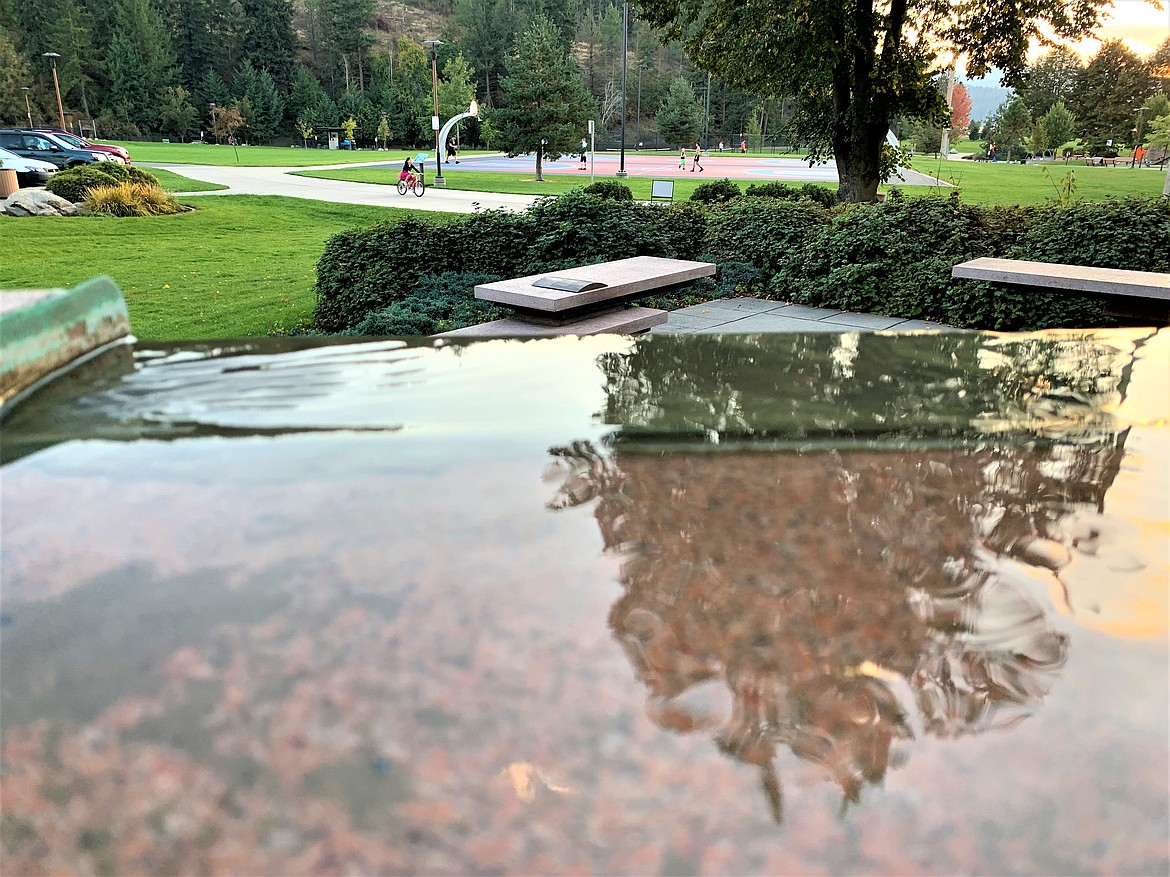 Water flows from the fountain at the Coeur d'Alene Public Library, while a cyclist rides past a basketball game at McEuen Park. Both projects, park and library, were within ignitecda's Lake District.
BILL BULEY/Press
by
BILL BULEY
Staff Writer
|
October 2, 2022 1:09 AM
COEUR d'ALENE — Ignite cda's original redevelopment district, the Lake District formed by the Coeur d'Alene City Council in 1997, was a success.
That's how Councilwoman Christie Wood sees it.
"We've done a lot of tremendous, really good things with urban renewal," she said. "I think it's been a great tool."
Wood said one needs to look at projects within the district, including the Coeur d'Alene Public Library, parks and schools to see just how successful it was.
She said she supports urban renewal when done right.
"I think you did it right," she recently said, to ignite cda Executive Director Tony Berns, shortly after voting with the rest of the council to approve an ordinance terminating the Lake District.
Councilman Dan Gookin had a different view.
He said the main question to ask about whether an urban renewal district is successful is, what's the benefit?
"Farewell, good riddance," he said of the Lake District. "I've been criticizing urban renewal for a long time and this was the bad boy of the districts."
Gookin said the Lake District, for the past 25 years, should have been focused on developments to create jobs. Instead, he said it was too much about developments of expensive townhouses and condos for people who don't live here.
"Realistically, the goal of the entire thing has been to plant high-end homes for rich people," he said.
He said the same thing is happening in the Atlas District and even the Health Corridor District, which won't help address the city's affordable housing crisis.
"I will mercifully vote yes to close this thing down," he said.
The termination date for the Lake District was Dec. 31, 2021, except for revenues to be received in 2022 as authorized by Idaho Code.
The city of Coeur d'Alene's portion of funds from the closing of the Lake District is $930,787. Most of that, $750,000, will go to the street overlay fund to improve city streets.
In addition, ignite cda, the city's urban renewal agency, will convey two parking lots at 839 N. Third St. and 845 N. Fourth St. and what is known as Sherman Square Park, to the city.
The district originally encompassed 729 core acres, including portions of Midtown, Downtown and Northwest Boulevard, according to its website.
In 2016, 58 acres were de-annexed resulting in $337,000 in annual revenue to the benefit of taxpayers, the city of Coeur d'Alene, and other taxing districts. When closed, the Lake District was 671 acres.
The district's valuation today is estimated at more than $700 million. It was about $100 million originally.
Major projects within the Lake District include the Riverstone mixed-use development; McEuen Park revitalization; the Kroc Center; the Coeur d'Alene Regional Chamber's building; McEuen Terrace; new North Idaho Centennial Trail segments; downtown parking garage; Parkside Tower and the Ice Plant Townhomes.
Berns is proud of the work that has been done. It has been successful in fueling development on the private and the public side, he said.
He said the Lake District created more than three-quarters of a billion dollars in new taxable value for the city.
It is estimated that development within the Lake District led to the creation of more than 1,000 jobs.
"Ignite doesn't create a job," Berns said. "We just work with developers and the business community to enable them to hopefully come here and create jobs."
With the Lake District's closing, Berns said, "All the valuation that we helped create over the base value when it was formed in 1997 goes back to the taxpayers and the taxing entities for their use.
"The taxing districts can use a portion of that in their budgeting process, but a good portion of it was delivered to the taxpayer as tax relief."
Per an ignite cda brochure, projects it led and that are now public assets include:
Fourth Street Parking Garage. Initial investment $7.3
Midtown. Initial investment $1.7 million; parking investment $358,000
McEuen Park, initial investment $15.6 million
Coeur d'Alene Public Library, initial investment $1.2 million.
Higher Education Campus, initial investment $5.4 million.
Details for the termination of the Lake District remain to be completed.
Ignite cda will allocate remaining Lake District cash assets to seven board approved initiatives: Museum of North Idaho site improvements; City Lake District Projects; CDA Rotary Centennial Park (Sherman Square Park); LaCrosse Roadway Improvements; Coeur d'Alene Chamber of Commerce funding agreement; Annual disbursement of Lake District public art funds to the city's Arts Commission; and city reimbursement for the Third Street parking lot renovation.
Ignite cda still has property in the Atlas District. The Lake District Termination Plan states that by Sept. 30, 2023, ignite cda intends to either sell Atlas Project Area 13 (negotiations are ongoing with a developer for $2.1 million) and use proceeds to reimburse the city for its $1.8 million Atlas Mill Site acquisition costs, or if it doesn't sell, transfer the property to the city.
Councilman Woody McEvers was on the city's planning and zoning commission in 1997 when the Lake District was formed. He recalled that the concept of urban renewal was an unknown tool at the time for the city. He called it a "really strange thing when it started."
"Seems like it took awhile to get some ground work going and then all the sudden it blew up and moved along and great things happened," he said.
McEvers said the Lake District did well.
"That's a pretty good 24-year run," he said.
Mayor Jim Hammond said urban renewal in Coeur d'Alene has been successful at developing vacant land, or land where lumber mills or manufacturing facilities once operated. That has created jobs, housing and contributed to the tax base.
"That helps the schools, it helps us, it helps the county, it helps everybody," Hammond said.
Recent Headlines
---