PREP FOOTBALL: Mistakes cost Vikings dearly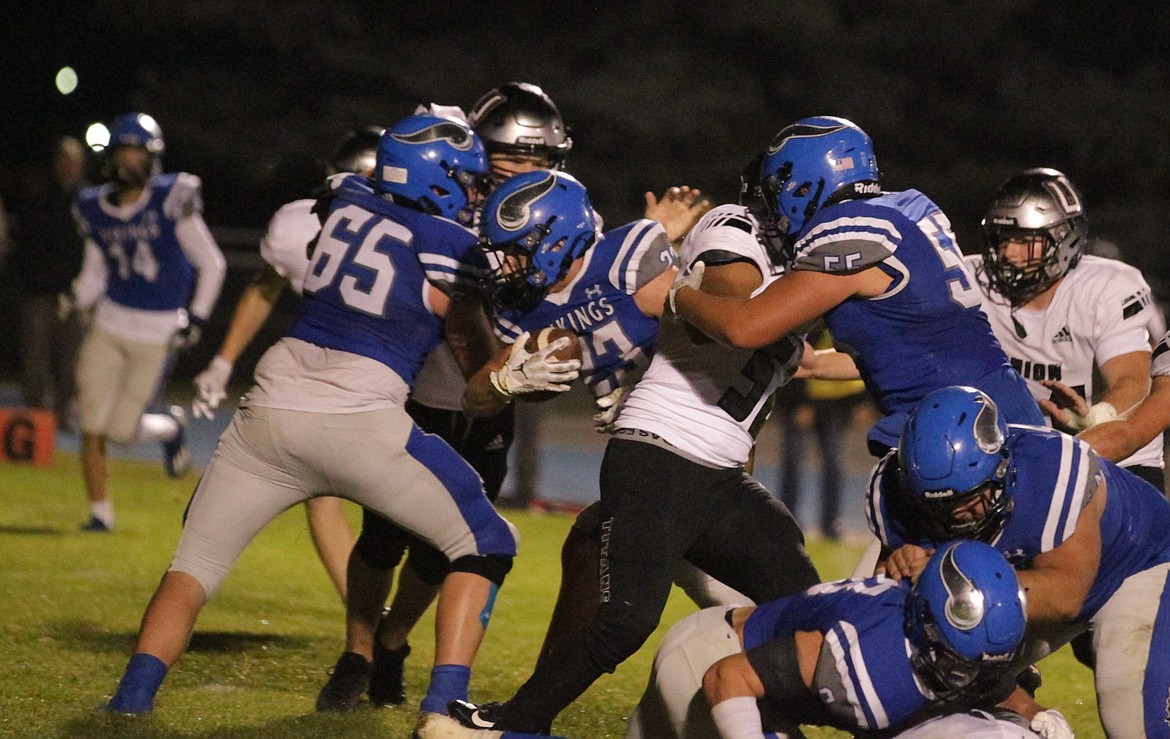 JASON ELLIOTT/Press Coeur d'Alene junior running back Carsen Speelman breaks through the offensive line on the way to the endzone in the third quarter of Friday's game against Union at Viking Field.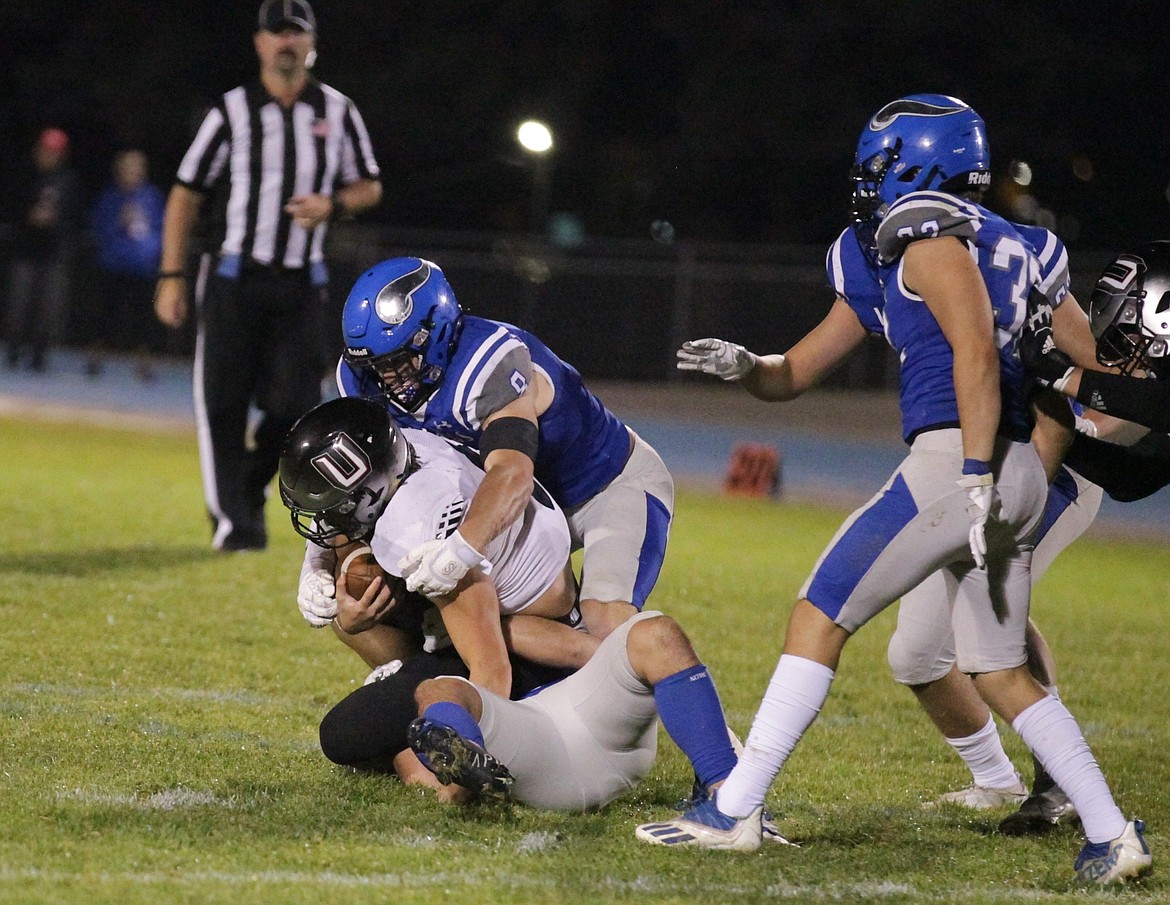 JASON ELLIOTT/Press Coeur d'Alene senior linebacker Brandon Whitby brings down Union wide receiver Chase Lofton during the third quarter of Friday's game at Viking Field.
Previous
Next
|
October 1, 2022 1:25 AM
By JASON ELLIOTT
Sports writer
COEUR d'ALENE — Whether it was a 5-yard penalty for jumping offsides, or a turnover on offense, whatever could go the wrong way for Coeur d'Alene, did on Friday night.
Coeur d'Alene, hampered by two interceptions and a 10-minute drive by Union to open the game, was limited to 181 yards offensively as the Vikings fell 40-20 to the Titans of Camas, Wash., at Viking Field.
"We made too many mistakes and they capitalize on them," Coeur d'Alene coach Shawn Amos said. "They were a much better team than we were tonight in a lot of aspects and areas."
Union drove the length of the field on the first series of the game, bleeding 10 minutes off the clock before a 26-yard field goal by Jacob Hall opened the scoring in the first quarter.
"The game for us played out really well with the pace," Union coach Rory Rosenbach said. "We've got some guys banged up, so we've got some guys playing on both sides that don't normally have to do that. I think that drive was a good confidence boost for us to get our momentum after that long bus ride."
Coeur d'Alene scored early in the second quarter on a 3-yard run by Kruz Wheeler to take a 7-3 lead.
"On all sides of the ball, we didn't execute at the level that we needed to be to be successful to win games like that," Amos said. "And they did tonight."
Coeur d'Alene (3-3) opens 5A Inland Empire League play next Saturday against Lake City.
"We've got an opportunity to respond now," Amos said. "Our season starts again next Saturday and what we do with it, we'll see. I have faith that our kids will respond the proper way. But we'll see when we get back to work on Monday."
Junior running back Carsen Speelman accounted for 64 yards rushing and 39 receiving for Coeur d'Alene, all in the second half.
"He had a good week of practice and we were planning to play him a little bit more tonight," Amos said. "He definitely did a good job and we had some guys that stepped up in that position."
Coeur d'Alene quarter Jamison Kizziar was intercepted twice in the third quarter, once by Chase Lofton and another by Clayton Maus that set up another Union score.
Cody Zehner finished with 98 yards rushing for Union (2-3).
"Coeur d'Alene has a really good front six," Rosenbach said. "But I was really proud of our guys for being able to match that. Our guys were able to grind it out, but it was difficult against that front six. Anytime you can come into this house and get a win, you feel pretty good about it."
Trailing 33-20, Coeur d'Alene was stopped on fourth and 1 with 4:42 remaining. Union drove down the field and scored again on a Tyson Fuehrer run with 1:33 to cap the scoring.
"We were just too inconsistent and made too many mistakes," Amos said. "And you're not going to beat good teams like that if you make those kinds of mistakes."
Armon Attaran had nine receptions for 108 yards and a fourth quarter touchdown for Union of Vancouver, Wash.
"They were just better than us tonight," Amos said. "We've just got to regroup. That's really the only choice we have and get better from here."
Union 3 10 14 13 — 40
Coeur d'Alene 0 13 7 0 — 20
First quarter
Uni — FG, Jacob Hall, 26, 2:15.
Second quarter
Cd'A — Kruz Wheeler 3 run (Cooper Prohaska kick), 10:12.
Uni —Cody Zehner 16 run (Hall kick), 6:49.
Cd'A — Carsen Speelman 11 run (kick blocked), 1:00.
Uni — FG, Hall, 36, :03.
Third quarter
Uni — Chase Lofton 2 run (Hall kick), 6:46.
Uni — Clayton Maus 42 run (Hall kick), 5:56.
Cd'A — Speelman 9 run (Prohaska kick), 1:12.
Fourth quarter
Uni — Armon Attaran 19 pass from Tyson Fuehrer (kick failed), 7:19.
Uni — Fuehrer 6 run (Hall kick), 1:33.
INDIVIDUAL STATISTICS
RUSHING — Uni, Smoot 1-(-11), Maus 1-42, Zehner 19-98, Fuehrer 13-77, Burbank 4-18, Drobinski 1-0, Lofton 4-11. Cd'A, Wheeler 7-14, Kizziar 4-14, Maciosek 1-9, Short 1-0, Speelman 10-64.
PASSING — Uni, Fuehrer, 12-18-0-131. Cd'A, Kizziar, 11-22-2-76.
RECEIVING — Uni, Attaran 9-108, Smoot 2-14, Drobinski 1-9. Cd'A, Clute 2-23, Erickson 2-(-3), Speelman 3-39, Brown 2-14, Robertson 1-11, Maciosek 1-5.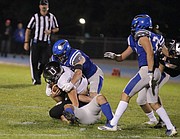 Recent Headlines
---