Eagles swoop, soar over Lake Cd'A
by
BILL BULEY
Staff Writer
|
November 24, 2022 1:09 AM
COEUR d'ALENE — A single bald eagle perched on a tree looked down on Higgens Point on Wednesday morning.
Then, another landed on a branch above it.
Seconds later, a third eagle glided down and gracefully settled on a branch below.
On this cloudy morning with some sun breaks and blue skies, only a few people were around to witness it.
CJ Stuermer was one of them.
"That's pretty cool," he said.
The retired Coeur d'Alene High School teacher was taking pictures of the eagles, something he loves to do each year about this time.
"They're just majestic birds," Stuermer said.
He's seen as many as 16 in a tree at Higgens, which is at the end of Coeur d'Alene Lake Drive.
Over the years, he's captured many memorable moments of the aerial acrobatics of these birds.
"It's just a cool, cool time," Stuermer said. "They're not here for that long."
The eagles arrive from Canada and even Alaska. They come to feed on spawning kokanee salmon and often put on spectacular shows as they swoop down to snag a fish from the surface of Lake Coeur d'Alene.
One moment, an eagle is sitting on a branch looking over the water. The next, it is flying, soaring and then diving for a fish, often attracting competition.
The eagle count generally reaches its peak in late November. It continues until about mid-December, but the number of returning eagles varies from year to year.
The Bureau of Land Management began counting bald eagles around Wolf Lodge Bay in 1974. It reported a high of 383 eagles on Dec. 20, 2017. On Nov. 29, 2018, the count reached 343, while on Dec. 2, 2019, the count totaled 259 eagles.
Last year, on Nov. 26, the count was 95 adults and 13 juveniles.
Rudy Cruz came out from California specifically to photograph bald eagles and did so a final time Wednesday before catching a plane home.
A friend told him Coeur d'Alene is known for its bald eagles this time of year and offered to let him stay with him.
Cruz took him up on the offer.
"I'm loving it," he said.
Cruz was pleased with his pictures, and said he found good luck at a small cove a short distance from the boat launch.
"There's an eagle that waits there and when the timing is right it likes to go down and get a fish," he said.
He displayed a few digital images of an eagle with its reflection on the glassy water of Lake Coeur d'Alene, a tough shot that requires more than a good camera and long lens.
"That's if you have time and you have patience," Cruz said.
BLM Eagle-watching tips
• Suggested viewing areas: Higgens Point, Mineral Ridge Boat Ramp, Mineral Ridge Trailhead
• To avoid disturbing the birds, use binoculars or spotting scopes so you may view details without the need to be close. Vehicles disturb eagles less than walking people do, so parking safely off the road and viewing with binoculars is a good method. Watch the bird's body language. If you're too close, it will appear uneasy.
• Feeding activity begins upon arrival at the lake and continues throughout the early morning. Feeding slows at midday, then resumes late afternoon before the flight back to the roost.
Lake Coeur d'Alene Cruises offers eagle-watching cruises. Tickets can be purchased at bit.ly/3i9tPQv or by calling 208-292-5670.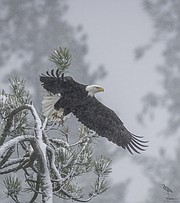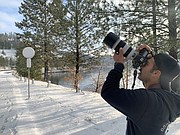 Recent Headlines
---