Curtain rises on 37th Christmas for All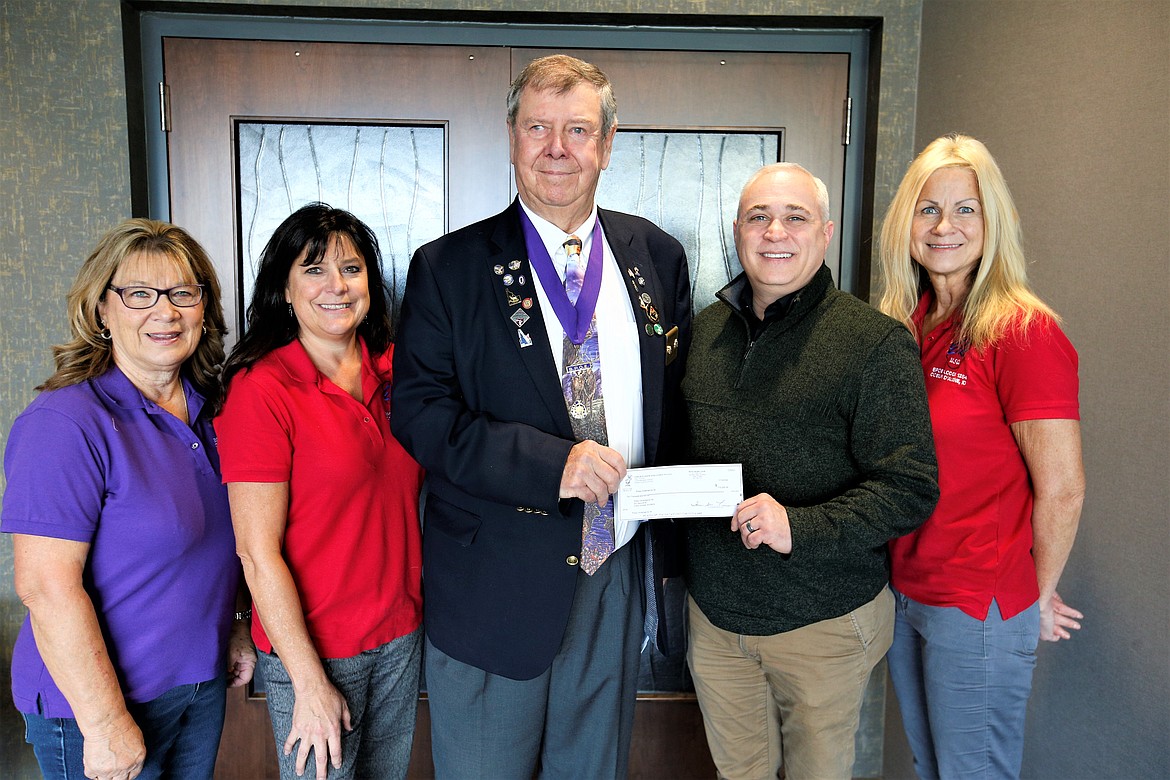 The Coeur d'Alene Elks Lodge No. 1254 donates $10,000 to The Press Christmas for All program. From left, Fran Lara, treasurer; Robbin Moore, board chair; Pat Braden, Past Exalted Ruler; Clint Schroeder, regional publisher, Idaho and Washington, Hagadone Media Newspaper Groups; and Molley Barr, Leading Knight.
by
MAUREEN DOLAN
Staff Writer
|
November 24, 2022 1:07 AM
Members of Coeur d'Alene Elks Lodge 1254 have been making a difference in the local community for over 111 years.
Since the lodge was organized in 1911, these benevolent and protective souls have given roughly $10.5 million back to the Coeur d'Alene area.
The Elks have once again stepped forward to help their friends at Press Christmas for All kick off the 2022 campaign.
This year's gift of $10,000, which matches the amount the Coeur d'Alene Elks contributed last year, launches the effort toward a 2022 Christmas for All goal of $225,000. It's an ambitious goal, but an achievable one, based on the incredible success of last year's program when, thanks to our generous readers' donations, Christmas for All raised a whopping $238,000.
This is the 37th year of the program. Because Press Christmas for All is a 501(c)3 managed by volunteers at The Hagadone Corp., the Coeur d'Alene Press and Charity Reimagined, every penny raised goes to Kootenai County residents in need. All overhead costs are borne by the company.
The fundraising campaign runs from the day after Thanksgiving to Christmas Day.
For those new to the area, Press Christmas for All has evolved over the years to now focus on local people in poverty who, with a little help, are willing and able to give themselves and their families a better life.
More than 20 organizations assist with the vetting process to ensure people who are working hard to help themselves get the hand up they need, not a hand out that would only continue their plight in poverty.
Outstanding businesses provide goods and services at or below cost for Christmas for All so recipients get car repairs that enable them to go to work and take the kids safely to school; to have eye exams and eyeglasses so they can see well enough to fill out a job application; to buy tools of their trade so they can put their skills to work, find a home and feed their family.
Reaching the goal of $225,000 will go a long way in pulling local families out of the despair of poverty and into the realm of sustaining themselves — and their dignity.
Please help. Make your tax-deductible donation today. There are several ways to donate:
Mail a check to Press Christmas for All, 215 N. Second St., Coeur d'Alene, 83814
Call The Press and make a secure credit card donation over the phone: 208-664-8176
Drop off your check at The Press weekdays between 8 a.m. and 5 p.m.: 215 N. Second St. in downtown Coeur d'Alene.
Visit cdapress.com and click on Christmas for All 2022 to make a secure, online donation.
Recent Headlines
---