Lake City football coach Fulp resigns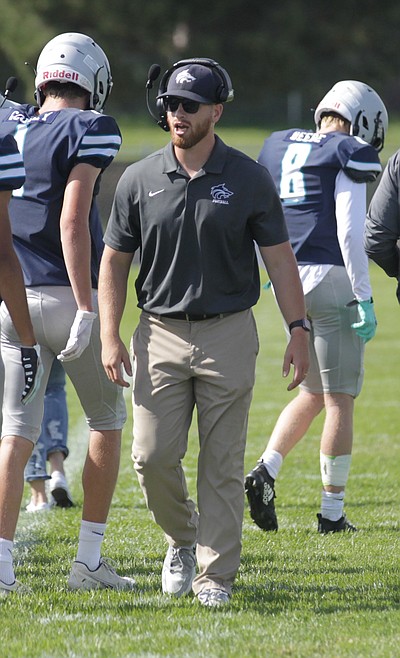 MARK NELKE/Press Lake City High head football coach Brian Fulp encourages his team before the Bishop Kelly game earlier this season.
|
November 19, 2022 1:25 AM
By MARK NELKE
Sports editor
COEUR d'ALENE — Citing family reasons, Brian Fulp has resigned after five seasons as Lake City High's head football coach.
"I've got a seven-month-old daughter, that definitely changed some life priorities for me over the last year or so," said Fulp, who turns 32 next week. "Being a head football coach at a 5A school takes a lot of time and a lot of effort, and I didn't feel like I could give all of my time to my family while doing the same thing, while my daughter is so young."
Fulp was 14-31 in five seasons at Lake City, including 2-7 this season. The Timberwolves made their lone state 5A playoff appearance under Fulp in 2019, losing to Mountain View of Meridian in the first round.
"Brian's got a young family, and a 5A football coach is a really demanding job," first-year Lake City athletic director Troy Anderson said. "So I totally respect the decision that he has made. We absolutely think the world of Brian in this building, and we're super grateful for everything he's done."
Anderson said he hopes to have a new coach in place "early next year."
Fulp, who let his players and coaches know of his decision this week, said he was under no pressure to resign.
"No, this is my decision. One hundred percent my decision," he said.
"No, it was totally his decision," Anderson said.
Fulp is in his eighth year as a teacher at Lake City. He taught various social studies classes until being named head football coach, and is now in his fifth year as a weights and conditioning teacher.
Asked if he planned to remain at Lake City beyond this year, Fulp replied, "We're not quite sure what the future holds for us. We (he and wife Kassadee) are going to look at some options."
Fulp replaced Bryce Erickson, who was head coach for two seasons (5-12) after Van Troxel, who started the program in 1994, resigned after 22 seasons as head coach. Fulp was a junior varsity assistant during Erickson's first year, then was JV head coach the next year. He was named interim head coach in 2018, then was promoted to head coach a few weeks into the season.
"I got married and hired as a head football coach within two weeks," Fulp recalled.
Fulp played football and basketball and ran track at Priest River High, graduating in 2009.
Anderson said he was most impressed with the relationships Fulp developed with his players.
"Brian does a phenomenal job in our building, and I think he gets the respect of kids in the building, and they want to come back, and they want to be part of this program," he said.
Said Fulp: "One hundred percent most proud of the young men who have come through that program. I've got a very close relationship with quite a few of them, as they continue to grow, and it's fun to watch them go through life, and learn, and be fine young men."
Fulp also coached one season of junior varsity basketball at Lake City, and this spring will mark his eighth season as an assistant track and field coach with the T-Wolves.
"I love Lake City," Fulp said. "I love the people, I love the kids, I love the family dynamic that it is, and I really appreciate the acceptance of me and my family, especially during my time as head football coach. It's been a really special five years. Definitely was not an easy decision to make, but family first, for sure."
Recent Headlines
---