Bob D. Ray, 90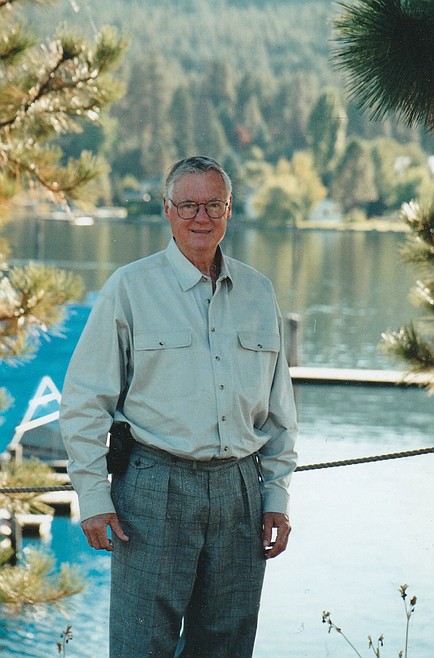 |
November 19, 2022 1:00 AM
Bob D. Ray made his journey to Heaven on Nov. 15, 2022. Bob was born Oct. 12, 1932, and grew up in Greenville, Texas, where he graduated high school in 1950. Afterward, he attended Austin College on a basketball scholarship in Sherman, Texas, before embarking on his career as a successful salesman. Known as "The Candy Man," he always carried chocolate treats with him to share with family, friends and strangers alike.
Bob loved people and making new friends. His success as a salesman won him great recognition and allowed him to share his light with others. He worked several years with JC Penney before he transitioned to traveling sales and retired after an extraordinarily successful career with Justin Boots.
Coeur d'Alene, Idaho, was a paradise to Bob and his wife, Lee Ray. Bob loved Lee with all his heart and they traveled the world together. Their love for the mountains led them to own and operate a successful bed and breakfast and a beautiful home to host family and friends. In his later years, Bob spent most of his lunches at his favorite local restaurant, Moontime. He loved iced tea and Blue Bell ice cream almost as much as he loved Coeur d'Alene.
Bob is survived by his wife, Lee Ray of Coeur d'Alene, Idaho; sister Billye Marion, married to Frank Marion Jr. of Greenville, Texas; his daughter, Jerelyn Leonard, married to Jeff Leonard of Wylie, Texas; his daughter, Vanessa Orr of Wylie, Texas; Robert Fowler, son of Lee Ray; Michelle Nelson, granddaughter of Lee Ray. Bob had five grandchildren: Brad Orr and wife, Jenni Orr; Melissa Hearon and husband Jason Hearon; Bethany Choate and husband Phillip Choate; Cole Leonard and wife Brianna Leonard; and Mitchell Leonard. Bob had five great-grandchildren: Avery Orr, Jase Orr, Garrett Choate, Mallory Choate and Eva Leonard.
Bob and Lee were longtime members of their beloved church Trinity Lutheran in Coeur d'Alene. Funeral services will be held at Trinity Lutheran at 11 a.m. on Friday, Nov. 25, 2022. A viewing will be at 10:30 a.m. prior to the funeral service. Then the graveside will follow at Forest Cemetery after the service.
Yates Funeral Home has been entrusted with final arrangements. Please visit Bob's online memorial and sign his guestbook at www.yatesfuneralhomes.com
Recent Headlines
---