An eternal runner-up, no more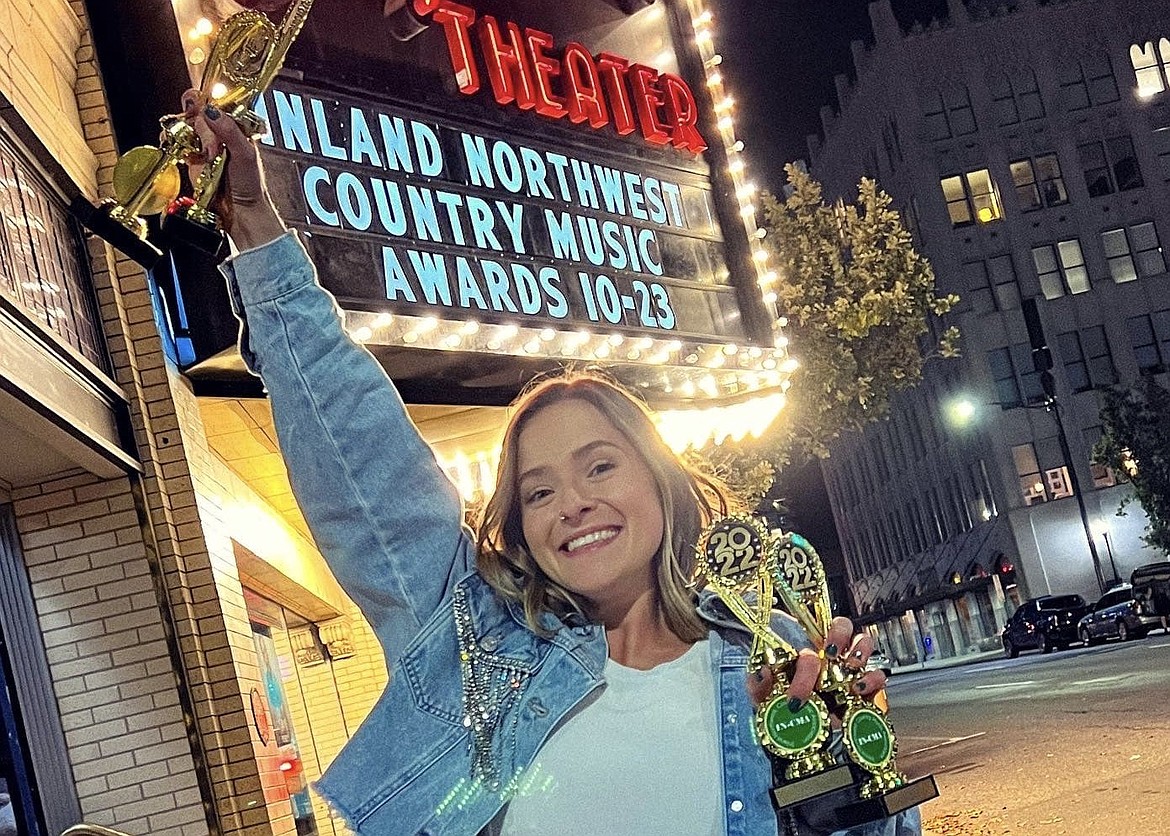 Carly Osika shows off her hardware from the IN-CMAs, where she was chosen as Favorite Solo Act.
Courtesy of Carly Osika
by
CHANSE WATSON
Hagadone News Network
|
November 18, 2022 1:00 AM
Before attending the Inland Northwest Country Music Awards event for the first time on Oct. 23, North Idaho native and local musician Carli Osika joked with her family that she's always been an "eternal runner up," and that this was the first year that the event was offering runner-up awards. Nominated in five different categories, she was in a good position to be taking home some hardware.
As the night began, the self fulfilling prophecy seemed to be taking shape.
Because of the order in which they announced award winners, Osika first collected runner-up trophies in the "Song of the Year" and "Favorite Song Writer" categories.
When "Favorite Solo Artist" of the year came up though, the second-place streak came to an end.
"I was totally prepared to just be runner-up in everything," she said with a grin. "I ended up with a lot of trophies."
Born in Missoula, Mont. and raised in Coeur d'Alene, Osika said there really wasn't a single moment when her musical switch flipped, as it has always been turned on.
"I don't know if I really 'got' into music, as much as I just like 'was' into music," she said. "As it's been told to me, as soon as I figured out I could make sounds, I was singing and it was a very natural thing to me."
The interest and ability to play an instrument wasn't too far behind the singing, as she started to learn how to play the guitar in second grade, after being inspired by her uncle who played.
In hindsight, she is very thankful that she learned to play at a young age, rather than trying to pick it up now.
"I think it's really cool being a kid learning to play an instrument, because you just kind of don't care that you suck," she said, with a laugh. "I think that's the key to figuring it out, because as an adult, I've tried to learn piano and it seems like it should be easy because piano makes more sense than guitar, logically … but I just get so mad that I'm not immediately good at it and I just can't stick to it long enough to really get anywhere."
Unlike many other singers and musicians, Osika was never really part of a school or church choir.
"I've always kind of done my own little thing," Osika said.
She got her first real experience with public performances when she was a sophomore in high school and joined up with the Coeur d'Alene Rock School, which is now North Idaho Rock School.
"Some of it, I was just playing solo at the shows…then we had our own band that was kind of like a Green Day cover band, basically," Osika said.
Appropriately named "Minor Disturbance," the under 18 alternative rock band would just be a first step for her, and she continued to acquire solo gigs across the local area.
It was also around this time that Osika was dipping her toes into the world of songwriting.
Her music writing career technically began in late middle school, when she wrote a sad song about Pluto not being a planet anymore for a science project. When she got into high school was when she really started to take things more seriously.
She began writing and recording with Dan Conrad, a fellow musician and producer. This partnership has blossomed since, as both musicians work well to critique and tweak each other's works to get the best results.
"We kind of just feed off of each other," Osika said. "I don't think I've ever gotten to the point where I'm like, 'yeah, I'm a good writer.'"
The first music she wrote was strictly pop, but it has since wandered into the country genre. Because of this, and her wide taste in music, it has been hard for her to give a definitive answer when someone asks what genre of music she plays and sings.
"I say pop-country, but even that I hesitate, because I think that puts a picture in people's minds that isn't exactly what I'm doing," she said.
While she would love to be an alternative rock & roll-type singer, she understands that genre probably isn't who she is.
The original songs that she takes the most pride in, "Whiskey and Him" and "I Don't Really Wanna Know," encapsulate her hybrid style. With "I Don't Really Wanna Know," Osika believes that the song doesn't necessarily fit the "template" of what many country music songs fit into.
"I'm just trying to do something that I think is cool and interesting," she said.
The most recent song, "Whiskey and Him," got her one of her three runner-up trophies at the IN-CMAs.
Osika was surprised she was nominated and won so much at the event, as she believes that she has struggled to grow a "super loyal following" in the area and every category is decided by popular vote.
"It's really nice to kind of get in on that whole crowd and have a little bit of validation that people are, apparently, paying attention and liking what I'm putting out there," she said. "I've been playing in the Coeur d'Alene area for a little over a decade now. I guess I was so busy playing my own gigs that I never met any of these (other musicians at the CMAs)."
After living in Nashville for a few years and grinding away to get noticed, Osika moved back home and has been performing all over North Idaho.
Her musical goal for the short term is to continue playing in the local communities and hopes that the local area will take even more of a notice in her.
"Long term, the best thing that could happen is I sell something I wrote to Miranda Lambert or something and it goes crazy and nobody ever knows who I am, but the song is out there."
Carli Osika's music can be found on all the standard music streaming platforms. To keep up with where she is playing, follow her on social media.
To hear the full interview with Osika, visit nin.buzzsprout.com or search out the North Idaho Now podcast on your favorite music app and listen to Episode 181.
Recent Headlines
---