Watching, waiting and refreshing: Election results delay blamed on write-ins, mismarked ballots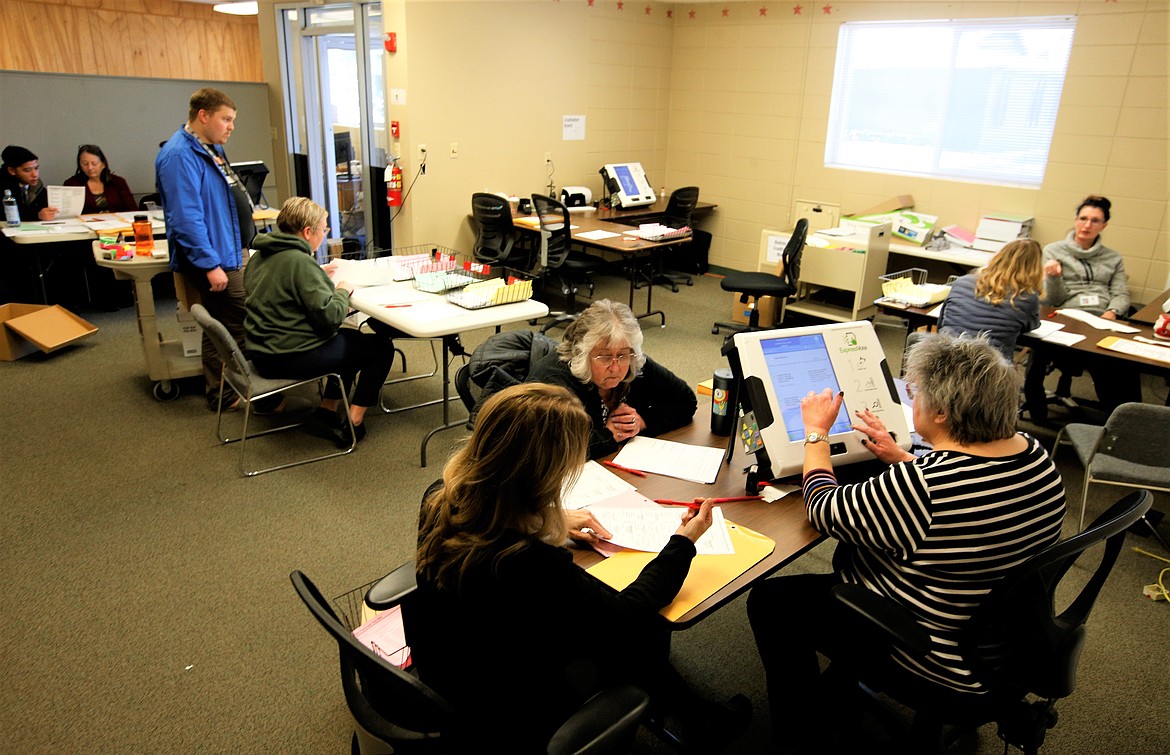 Kootenai County Elections Department staff and volunteers go over ballots so they can be properly processed and tallied on Wednesday at the Elections Department in Coeur d'Alene.
BILL BULEY/Press
by
MAUREEN DOLAN
Staff Writer
|
November 10, 2022 1:09 AM
It was a long night of counting ballots Tuesday, which extended well into Wednesday and Wednesday night, for Kootenai County Clerk Jim Brannon and the county's elections staff.
For voters eager for results, it meant hours of clicking the refresh button on Kootenai County's election results page on the Idaho Secretary of State's website.
Final results were not available until around 6 p.m.
Polls closed at 8 p.m. Tuesday, and by early Wednesday morning, just 5,311 votes had been reported as counted, representing the early in-person votes. By around 7 a.m. 38,329 votes had been counted, and as the day progressed, the number rose to 61,937 votes counted, with 98.6% of the county's 73 precincts reported.
The final results revealed a voter turnout of 63,231 representing 61.27% of the county's registered voters.
Brannon told The Press Wednesday the delay was due to improperly filled out ballots and the write-in races, of which there were three: the governor, the secretary of state and the Kootenai County assessor.
"Approximately one in every five-and-a-half ballots, between five and six ballots, had a write-in candidate on it," Brannon said.
He and Jennifer Locke, who ran unopposed for county clerk and will replace Brannon who is retiring, said the ballots with write-ins require additional processing.
"The ballot has to go to adjudication. We are currently running five duplication boards, and we are down to 377 ballots to be adjudicated," Brannon said, around 2 p.m. Wednesday.
That adjudication process is a manual review to determine what the voter's intent was, and those ballots are recreated accordingly by elections staff so they can be run through the tabulators.
Other ballots with issues — like improperly filled in circles, corrections made by voters who crossed out a candidate's name and then voted for a different candidate and writing in the margins — must be reviewed in the same manner and duplicated so they can be processed by the machine.
Brannon said Wednesday afternoon that he was recruiting employees from other county departments to help with the process.
"We are grabbing anybody we can who is willing to help," he said. "Our teams are handling 12 to 20 adjudications per hour."
For most of the day Wednesday, the results stood with 98.6% of the precincts reported and with one precinct unreported, which Brannon described as a sizable precinct in Post Falls.
Brannon said, around 2 p.m., that from a "purely statistical point of view," the only race he thought could change once that precinct was counted was the Zone 2 North Idaho College trustee election, between candidates Brad Corkill and Diana Sheridan.
At 98.6% precinct reporting, Corkill had 27,144 votes (50.51%) and Sheridan trailed by 552 votes with 26,592 votes (49.49%).
Brannon noted that Republican legislative candidates Ron Mendive and Tony Wisniewski, who were projected to win with roughly 78% of the votes in each of their races, are in that Post Falls precinct.
"Those voters are probably leaning a little more conservatively. That does not mean they will jump into Ms. Sheridan's camp, but it is possible," Brannon said.
Although this was a nonpartisan election, it was politicized as a party race. Both Sheridan and Corkill are Republicans who each say they are conservative. Sheridan was endorsed by the Kootenai County Republican Central Committee and Corkill was backed by the Friends of NIC PAC.
The results of that NIC race did not change once the final results were tallied.
Brannon said many absentee ballots came in close to the Tuesday 8 p.m. deadline, which also added to the intensity of effort required of county election workers.
"We received almost 1,100 absentee ballots on Election Day and 1,380 the day before," he said.
Brannon had said Monday that he anticipated the write-in ballots would create a delay, and that he hoped for results by 5:30 a.m.
Bonner County was the only other one of Idaho's 44 counties that did not report final results until after 4 a.m. Wednesday. That county's final results were reported around 6:15 a.m.
All election results are unofficial until they are certified by the county commissioners, who serve as the county board of canvassers.
Recent Headlines
---