New home, same Gems
After 10 years in The Resort Plaza Shops, Memory Lane Gems is moving to Silver Lake Mall with a June 1 opening.
Owner Lynn Rinker offers estate jewelry, unique gifts, rocks, gems and crystals. The store will join the mall's grand opening soon afterward. Hours are 10 a.m. to 6 p.m. daily.
Phone 208-777-5999. Check www.memorylanecda@outlook.com.
Grace & Joy moves in The Resort Plaza Shops
The 10-year-old Grace & Joy store in The Resort Plaza Shops has moved to the former Memory Lane location.
The mother-daughter team of Susan Wentz and Chloe and Lilly Hubbard were on a mission trip to Vietnam when they were inspired by colorful fabrics and decided to make their own clothing line.
The store sells their clothes, hand-crafted jewelry, Italian leather and other items for ladies and children. Starting June 1 hours are 9:30 a.m. to 7 p.m. Monday through Saturday and 11 a.m. to 5 p.m. on Sundays. Kelly Sheaman is store manager.
A grand-opening party with live music and refreshments will be at 4-8 p.m., on June 10. Phone 208-597-1195. Check www.shopgraceandjoy.com.
Pearl and Tin opens on Fourth
With fresh flowers, plants, gifts and party supplies, Pearl and Tin will open June 1 in Suite 101 of the new Lucille building at 2605 N. Fourth St.
Owner Tyler Robb, Liz Needham and Hannah Rima have hours of 10 a.m. to 5 p.m. Tuesday through Saturday.
Phone 208-659-1963. Check www.pearlandtin.com.
Klein Chiropractic opens in Hayden
With chiropractic care and massage therapy, Klein Chiropractic will open June 1 in Suite A at 1102 W. Hayden Ave.
Dr. Hayden Klein, Dr. Katie Klein and Carly Sampson (massage therapist) offer a variety of options for physical pains, migraines, pediatric and obstetric care and have an in-house X-ray machine.
Hours are 8:30 a.m. to 6 p.m. Mondays, Wednesdays and Fridays, 8:30-11 a.m. Saturdays and 6:30-11 a.m. Tuesdays.
Phone 208-620-7150. Check www.kleinchiropractichayden.com.
Now the Tidbits
CDA IDAHO Clothing Co. will expand from its current location at the northeast entry of the Plaza Shops building into the former Grace & Joy space.
The Thomas George building planned for the corner of Third Street and Front Avenue would be 18 stories mixed with commercial places on the first floor and 60 condominiums above.
Watch for details on new buildings under construction for corporate offices for Rogers Burgers on Government Way and Caliber Collision by Metro Car Wash in Post Falls.
Millworx is a mixed-used development under construction south of I-90 near the Seltice Way junction in Post Falls. It will be residential and commercial (evidently with a hotel).
St. Joseph's Ear, Nose, Throat & Allergy Clinic will have a new building at 849 N. Syringa, Post Falls.
Watch for commercial construction west of Highway 41 between 16th and Horsehaven in Post Falls.
EJC Billiards is new at 6235 N. Sunshine St.
Post Falls RV Campground is under construction at 70 W. Cabelas Way between the Cabela's store and State Line Walmart in The Pointe at Post Falls.
Many of 16 commercial lots are available in the planned Prairie Crossing Shopping Center in the northeast corner of Highway 41 and Prairie Avenue.
A burger place and cosmetic salon will be in the new building at Fourth and Lakeside.
A new building for Etco Services is under construction off Huetter north of Seltice and I-90
The PACR office building is under construction at 1857 W. Hayden Ave.
Breaking Bread Bistro will be where Davis Donuts was at Fourth and Best.
Literary Souls Used Books is moving to Suite F at 205 E. Seltice Way.
A sign on Wayne Drive in Hayden says "Future home of Blue Chip Chiropractic."
A new Pizza Hut will be in Hayden.
The Mill will be a four-story mixed-use building at Government Way and Mill Avenue with businesses on the ground level and 43 apartments above.
Consign Furniture has a "coming soon" sign southwest of the U.S. 95-Lancaster Road intersection.
An Express Exterior Carwash is being built in the 3400 block of Seltice in Post Falls.
Watch for construction in the northwest corner of Government Way and Hayden Ave.
Club Pilates will be in Hayden Design Center at 9235 Government Way.
Cornerstone, a four-story commercial and residential building, is under construction in Riverstone.
Bruchi's quick service restaurant is planned for a new building north of the corner of Highway 41 and Mullan Avenue.
Watch for construction of Vantage Point Brewery across from Michael D's Eatery off Coeur d'Alene Lake Drive.
A Grease Monkey auto place will be at the Crossings in Athol.
Gentlemen Sausages will soon be in the former Abi's Ice Cream location at 112 Fourth St.
TownePlace Suites by Marriott Hotel is being built where the Outback Steakhouse was in the southeast corner of I-90 and Northwest Boulevard.
Lake City Deluxe Barbershop & Shave Co. will open June 1 in Suite 102 at 315 E. Lake Coeur d'Alene Drive.
Retro Arcade on Wheels game truck details will be here soon.
A new commercial and residential building, Midtown Centre, is being built at 821 N. Fourth St.
Watch for major changes with the Burger Bunker and Bunker Bar off Spokane Street in Post Falls.
Advanced Personal Protection Specialists is new in Suite L at 3700 Government Way.
The Den will be a new tavern at 761 N. Idaho St. in Post Falls.
The CD'A Corner Store is adding a kitchen and tables downtown.
Coeur d'Alene Nissan will have a major addition to its building off U.S. 95.
The Post Falls Pavillion food truck court will be near the Highway 41 and Horsehaven intersection.
On Memorial Day I remember my friend Heber Nelson, whom I was stationed with in the Coast Guard in San Francisco Bay in 1967. In the Coast Guard volunteers went to Viet Nam ... a dangerous place because the vessels would be shot at from both sides of a river. When Heber decided to go, he gave me his guitar. I told him I'd save it for him. He said he wouldn't be back. And he wasn't. I still have it.
Contact Nils Rosdahl at nrosdahl@cdapress.com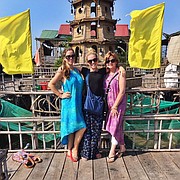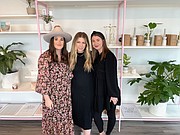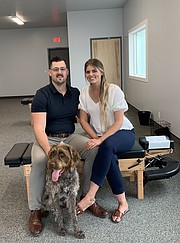 Recent Headlines
---