Mountaintop magic
by
BILL BULEY
Staff Writer
|
May 25, 2022 1:00 AM
COEUR d'ALENE — This is not your grandfather's cabin.
This is an 11,000-square-foot mountaintop home that sits atop Sundown Ridge Estates, south of the Spokane River near Post Falls. And it is being featured tonight on "Mansion Global," a Fox Business Network program.
It is being offered by Tammy Didier-Maskell, real estate agent with Kelly Right Real Estate of Idaho, for $10.2 million. It was built by Aspen Homes.
"It's a hidden gem," she said Tuesday. "It does not fit into what you think of a general mountain home."
Didier-Maskell said the house comes with a few perks, like a helicopter pad, a butcher shop with a cooler and freezer, a generator large enough to power the place for a year, and perhaps coolest of all, a secret passage way from the main house to a bunker with 10-inch thick concrete walls.
It also has river views, radiant flooring and a guest house.
Didier, who has nearly three decades of experience in real estate, said she feels blessed to be the listing agent of the one-of-a-kind home that comes with 26 acres.
"It's not your everyday listing," Didier-Maskell said
She said it's rare to have that type of mountaintop space and view so close to Post Falls and Coeur d'Alene.
"The location is just crazy," she said.
Mansion Global, in its third season, airs at 5 p.m. Mountain Time. It's being featured along with a Colorado property.
"If you like the finer things in life but can't get enough of the great outdoors, let's face it. You need a homestyle that matches your lifestyle," says host Kacie McDonnell in a promotional clip. "Whether you're an aspiring marksman, or an adrenaline junky ready to hit the slopes, we've got you covered with two of the hottest mountain homes on the market."
Didier-Maskell said crews filmed the home six months ago. She was also interviewed.
"I'm used to selling houses," she said. "Having a TV crew in front of you, that's a little intimidating."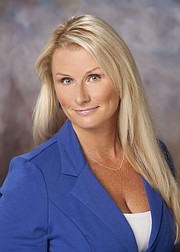 Recent Headlines
---