Kenneth Ray Tietz, 67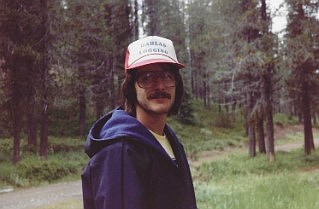 Kenneth Ray Tietz, 67, of Post Falls, finally succumbed on May 4, 2022, after attempting to parachute with his motorcycle out of a helicopter onto Canfield Mountain. Just kidding, it was cancer.
Ken was born on April 1, 1955, at Fairchild AFB. He was a bit shy as a child and liked to mind his own business. As a teen he enjoyed bowling tournaments at Lake City Lanes, waterskiing at Priest Lake, and going hunting with his buddies at Marble Creek. After graduating from Coeur d'Alene High School in 1973, he worked at the Bunker Hill mine, then as a debarker at the Potlatch Sawmill before deciding to follow in his father's footsteps and retired after an impressive 31-year career at Kaiser Aluminum.
It's an understatement to say the man was a dirtbikin' fool. He rode his trusty Honda 200 anywhere it would take him and won several trophies in competitions. He was a die-hard Nascar fan, starting every single race by shouting "Boogity Boogity Boogity! Let's go racing, boys!" When he wasn't tearing it up or getting lost in the mountains, you could usually find him at the St. Joe River in the same cutoff shorts he made in the '80s. He loved camping, fishing and relaxing in the sun with his family and a cold glass of R&R and Coke. Occasionally he would break out the scuba gear and dive for treasures from the lost city of Farrell, Idaho, which he proudly kept on display in his home.
Despite a few health problems, he was still as lively as can be. He enjoyed chatting with his neighbors, Emily and Jay, over the fence, who referred to him as their "Wilson." He was the best grandpa ever and loved hanging out with his grandson, Tommy, who completely adored him.
Ken is pre-deceased only by his father, Floyd Tietz. He is survived by his mother, Doris Tietz; children Rhianna (Dennis) Scates, Colin Tietz, Matthew (Laurie) Tietz, Jillian (Anthony) Mitchell; grandchildren, Emma, Hannah, Nora, and Thomas; and his siblings John (Connie) Tietz, Renee (Ted) Johnson and Ron Tietz.
The last months of his life were beset by an unfortunate cancer diagnosis, but Ken was as stubborn as they come and never let anything slow him down. He fought without fear until the end and was surrounded by so many people who love and miss him dearly.
In honor of the Man, the Mustache, the Wheelie Legend, we will be throwing one last party in his house while he's not home. Please join us for a celebration of life at 2 p.m. on June 11 at 404 W. 14th Ave. in Post Falls. Be prepared to tell incriminating and embarrassing stories and toss a few back in his name. Until we meet again, ride in paradise Kenny.
Recent Headlines
---