Betty Lou Cheeley, 90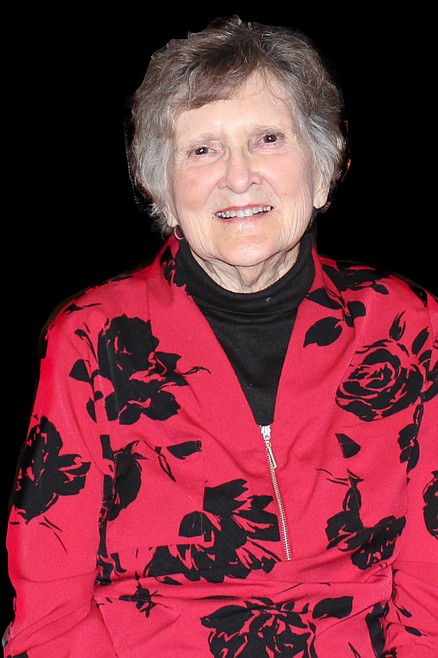 Betty was born to Charles and Catharine Donaldson in St. Cloud, Minn., on March 26, 1931. She was the embodiment of "Minnesota Nice" all of her days. She passed peacefully from this life to the next on Jan. 29, 2022, with family by her side, her faithful companion "Little" on her lap and her sense of humor intact. As she told us in her final year, "Ninety years is long enough!"
As you read this, know that Betty often laughed and commented that even the worst scoundrel sounds like a saint in their obituary. But she actually was a saint: "Precious in the sight of the Lord is the death of His saints," Psalm 116:15.
Betty grew up in Foley, Minn., the oldest daughter of the town doctor. To spend more time with her busy father, she became his driver when he made house calls. After she graduated from high school as valedictorian, with her older brother off at college, her parents moved into a home on the Mississippi River in the big city (St. Cloud) with her four younger sisters.
Betty met Herbert Larry Cheeley in elementary school. They were married in 1952, shortly after she graduated from Macalester College in St. Paul, Minn., with a degree in elementary education. They were married for 60 years until Larry's death in 2012.
Larry joined the Marine Corps and they lived briefly in North Carolina while he was stationed at Camp Lejeune. After Larry left to serve in Korea, Betty lived with family in Minnesota, where their first daughter (Kim) was born. After Larry returned, they moved to Moscow, Idaho, where their children Laurie and Rob were born, and Larry graduated from University of Idaho in Civil Engineering. In 1959, after a year in Duluth, Minn., they moved to Coeur d'Alene, where their last son (Chris) was born. When asked why they chose to leave Minnesota, Betty would ask if you knew about Minnesota's brutal snowy winters, hot and humid summers and bugs the size of small birds!
Betty played the piano from a young age and continued playing throughout her life. Her love for music was passed on to her children and they each pursued various musical paths. In 1961, they bought their first (and last!) home on Mill Avenue in Coeur d'Alene for $12,900, which remains in the family today. Those were the days! (But, for perspective, after a few years teaching kindergarten, Betty began teaching first grade at Winton Elementary in 1967, earning $3,000 annually!) When Ramsey Elementary opened in 1975, she transitioned there, along with colleagues who became lifelong friends. She never tired of former students recognizing her decades later, and recounting fond memories of their time in her first-grade class.
In the '70s, she earned her master's degree in education from Whitworth and began teaching seminars to elementary teachers as one of the early proponents of "Math Their Way." In the '80s, she retired from the classroom and travelled extensively for many years, teaching Math Their Way.
Betty was active in many local groups: Mother's Club, First Presbyterian Church, the church's prayer shawl knitting ministry, PEO, Union Gospel Mission Center for Women and Children, 3Cs, Excel, 24/7, Bible Study Fellowship, Northwest Sacred Music Chorale and others. She oversaw the U.S. office of Bless China International (Rob and Noe's ministry), managing the finances and paperwork for about 20 years. She mentored young women who needed a stable "Grama" in their lives, and taught them (and many others!) the fine art of baking what were, arguably, the best pies anyone has ever tasted. Her grandchildren and great-grandchildren also enjoyed countless hours in her kitchen, baking pies and cookies. She graciously and generously shared her baking secrets with many novice baker-wannabees! One of the best Christmas gifts that she gave to her children and grandchildren was her "50 Years of Baking With Betty" cookbook, with many of her favorite recipes.
Betty is survived by her children: Kim (Tom) of Coeur d'Alene, Laurie of Lynnwood, Wash., Rob (Noelani) of Maui, and Chris (LeeAnn) of Post Falls; 11 grandchildren; 10 great-grandchildren; and sisters, Jan (Don) Watkins and Sue Fagan. She was preceded in death by her husband, Larry in 2012; her grandson, Zachary Cheeley in 2016; her brother, James Donaldson; and her two sisters, Jean Greener and Sandy Donaldson.
The family extends heartfelt thanks to the many friends and caregivers who contributed to Betty's full life. A celebration of life will be held at First Presbyterian Church in Coeur d'Alene at 2 p.m., Friday, May 20, 2022. In lieu of flowers, please consider a donation to UGM Center for Women and Children, 196 W. Haycraft, Coeur d'Alene, ID 83815.
Please go to Betty's online memorial and sign her guestbook at yatesfuneralhomes.com.
Recent Headlines
---