An Angel among them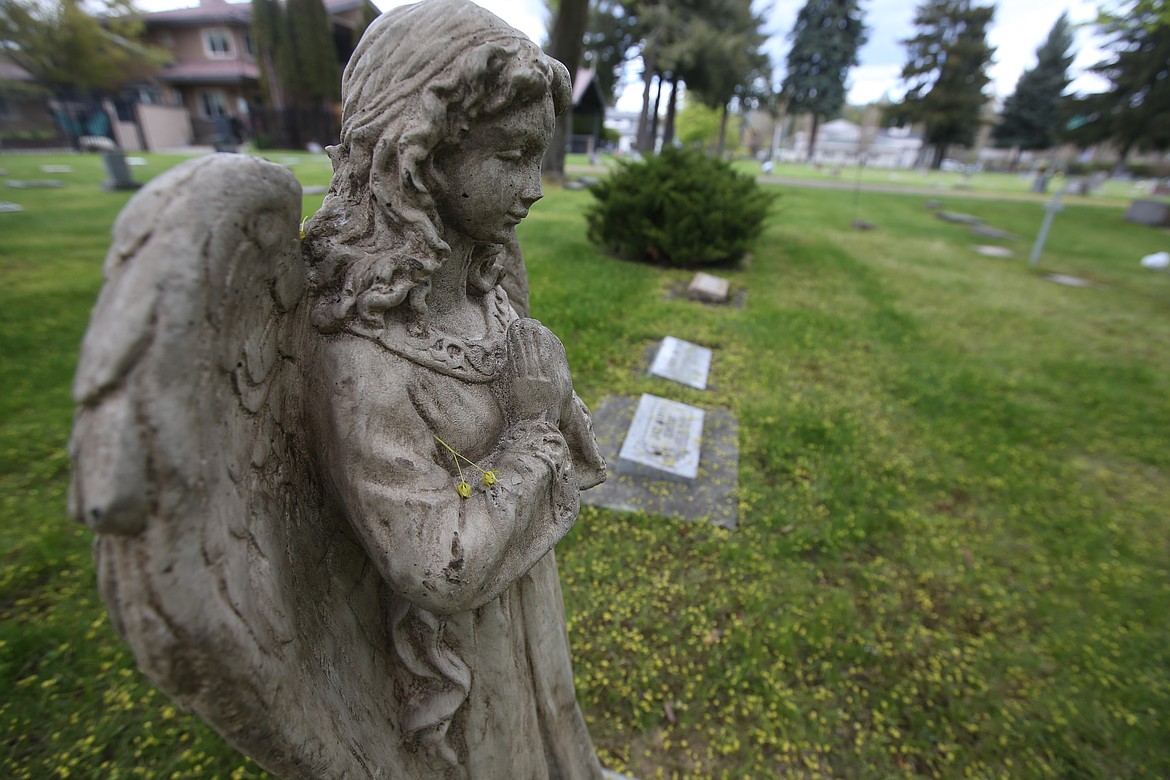 A "Guardian Angel" statue was added to St. Thomas Catholic Cemetery on Friday.
BILL BULEY/Press
by
BILL BULEY
Staff Writer
|
May 17, 2022 1:07 AM
COEUR d'ALENE — There's a new "Guardian Angel" at St. Thomas Catholic Cemetery.
It only stands about 2 feet tall, but as far as Tina Johnson is concerned, it's a towering peaceful presence.
"We're so thankful we have that little angel statue now to watch over all the little babies," she said.
The statue was installed Friday. With hands clasped together, it was set in the section of the cemetery on the east end of Sherman Avenue where the young, including many infants, are buried.
It was funded by a pro-life resident in response to the recent uproar over leaking of the Supreme Court draft opinion on Roe v. Wade and the protests led by pro-choice advocates that have followed.
"We decided the angel was a good thing to put there," Johnson said.
The donor declined to speak with The Press and asked that her name not be published.
Johnson, who leads the cemetery committee for the church, said there are about 160 babies buried there. Many don't have markers and some are unknown.
A few of those that do have words etched into headstones read, "Our Little Lamb," "In Memory of Our Baby" and "Our Baby."
Johnson said the statue is beautiful and fits in well at the cemetery where the earliest burial was in 1890.
"It's a sweet homage to the little babies who are buried there," Johnson said.
St. Thomas Catholic Church is also holding a blessing ceremony at 1 p.m. Monday of the new statue and a cemetery addition.
Johnson said the cemetery will expand into the green space north of its fence along Sherman Avenue, about half an acre. She said they learned while researching old records that the property long maintained by the city belongs to St. Thomas Catholic Church.
"It's quite a blessing to have discovered that the property is ours," Johnson said.
It will allow the cemetery, which had room left for only five more burial plots, to expand and have room for another 190.
About 3,100 people are at rest at the 3-acre cemetery which has been improved recently with new fencing, statues, benches and renovation of the shrine.
Johnson said they plan to do landscaping and add benches when the fence is moved closer to Sherman Avenue.
The expansion is expected to be completed next year.
Bill Greenwood, Coeur d'Alene parks director, said the city has been arranging for the church to expand onto the property.
"They've run out of room," he said.
The eastern corner of the property at the corner of Sherman Avenue and Coeur d'Alene Lake Drive where artwork stands will remain the city's, Greenwood said.
Recent Headlines
---