Lakeland SD may announce new superintendent Monday
by
ELLI GOLDMAN HILBERT
Staff Writer
|
May 14, 2022 1:00 AM
RATHDRUM — The Lakeland Joint School District may have a new superintendent Monday.
Lisa Arnold, the district's assistant superintendent, is being considered for the position that has been filled by Becky Meyer for the last six years.
Meyer is heading to the Lake Pend Oreille School District where she will be superintendent effective July 1.
Prior to being the Lakeland district superintendent, Meyer was a counselor for the Pend Oreille district. She then served as assistant principal of Lake Pend Oreille High School, and later as principal of Sandpoint High School before joining Lakeland in 2016.
"I professionally grew up in this community, this is my home community," Meyer told the Bonner County Daily Bee in March. "And when I left in 2016, I knew I'd eventually come back."
Arnold is one of three candidates who applied for the Lakeland superintendent position. One candidate withdrew and the other didn't meet the requirements, leaving Arnold as "the stand-out candidate," according to an announcement on the school district's website.
Arnold took part in multiple interviews Thursday. She met with school board members for three hours; with district administration for 90 minutes; and she participated in a two-hour community forum Thursday night, which was attended by roughly 50 people.
"I felt really energized after each session," Arnold said.
Interview questions addressed "hot topics," Arnold said, including questions about critical race theory, the curriculum adoption program and COVID-19 protocol.
"Probably the crux of where I stand concerns parental rights," Arnold said. "I've always believed parents are the child's first and best teacher. We do our best in the district when we partner with parents."
Idaho has some of the strongest parental rights legislation in the country, Arnold said. Parents always have the ability to opt their children out of any program, class or curriculum choice, she added.
The school board will hold an executive session Monday to make their final decision. The board's choice will be announced immediately following deliberation and is expected to be posted online.
Arnold brings 12 years of teaching experience, six years of serving as assistant principal and five as principal of Betty Keifer Elementary School, and one year in her current position.
Arnold said people clapped following her participation in Thursday's community forum.
"I put my best self out there," Arnold said.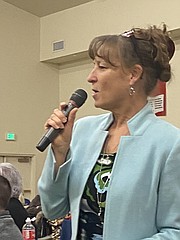 ---