Back on The Boardwalk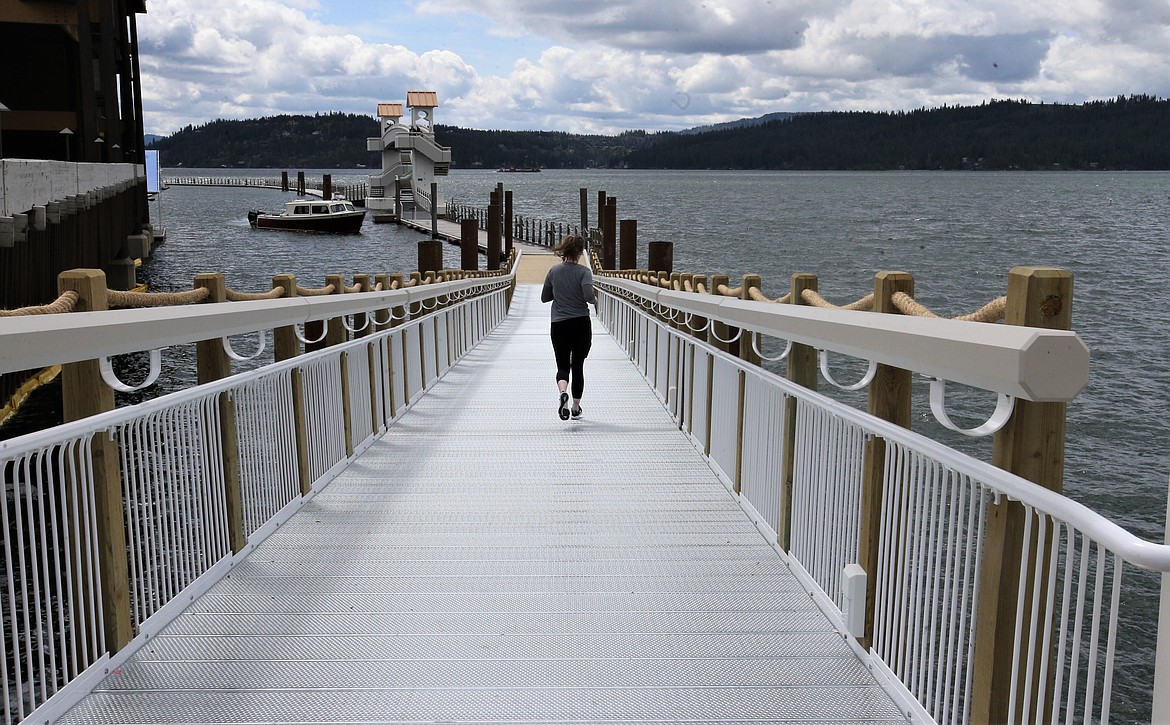 A runner heads out on The Boardwalk on Friday. The Boardwalk recently reopened after the wooden west entrance was torn out and replaced with steel railings and walkway.
BILL BULEY/Press
by
BILL BULEY
Staff Writer
|
May 14, 2022 1:07 AM
COEUR d'ALENE — The west entrance of The Boardwalk was popular Friday morning.
First, visitors from Meridian headed out, despite chilly and windy conditions.
Then, a runner took a turn to make her way around the 3,300-foot-long floating wooden structure.
Next, a couple took a few steps out on The Boardwalk that was recently fully reopened to the public after being closed since earlier this year.
"With over a million people a year, it needed attention, and we took care of it," said John Barlow, consultant for The Hagadone Corp., on Friday.
The project, which cost more than $300,000, included removal of the sloping, wooden west entrance that was a bit worn and could be slippery some days and replacing it with a steel walkway and railings that provide surer footing.
The new entrance offers a smoother, steadier start to a stroll that offers great views of Lake Coeur d'Alene, Tubbs Hill, the Boardwalk Marina and The Coeur d'Alene Resort. It is a modern, sleek look.
The new ramp and railings will extend about 100 feet from the seawall to The Boardwalk. The descent from ground level to the lake was reduced.
"It's safer, and it won't wear out," Barlow said.
Hagadone Marine Group notified the city of the project earlier this year as part of their Planned United Development agreement.
"It is with great excitement to share with you that Hagadone Marine Group has made the decision to continue investing in improvements of our facilities for the benefit of the public and our community to enjoy," wrote Craig Brosenne, president of Hagadone Marine.
The three-month project involved several companies, including Nelson Fabrication and Repair in Hayden and Murphy Marine Construction in Coeur d'Alene, and was completed on time.
"It went great," Barlow said.
The updated west entrance now matches the east entrance that was upgraded several years ago.
"All of the old log structure has been replaced with steel," Barlow said.
The east entrance to The Boardwalk remained open during the west entrance work so people could still walk around as far as the bridge before being required to turn back.
When The Boardwalk opened 36 years ago, a people counter was put in place by the east entrance ramp. It's estimated more than 40 million have ventured out on it, with large summer crowds.
"It's never had less than a million people in a year," Barlow told The Press.
---