Fine drinks and good beats
by
NILS ROSDAHL/Special To The Press
|
May 8, 2022 1:07 AM
With special beverages and a Eurocentric food menu, Stylus Wine & Vinyl Bar opens Wednesday in Suite 105 of the new Lucille building at 2605 N. Fourth St.
Inspired by small bottle shops in France and jazz kissas in Tokyo, the focus is on European and Northwest wines, draft and packaged beer, non-alcoholic cocktails and soft drinks, small plates, sandwiches, salads, soups and desserts.
The vinyl record library is 3,000 strong with two high-end turntables, a hi-fi sound system and a Sip and Spin wine and record club with bar and patio seating, a living room and community table and a Bohemian decor.
Hours to start with owners Robby and Krista French are noon to around 10 p.m. Wednesday through Saturday and 10 to 4 p.m. Sundays. Phone 208-601-6602. Check styluswineandvinylbar.com.
Integrity Mental Health opens on Ironwood
With a wide range of services, Integrity Mental Health has opened in Suite B at 1105 Ironwood Drive.
Johanna Matthews and staff offer medical management, therapy, counseling, spravato and (in the future) ketamine. Based out of Boise, Integrity Mental Health has expanded to more locations to meet the request for services.
Hours are 8 a.m. to 5 p.m. Monday, Tuesday, Thursday and Friday. Phone 208-758-7901. Check mentalhealthidaho.com.
The Vine Church opens in Hayden
The Vine Church celebrated its grand opening April 24, in its new location at 9140 N. Reed Road, in Hayden.
The Rev. Kevin Schultz offers worship services 10:30 a.m. Sundays. The church started at 9407 Government Way in 2017 and is now in the previous Hayden Bible Fellowship Church.
Phone 208-449-2080. Check TheVineIdaho.org.
Now the Tidbits
Watch for details on new buildings under construction for corporate offices for Roger's Ice Cream and Burgers on Government Way and Caliber Collision by Metro Car Wash in Post Falls.
Memory Lane is moving from the Plaza Shops downtown to Silver Lake Mall.
OSI Hand Surgery is new at 1621 N. Third St.
St. Joseph's Ear, Nose, Throat & Allergy Clinic will have a new building at 849 N. Syringa, Post Falls.
Watch for commercial construction west of Highway 41 between 16th and Horsehaven in Post Falls.
Something is happening with the former Owl Cafe in Hayden.
Post Falls RV Campground is under construction at 70 W. Cabelas Way between the Cabela's store and State Line Walmart in The Pointe at Post Falls.
Many of 16 commercial lots are available in the planned Prairie Crossing Shopping Center in the northeast corner of Highway 41 and Prairie Avenue.
A burger place and cosmetic salon will be in the new building at Fourth and Lakeside.
A new building for Etco Services is under construction off Huetter north of Seltice and I-90
The PACR office building is under construction at 1857 W. Hayden Ave.
Breaking Bread Bistro will be where Davis Donuts was at Fourth and Best.
A sign on Wayne Drive in Hayden says "Future home of Blue Chip Chiropractic."
A new Pizza Hut will be in Hayden.
The Mill will be a four-story mixed-use building at Government Way and Mill Avenue with businesses on the ground level and 43 apartments above.
Consign Furniture has a "coming soon" sign southwest of the U.S. 95-Lancaster Road intersection.
An Express Exterior Carwash is being built in the 3400 block of Seltice in Post Falls.
Watch for construction in the northwest corner of Government Way and Hayden Ave.
Coeur d'Alene Pet Market will be at 6424 Government Way.
Cornerstone, a four-story commercial and residential building, is under construction in Riverstone.
Bruchi's quick service restaurant is planned for a new building north of the corner of Highway 41 and Mullan Avenue.
Watch for construction of Vantage Point Brewery across from Michael D's Eatery off CD'A Lake Drive.
A Grease Monkey auto place will be at the Crossings in Athol.
Gentlemen Sausages will soon be in the former Abi's Ice Cream location at 112 Fourth St.
TownePlace Suites by Marriott Hotel is being built where the Outback Steakhouse was in the southeast corner of I-90 and Northwest Boulevard.
A Capriotti's Sandwich Shop will come into the former Chipotle Mexican Grill building at 305 W. Appleway.
Retro Arcade on wheels game truck details will be here soon.
A new commercial and residential building, Midtown Centre, is being built at 821 N. Fourth St.
Watch for major changes with the Burger Bunker and Bunker Bar off Spokane Street in Post Falls.
Pearl & Tin will be in Suite 101 at 2605 N. Fourth St.
The old Black Sheep building west of Costco will be used for fire department training and demolished May 23.
The Den will be a new tavern at 761 N. Idaho St. in Post Falls.
The CD'A Corner Store is adding a kitchen and tables downtown.
Coeur d'Alene Nissan will have a major addition to its building off U.S. 95.
The Post Falls Pavilion food truck court will be near the Highway 41 and Horsehaven intersection.
Last week Seattle celebrated the 60th anniversary of the World's Fair in Seattle. My parents, sister Lynne and I went there in 1962 from Thompson Falls. For some reason I was the driver all night at age 16. I fell asleep standing up waiting to get into the fair. Lynne lost her favorite hat on the roller coaster.
Contact Nils Rosdahl at nrosdahl@cdapress.com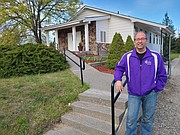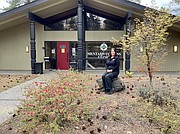 Recent Headlines
---