NIC Workforce Training grant program exceeds goals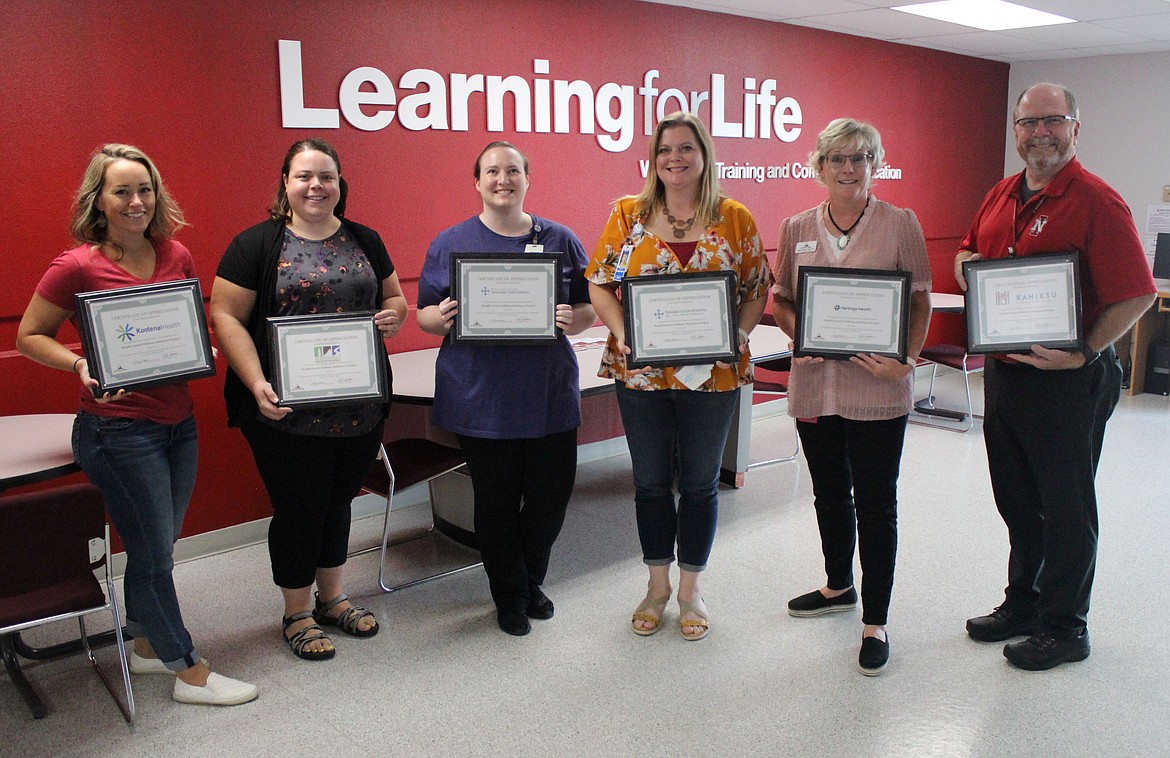 NIC Workforce Training Center staff held a Partner Recognition and Celebration at the center. Grant partners were presented plaques to honor their vision and hard work. Pictured at the event are, from left: Sarah Martin, NIC WTC senior administrative assistant; Danielle Miller, NIC WTC Health Professions instructor; Jessica Anthony, Rehabilitation Hospital of the Northwest social worker/case manager; Nicole Rostron, Rehabilitation Hospital of the Northwest Patient Outcomes director; Dotty Heberer, NIC WTC lead CNA instructor and project lead; and Marty Matney, NIC WTC Health Occupations man...
It's great when grants do what they're supposed to do.
And even better when they do more.
In 2018, the Idaho Workforce Development Council awarded the North Idaho College Workforce Training Center $207,590 to fund courses in two new, in-demand programs in the health care field: Medical Assistant Apprenticeship and Patient Care Technicians. One of the grant's written goals was to have 54 participants, but the grant finished with 55 participants and two thriving programs that are up and running.
"The project's success is because of the hard work and vision of area health care employers," said Dotty Heberer, who was the NIC Workforce Training Center's project lead. "The goal was to expand the industry's ability to create registered apprenticeships in health care and address some critical workforce shortages. Thanks to our employer partners, we did that and now have two healthy, sustainable programs."
Heritage Health, Kaniksu Community Health, Kootenai Health, Northern Idaho Advanced Care Hospital, Northwest Specialty Hospital, Rehabilitation Hospital of the Northwest, and the Idaho Department of Labor were all partners.
The Health Career Pathways Project created opportunities for the participating health care agencies' existing employees to advance their knowledge in their own workplace.
Employers were able to expand their talent pools in critical positions while reinvesting in their own employees.
The average wage increase for Patient Care Technicians who participated was 23.2 percent and the average wage increase for Medical Assistants was 17.6 percent.
Tanis Davis, 21, is a CNA at Kaniksu Community Health. She plans to finish her medical assistant apprenticeship in August.
"I felt like it was a good way to fill out my education without having to go through nursing school," Davis said.
For job searchers interested in starting careers in health care or other careers in different industries, the Idaho Workforce Development Council is dispersing training funds through the Idaho Launch program. Idaho Launch can provide up to 90 percent in tuition assistance.
Recent Headlines
---