The Melody of Gonzaga: Kempton, a senior and former Post Falls High star, is the blue-collar engine of the NCAA-bound Zags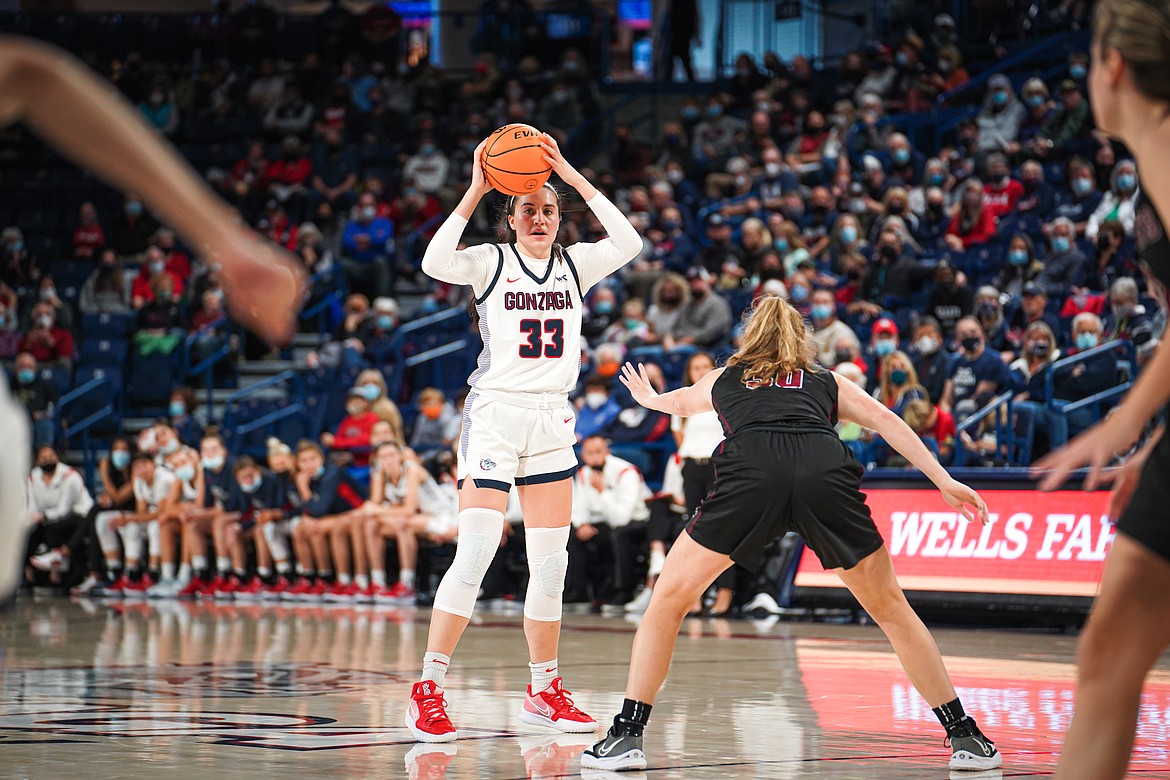 Photo by Gonzaga Athletics After mostly coming off the bench during her first three seasons with Gonzaga, former Post Falls High star Melody Kempton has started all 32 games for the Bulldogs this season.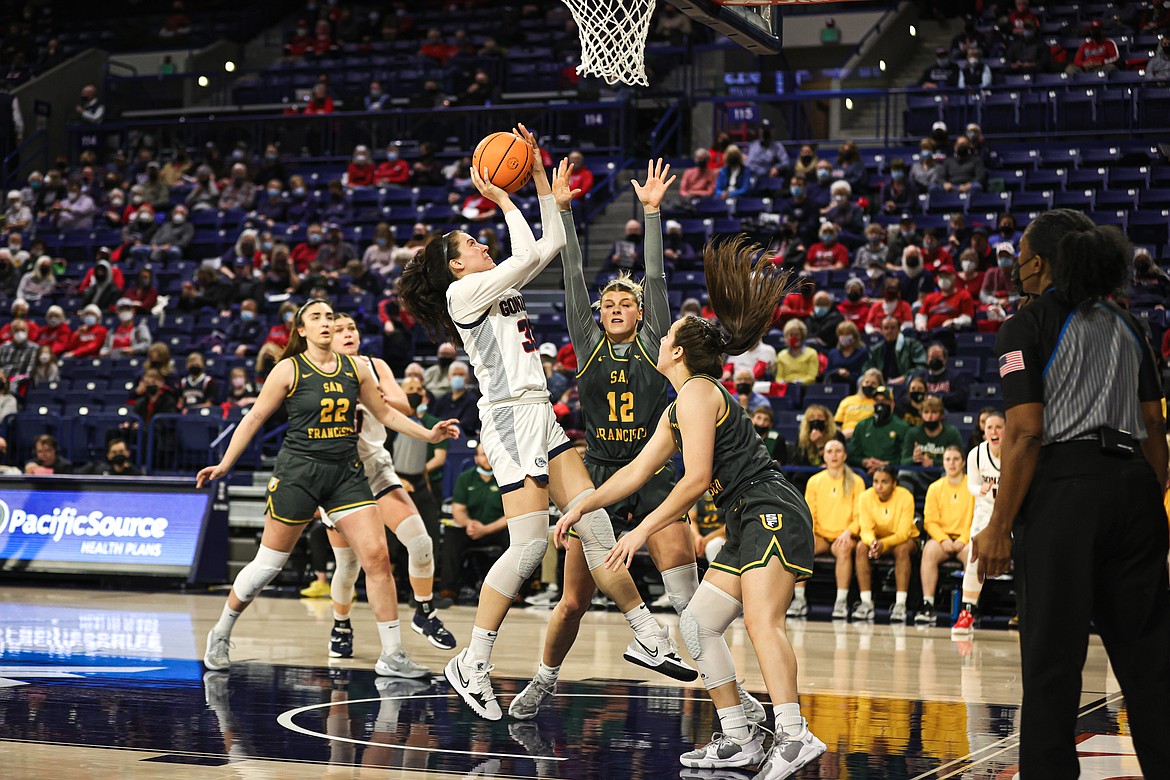 Photo by Gonzaga Athletics Melody Kempton of Gonzaga, a senior from Post Falls High, drives to the basket against the University of San Francisco.
Previous
Next
By MARK NELKE
Sports editor
What Melody Kempton contributes to the Gonzaga women's basketball team doesn't necessarily always show up on the stat sheet.
There is no listing for show-up.
No category for effort.
No column for energy brought.
But her teammates and her coaches know what Kempton, a senior and former Post Falls High star, has brought to the Bulldogs over the past four years — especially this season, where she has started all 32 games for a Gonzaga team bound for the NCAA Tournament.
"She certainly has improved tremendously as a player, and I think it's because she just shows up every day," said Lisa Fortier, in her eighth season as Gonzaga head coach. "And she knows this; we praise her for her show-up and her effort, and just for being consistent, and steady, and that is an underrated characteristic — and not by coaches, but it doesn't show up on the stat sheet how steady you are. And it doesn't show up (on the stat sheet) how much energy you bring every day. I don't know if she's ever missed a practice, but if there was a day she wasn't at a practice, you would have felt it, because she is so solid, and by saying so solid, it's a huge compliment. It's not just 'She's just steady. It's way more than that.'"
KEMPTON, A 6-foot-1 forward, has been a fan of the Gonzaga women's program for years, coming to games with her parents, Darrell and Teresa, for as long as she can remember. She remembers making posters and bringing them to the Spokane Arena to cheer on Courtney Vandersloot and the Zags in their 2011 Sweet Sixteen game vs. Stanford.
Growing up, Kempton said it was "definitely a dream" to play at Gonzaga.
"I didn't think it would come true," she said. "Every little kid wants to play here … and when I became a good player it was like, 'Oh shoot, this could actually happen.'"
And now that it's happened …
"It's been a great experience," Kempton said of Gonzaga. "I'm just super grateful for having this opportunity to play here. The family atmosphere has been amazing; I feel like all of my teammates and the coaches are my family now, and I know I'll have friends forever.
"I wasn't really expecting anything (coming in to college), but if I'd hoped for something, it would have been this."
KEMPTON GRADUATED from Post Falls in 2018 as one of the school's all-time greats.
She is the Trojan girls' all-time leading scorer (1,486 points), rebounder (892) and shot blocker (211).
As a senior, she led Post Falls to the state 5A title, and was named Gatorade Idaho Player of the Year. She won three state titles in the high jump, and one in the triple jump, and some say she could have shined in volleyball as well.
At Gonzaga, she was a key reserve each of her first three seasons.
As a freshman, Kempton came off the bench in all 32 games, averaging 13.7 minutes per game. As a sophomore, she started two of the 31 games she played in, averaging 20.8 minutes per game. As a junior, she had one start in 25 games and averaged 18.2 minutes per game.
"It's definitely humbling," Kempton said of the transition from high school star to college reserve. "So it just took a little bit to figure out my place and everything. For the most part, I just wanted to contribute to the team, so just figuring out how I can do that, and try to build it from there."
As a turning point, she noted her sophomore year, "when I started coming off the bench first and kind of creating that spark.
"I think that was a great learning experience; that helped me find my place on the team," she said. "I felt like I was doing something very important by that time. And then just continuing to learn from there, seeing how I could help our team, and then getting to this point."
As a junior, she was named the West Coast Conference Sixth Woman of the Year, and was honorable mention all-WCC.
This year, Kempton made the game-winning basket at San Francisco in February; she was named first-team all-WCC, and was named Most Outstanding Player of the WCC tournament. She leads a balanced Gonzaga scoring attack at 10.9 points per game, and leads the team with 6.3 rebounds per game. Her field goal percentage (54.0) is second in the league.
For her career, she has scored 875 points (an average of 7.2 per game) and grabbed 547 rebounds (an average of 4.5) in an average of 19.4 minutes per game.
"I think validation's a good word," Kempton said of the accolades she's received the past couple seasons. "I don't think it validates myself and my abilities, but more just my hard work. It's nice to know you're working hard and you've put in the work, but to have someone congratulate you on that, to have something to show for it, is nice."
And Friday, she'll play in the NCAAs for the third time (the 2020 tourney was canceled due to COVID-10), when No. 9 seed Gonzaga (26-6) takes on No. 8 seed Nebraska (24-8) at 12:30 p.m. PDT on ESPNEWS in the first round of the NCAA tournament in Louisville, Ky.
"When she was a freshman, all we asked her to do was rebound and run," Fortier said. "And her role has changed some; we're still relying on her to rebound and run, but now she's right there in the top 4-5 that are leading us in scoring."
And Kempton has found a way to make her game that worked in high school — one based on inside play, and running the floor — also work in college, even though the other forwards and posts she goes up against in college are often bigger.
"It's a lot easier in high school when you're the biggest kid out there, but then you come to college and there's 6-5, 6-6 girls; it's a different kind of game," Kempton said. "Yeah, I've always been pretty mobile as a post … sometimes people in the post can't move as quickly. So I found ways to pull out the defense and kind of make them play to my advantage, rather than to theirs."
Because of COVID-19, Kempton could come back next year for a fifth season at Gonzaga, but is leaning toward not returning.
She got engaged last summer (to Finnegan Hall, a 2018 Coeur d'Alene Charter Academy graduate), and is looking to put her degree in human physiology to use.
"I want to go into medical sales repping," she said. "Go into the OR, talk to doctors … be around people. I'm really excited to just be in society again.
"I just feel like I'm very happy with how this year has been, and the last four years, and I think it's time for me to continue on with my life," she added.
Melody and Finnegan met at a church youth group retreat, and have been dating since their freshman year in high school.
In fact, in high school Kempton was involved in 4-H, raising pigs on some acreage at her future fiance's family home in Dalton Gardens, then selling them at the fair.
"I loved it," Kempton recalled. "I liked the marketing aspect of it. And your hard work pays off immediately right there, because you're trying to market yourself, you're trying to market an animal. The higher you sell it for, the more money you personally make. It's a direct correlation. I liked that aspect of going in and talking to people, trying to sell myself, my animal. And obviously making money is pretty great, too."
Though Kempton says for now that her college basketball playing days will likely be over soon, she also says she could pull a Tom Brady, change her mind this summer and decide to return to the Zags.
"I'm thankful that we've got to coach her," Fortier said. "We're still trying to convince her to stay for another year. So if any of you guys (in the media) have any pull, I would appreciate it if you would call in a favor for me."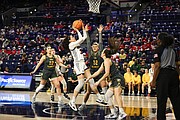 Recent Headlines
---