Save time, save money, in Athol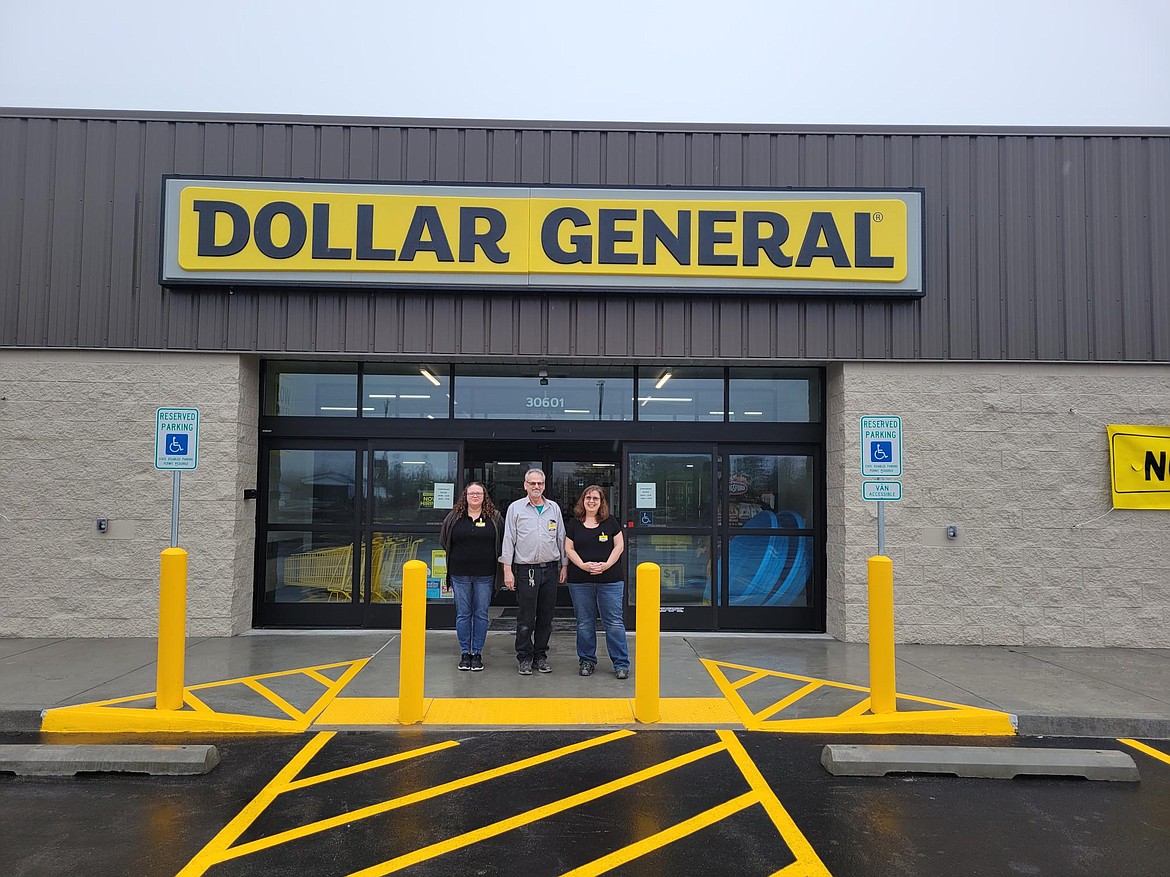 From left, Shelley Young, Michael Desind and Thena Feucht of Dollar General.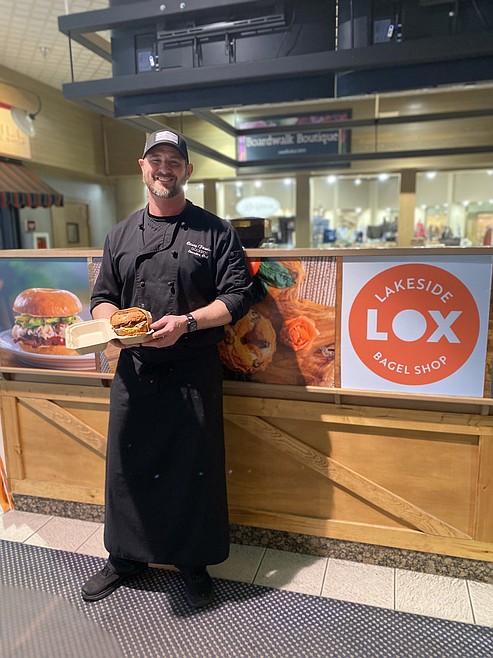 Chef Casey Fassler holding "The Texan" bagel from the Lakeside Lox bagel shop.
From left, Mike Clafflin, Sam Santiago, Beth Murison, Stacey Curson and Rick Curson of Ultimate Concrete Coatings.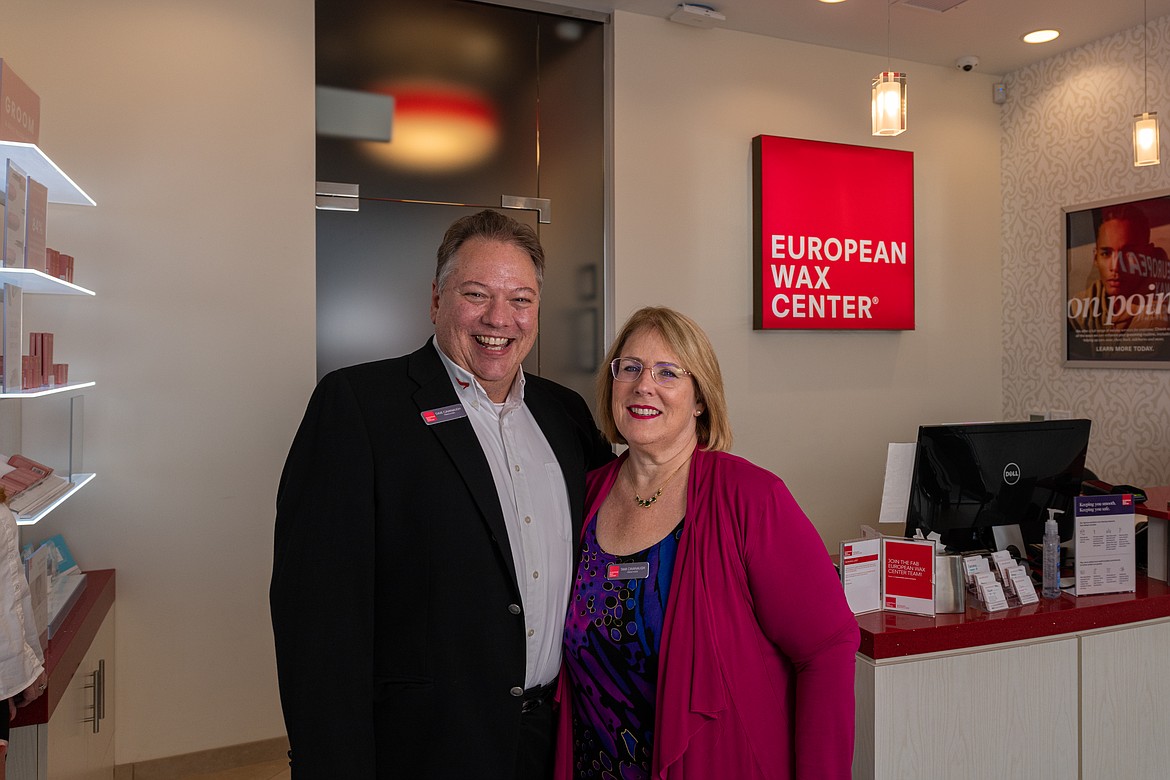 European Wax Center owners Dave and Tami Cavanaugh.
Previous
Next
The grand opening was Saturday for Idaho's Dollar General in Athol at a new building north of Highway 54 off old U.S. 95.
A grocery and convenience store combination, Dollar General has more than 17,600 stores in the nation; Hawaii, Montana and Alaska are the only states without stores.
The website is dollargeneral.com.
Lakeside Lox in Plaza Shops
New York-style bagels and bagel sandwiches are featured at Lakeside Lox in the Plaza Shops at 210 E. Sherman Ave.
Made from scratch, the menu includes many breakfast and lunch items and a full espresso menu from 6 a.m. to 2 p.m. daily. Order food on the go while shopping downtown or seating in the Plaza Shops.
Manager is Christi Schindler, and chef is Casey Fassler. Phone The Resort's concierge desk at 208-765-2300, Ext. 21.
European Wax Center opens in Hayden
Unapologetic confidence by revealing your beautiful skin is offered in 273 W. Prairie Shopping Center in Hayden.
The licensed professional wax specialists perform facial and full-body waxing services with skin-care products. Owners are Tami and Dave Cavanaugh. They are open 8 a.m. to 8 p.m. weekdays, 8:30 a.m. to 6 p.m. Saturdays and 9 a.m. to 5 p.m. Sundays.
European Wax Center has more than 800 centers in the nation. Locally phone 208-518-0400. Check waxcenter.com.
Ultimate Concrete Coatings opens in Rathdrum
A new showroom and design center of Ultimate Concrete Coatings is at 7946 W. Fourth St., in Rathdrum
Owners Rick and Stacey Curson offer decorative concrete coatings including color flake systems, polishing, micro toppings, overlay systems, concrete leveling, staining and garage storage solutions including cabinetry and overhead rack systems.
Hours are 8 a.m. to 5 p.m. weekdays and Saturdays by appointment. Phone 208-277-6313. Check ultimateconcretecoatings.com.
Now the Tidbits
Heart of Hope Health is now on Hess Street in Hayden. Details here soon.
Businesses to be in the new Lucille Building at 2605 N. Fourth St. are Northwest Construction Management, Align Yoga Studio, Refined Salon and Stylus Wine & Vinyl Bar.
Watch for The Manna Shop at 510 Sherman (the former Christmas At the Lake place).
Post Falls RV Campground is under construction at 70 W. Cabelas Way between the Cabela's store and State Line Walmart in The Pointe at Post Falls.
Many of 16 lots are available in the planned Prairie Crossing Shopping Center in the northeast corner of Highway 41 and Prairie Avenue.
A burger place and cosmetic salon will be in the new building at Fourth and Lakeside.
A new building for Etco Services is under construction off Huetter north of Seltice and I-90
The PACR office building is under construction at 1857 W. Hayden Ave.
Breaking Bread Bistro will be where Davis Donuts was at Fourth and Best.
Watch for a place called Pearl & Tin.
A sign on Wayne Drive in Hayden says "Future home of Blue Chip Chiropractic."
Open Arms Real Choices Clinic will move from 1800 Lincoln Way to 8056 N. Wayne in Hayden.
Metro Express Car Wash is building a large new place in the northwest corner of Highway 41 and I-90.
The Mill will be a four-story mixed-use building at Government Way and Mill Avenue with businesses on the ground level and 43 apartments above.
Consign Furniture has a "coming soon" sign southwest of the U.S. 95-Lancaster Road intersection.
An Express Exterior Carwash is being built in the 3400 block of Seltice in Post Falls.
Major changes are coming to the Greenbriar Inn & 315 Cuisine under new ownership at 315 Wallace Ave.
The Rebel Junk Shoppe at 2424 N. Fourth St., will expand to a street-side location.
Cornerstone, a four-story commercial and residential building, is under construction in Riverstone.
Bruchi's quick service restaurant is planned for a new building north of the corner of Highway 41 and Mullan Avenue.
The former Ugly Fish restaurant building will be a Berkshire Hathaway Realty in Riverstone.
Watch for construction of Vantage Point Brewery across from Michael D's Eatery off Coeur d'Alene Lake Drive.
A Sweet Lou's restaurant and a Grease Monkey auto place will be at the Crossings in Athol.
CdA Kids Dental will be at 1341 N. Northwood Center Court.
TownePlace Suites by Marriott Hotel is being built where the Outback Steakhouse was in the southeast corner of I-90 and Northwest Boulevard.
Several steel storage buildings will be built at 3758 W. Hanley Ave., off Atlas Road, for Hern Ironworks.
A Capriotti's Sandwich Shop will come into the former Chipotle Mexican Grill building at 305 W. Appleway.
A Sarah Hamilton FACE place will be at 2120 Northwest Blvd.
A new commercial and residential building, Midtown Centre, is being built at 821 N. Fourth St.
Watch for major changes with the Burger Bunker and Bunker Bar off Spokane Street in Post Falls.
Watch for a new Numerica complex at 1250 Ironwood.
The Stylus Wine & Vinyl Bar will be at 2605 N. Fourth St.
A large storage complex and new corporate office for Steel Structures of America is being built off Highway 41.
The Den will be a new tavern at 761 N. Idaho St., in Post Falls.
My Nails & Spa will be off Canfield Avenue.
The CD'A Corner Store is adding a kitchen and tables downtown.
Coeur d'Alene Nissan will have a major addition to its building off U.S. 95.
Mountain Goat Lounge is under construction connected to the Moose Lounge downtown.
The Post Falls Pavillion food truck court will be near the Highway 41 and Horsehaven intersection.
Knowledge is knowing a tomato is a fruit. Wisdom is not putting it in a fruit salad.
Contact Nils Rosdahl at nrosdahl@cdapress.com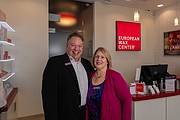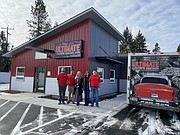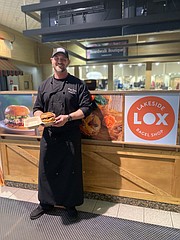 Recent Headlines
---