THE FRONT ROW with MARK NELKE: Tips from Tim on the way out for new Timberlake AD
Catey Walton knows it doesn't happen this way for everybody.
When she was hired as Timberlake High athletic director in early May, she had a few weeks to learn whatever she could from the outgoing AD, the retiring Tim Cronnelly.
"Once I got hired I really followed him around, which was a huge benefit because not every administrator gets to say I've got a month with you, or a couple months with you, I need you to show me everything and teach me everything," Walton said. "I got hired for the position, and then really got one-on-one training, which has been really nice, with Tim. And I couldn't ask for anybody better."
CRONNELLY, 58, is taking advantage of the Rule of 90, which means you can retire when your age and years of educational experience in Idaho adds up to 90.
He spent a year in Montana, and a couple of years in Oregon, and the last 34 in Idaho.
Eight years at Horseshoe Bend, five in Cascade.
Then he came to Timberlake for 13 years, the last 12 as AD.
Then he was AD at Lakeland for two years before returning to Timberlake, where he spent the last four years — the last two as AD.
"When this year started I told Ryne (Eberlin, the Timberlake principal) I was going to stay another year, but as time went on … in talking to people, I've yet to talk to someone who says they wish they would have worked one more year," Cronnelly said.
WALTON WAS born and raised in North Idaho, and graduated from Lakeland High.
She was a gymnastics coach at North Idaho Gymnastics in Rathdrum for 10 years, and has been an assistant cheer coach at Timberlake, where she has worked the last eight years.
Her son, Jesse, played football and basketball growing up. Her daughter, Riley, played basketball and volleyball, and is a gymnast.
The last four years at Timberlake, Catey Walton has been a principal's assistant.
Which entails …
"Anything they've needed," she said. "I taught half of the day, and the second half of the day I'd go into the office and say 'What do we need?' It went from discipline, to helping with athletics, to helping with lunch duty … anything that comes up. And when administrators were out of the building at meetings, I was the acting administrator in the building."
It was during that time Walton got a taste of what an AD does.
This May, it became a crash course. She accompanied Cronnelly to games, and to the state 3A track and field meet in Middleton.
"It was very helpful," she said. "Most jobs, you don't get to follow a guy around and learn everything and meet everybody. I got to meet (Idaho High School Activities Association director) Ty Jones, I got to meet a lot of ADs at state track … just a lot of introduction to people, and 'this is what it looks like.' Very helpful; my goodness."
BIGGEST ADVICE from Cronnelly?
"Just be flexible," Walton said. "He is so positive. Just be flexible and be supportive, and just really teach to your coaches, 'Make sure I can support you, make sure I can back you up.'
Tim is such a positive person, he's such a nice guy, and just listen to people, and be flexible, and do what you can."
Biggest challenge as an AD?
"I guess just making sure I don't forget anything," Walton said. "Just checking off every single thing."
She won't be the first AD who wakes up in the middle of the night, wondering if they remembered to schedule a bus for the next day.
"Really am excited about learning everything that goes with it," Walton said of the AD gig. "It'll be a learning curve for me, and I'm excited about supporting all the coaches, and supporting our athletics and activities."
Fortunately, she has a veteran staff at Timberlake, where many of the coaches have been there for years, to help her along.
"Our assistant principal, Josh Hegstad, had been an AD for years and years in Caldwell, so he's going to mentor me as well," Walton said.
"I have a great team."
Mark Nelke is sports editor of The Press. He can be reached at 208-664-8176, Ext. 2019, or via email at mnelke@cdapress.com. Follow him on Twitter @CdAPressSports.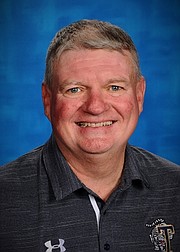 Recent Headlines
---