From parking cars to Rotarian of the Year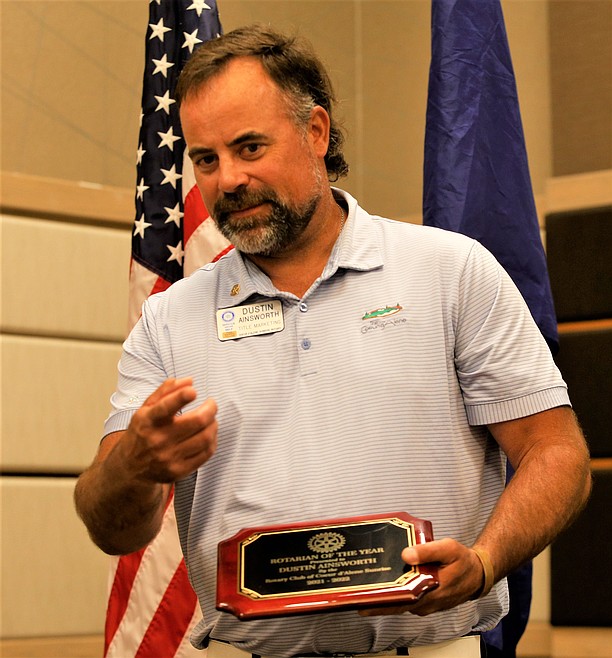 Dustin Ainsworth was announced as the Coeur d'Alene Sunrise Rotary Club's Rotarian of the Year on Tuesday at The Coeur d'Alene Resort.
BILL BULEY/Press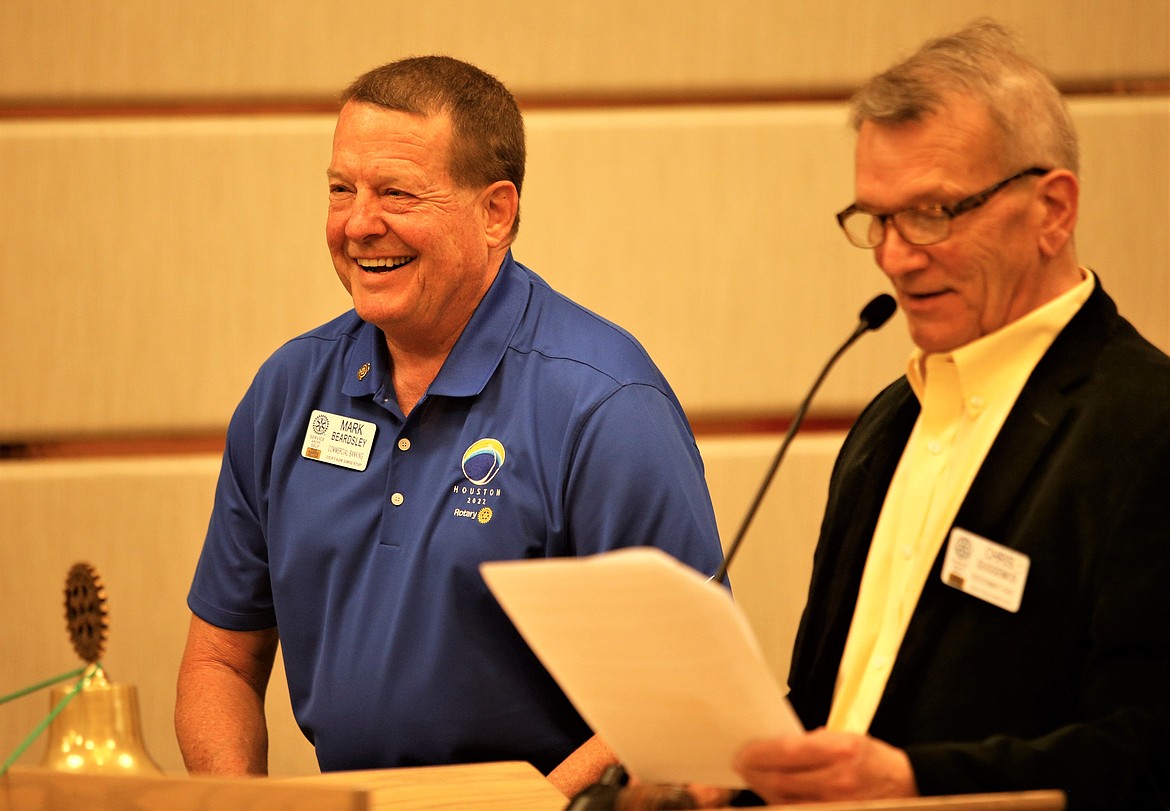 Mark Beardsley, left, laughs after accepting the gavel as president of the Coeur d'Alene Sunrise Rotary Club from Chris Guggemos, now past-president, on Tuesday at The Coeur d'Alene Resort.
Previous
Next
by
BILL BULEY
Staff Writer
|
June 29, 2022 1:06 AM
COEUR d'ALENE — Dustin Ainsworth's first job in the early 1990s was parking cars at The Coeur d'Alene Resort. Among those people he parked cars for were members of the Coeur d'Alene Sunrise Rotary Club.
"I knew nothing about Rotary," he said.
But he liked what he saw.
"I watched those people come and go and I watched how they were treated and how they treated people," said Ainsworth, who works at Kootenai Title. "I always admired them. I respected them. I kind of wanted to lead my life in that direction."
He succeeded.
On Tuesday, Ainsworth was announced as the Coeur d'Alene Sunrise Rotary Club's Rotarian of the Year.
"That I've gone full circle is kind of surreal," he said after the club's breakfast meeting at The Coeur d'Alene Resort attended by about 100 Rotarians.
Chris Guggemos, serving his last meeting as club president, said Ainsworth spent one year on the board as vice president followed by one year as president-elect, followed by another year as president.
"Nobody could have blamed Dustin for taking a break in his final year on the board as immediate-past president," he said.
Instead, of taking a break, Ainsworth stayed involved.
He showed up early for meetings, oversaw audiovisual duties as needed, and even ran the PowerPoint presentations at times.
He collected Happy Dollars for charitable causes, filled in leading board meetings and was tops in flower basket sales to raise funds.
And he never missed a meeting.
"For these reasons and more, Dustin is Coeur d'Alene Sunrise Rotarian of the Year," Guggemos said as the crowd applauded, cheered and spelled out Dustin and yelled his name.
Ainsworth, who received a plaque and will have $100 donated to a charity of his choice, wasn't wild about the attention but said he glad to pitch in.
"I enjoy these people," he said. "This is one of the most amazing giving communities, so it's easy if you just stick your neck out a little bit."
He said it meant a lot to be recognized by his peers.
"I feel blessed and honored and it validates being here every week and doing what I do," Ainsworth said.
Guggemos, who was honored for his "tireless devotion and faithful leadership," handed over the gavel to president-elect Mark Beardsley, who will serve as club president for the next year.
"I've had Mark's support as I've called him dozens of times seeking his input on matters both small and large," Guggemos said, adding that "Mark helped me immeasurably with my job as president."
Beardsley was pleased to step into the role
"I'm planning on having a fun year and getting some things done in the community and with each other, getting back into what I think Rotary is, serving, serving others in the community, serving each other, and having fun doing it," he said. "So anything you want to do, let me know and we'll make it happen."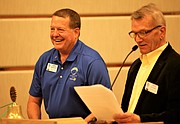 Recent Headlines
---