Neighborhood of the Week: Summer sales — Midtown Coeur d'Alene
by
TYLER WILSON/Special to The Press
|
June 26, 2022 1:00 AM
It might be because of the interest rates. It might be because of the inventory. It might even be because of "Top Gun: Maverick."
OK, home prices in North Idaho have nothing to do with a smash-hit Tom Cruise blockbuster. The other things, however, factor into the area's recent rush on price reductions.
With Coeur d'Alene such a hot-commodity market the past several years, prices on homes have skyrocketed, making the onset of any opposing trend notable. For certain buyers, particularly those with loads of available cash and/or are in need of transitioning soon, price drops can be a good thing.
As noted in our fall miniseries, "Price-cut-a-palooza," a price reduction rarely means something is "wrong" with a property. In some cases, the home may have been priced just a bit high to begin with, which some agents do on purpose to gauge market interest. Any one of the listings mentioned here could be a viable "forever home" for the right buyer (only now with a lower price than a couple weeks ago!).
This week, we examine midtown Coeur d'Alene, south of Interstate 90 on both sides of Government Way, and inching toward downtown. This includes a few options near the Ponderosa Springs Golf Course.
Starting there we've got a sprawling five-bedroom, 3,500-plus-square-foot home with views of the course that came down $30,000 to just under $700,000 on June 16. In a neighborhood just north in the Cherry Hill area, another 3,500-plus-square-foot home with four bedrooms and fantastic outdoor space/deck area came down $30,000 earlier this month to just under $820,000.
Close to the course (but closer to 15th Street are three price drops in more of the starter home category. One is an updated duplex with both units for sale together at just under $600,000, down $26,000. There's also two single family homes in the area, each with two bedrooms and around 1,000-1,100 square feet. One dropped $25,000 to $325,000 last week, while the other older home, now with some recently added updates, comes to $395,000 after a $30,000 price cut last week.
Heading west from that last property (near Harrison Avenue and just off the main hub of Third and Fourth Street are larger options — a three-bedroom 1,700-plus-square-foot home down $30K on June 20 to $495,000, and a two-bedroom, completely renovated bungalow property with 1,000-plus square feet priced at $575,000, down $24K.
We could keep listing new price cuts, but for now we'll close on a pocket of price drops in midtown just off Fourth Street and near Interstate 90 access. The smallest home, a two-bedroom with 900 square feet, dropped $15K to $350,000. Two more homes in the neighborhood, each three bedrooms and around 1,700 square feet, dropped $15K to $410,000 and $10K to $440,000, respectively. Finally, a charming three-bedroom, 1,800-square-foot home recently dropped nearly $50,000 to $520,000.
Stay tuned for more summer sales coverage in the coming weeks.
• • •
Let us know about story ideas, standout neighborhoods and developments that we may feature in an upcoming Neighborhood of the Week. Contact Tyler Wilson at twilson@cdapress.com.
Attention Real Estate Agents! Take advantage of Neighborhood of the Week by sending in your suggestions for featured areas, including sites outside the normal confines of Coeur d'Alene, Post Falls, Hayden and Rathdrum.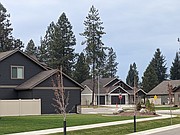 Recent Headlines
---