Fame found, face first
by
KAYE THORNBRUGH
Staff Writer
|
June 24, 2022 1:09 AM
COEUR d'ALENE — Emma Todhunter knows that life can change in an instant.
During softball practice in April, the 18-year-old North Idaho College athlete suffered a gruesome injury when hit by a ball. She then found an audience of millions who followed her journey to recovery.
Todhunter said she tried to turn away from the ball as it sped toward her, but she couldn't avoid the hit.
"It was like the ball kind of followed me," she said.
The softball slammed into her face at 60 mph.
Instantly, her jaw went numb.
"My adrenaline was rushing," she said.
Todhunter insisted to the people around her that she was fine.
"I didn't want to accept the fact that I couldn't play," she said.
Then she bent over and blood poured out of her mouth.
At a dentist's office in Coeur d'Alene, an X-ray revealed that her jaw was broken in two places. The impact also ripped out a chunk of a back tooth.
From there, Todhunter said, she was on an emotional rollercoaster. With no family around her, she was afraid to go to the emergency room.
Todhunter had surgery around midnight.
When she woke, her jaw was wired shut — and it would stay that way for six weeks.
The early days were the toughest, Todhunter said. She struggled to speak and others struggled to understand her. She couldn't eat solid food, brush her teeth or even yawn normally.
But she was determined to stay positive.
"I couldn't sit with myself in the sad place where I was at," she said. "I wanted to get better."
Two days after her injury, she attended the softball game she'd been practicing for.
"I missed my team so much," she said. "I didn't want to give up on it."
Todhunter's faith helped her cope.
"God showed me so many things about myself," she said. "It was a good reminder to cherish everything you have in your life."
Todhunter said she didn't initially plan to document her recovery on social media.
In fact, she had previously uninstalled TikTok in order to focus on her schoolwork. But with finals over, she downloaded the app again.
On a whim, she posted a video that showed her playing softball in the months leading up to the accident, culminating in a photo of her with her jaw wired shut.
"I woke up the next morning, and it blew up," she said.
The video now has more than five million views.
Hundreds of comments — some curious, some worried — prompted Todhunter to make more videos showing how the accident impacted her life. She posts under the username @emma_tod.hunt.er.
Since late May, she's amassed more than 315,000 TikTok followers. Her videos have racked up millions of views.
She showed her audience the smoothies that made up most of her diet, demonstrated how she used mouthwash instead of brushing her teeth and answered burning questions, like how she yawned or what would happen if she vomited.
Commenters also cheered her on as she counted down to the day the wires would come off.
"It was really encouraging to have people keeping me positive," she said. "Something good came out of it."
Todhunter said she felt a blend of excitement and apprehension before the wires were removed on June 9.
She felt lightheaded from the pain during removal — but as each piece of metal came out of her mouth, she said she felt lighter.
"It was a big weight lifted off my shoulders," she said. "Now this chapter of my life is over."
The injury hasn't put Todhunter off softball. She's training for the fall season — and she plans to keep playing after she graduates from NIC.
"This experience made me stronger, physically, mentally and spiritually," she said. "There's no stopping me."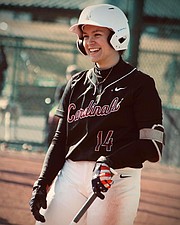 Recent Headlines
---