THE FRONT ROW with MARK NELKE: Exposure, wins just part of a great experience in the desert for Lake City boys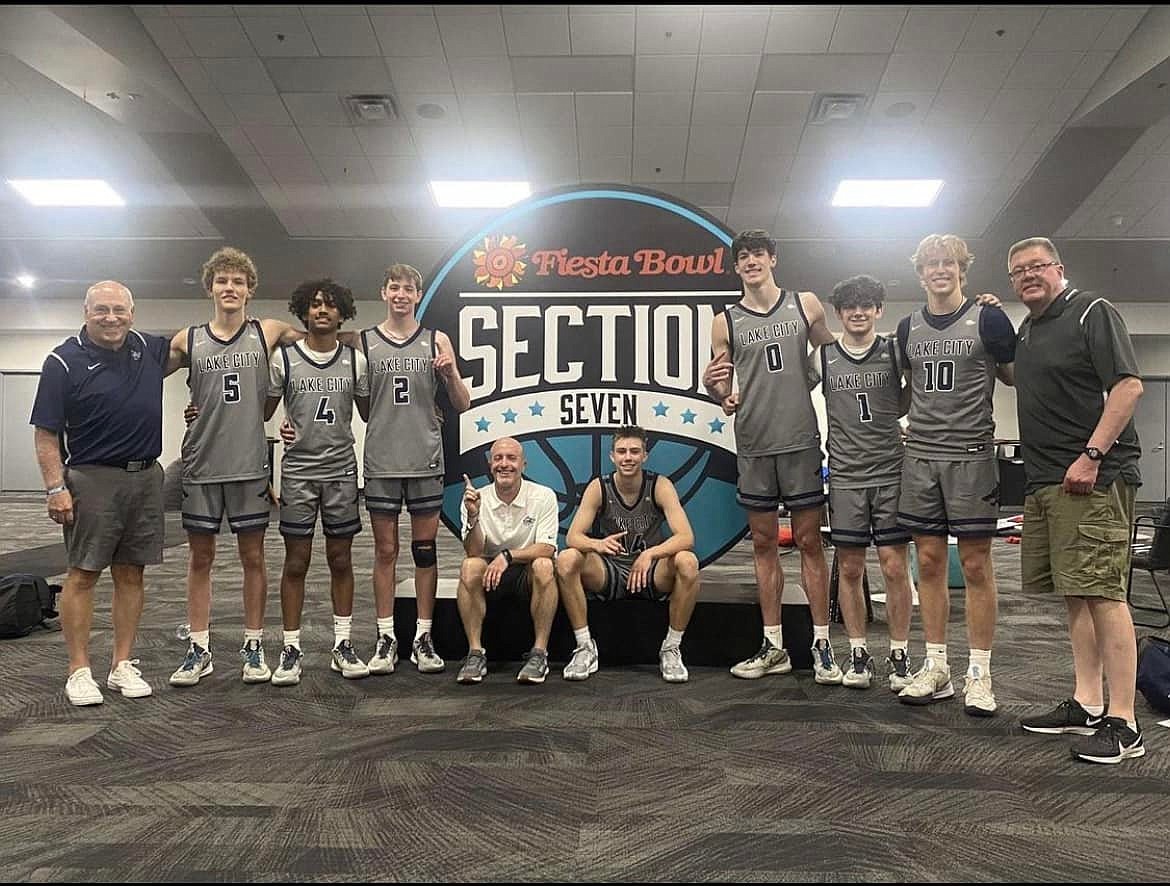 Courtesy photo The Lake City High boys basketball team won the Visit Arizona bracket at the Section 7 Team Camp last weekend in Glendale, Ariz. From left are assistant coach John Astorquia, Deacon Kiesbuy, Cason Miller, Justin Hill, assistant coach Kelly Reed, Kolton Mitchell, Blake Buchanan, Reese Strawn, Nathan Hocking and head coach Jim Winger.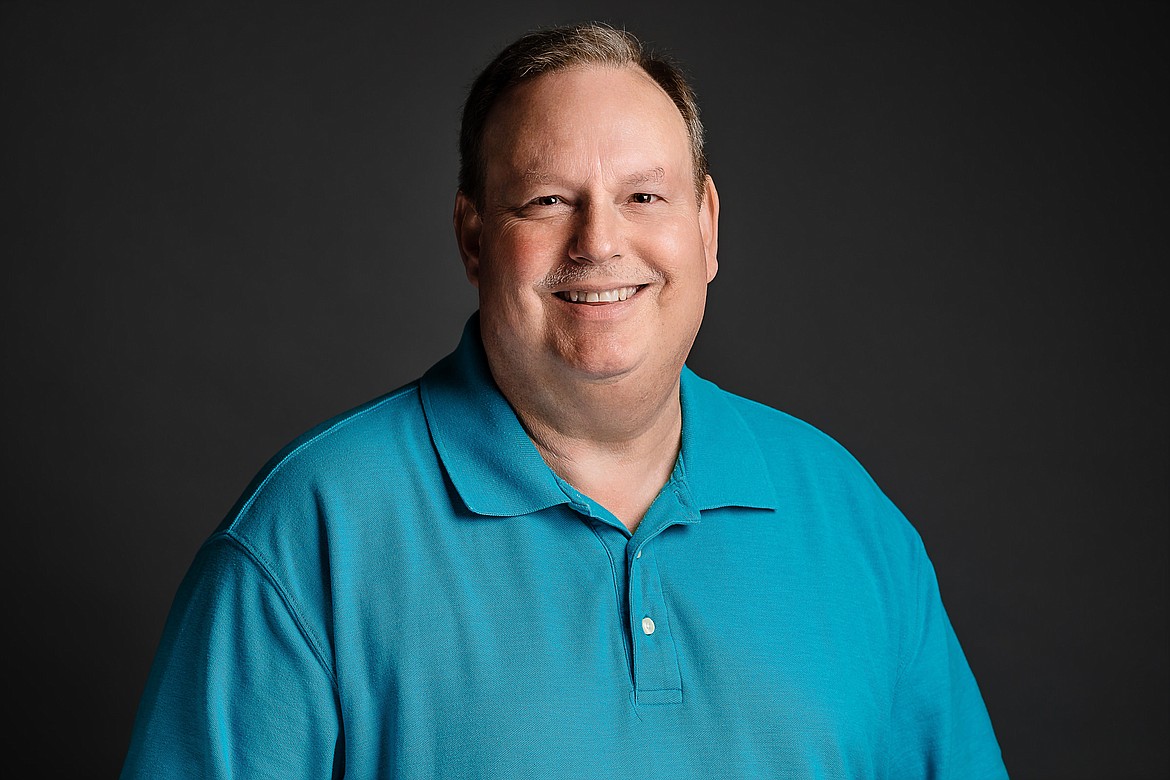 Previous
Next
A few days after an impressive weekend in the Valley of the Sun, Jim Winger's phone was still buzzing.
One school was calling about center Blake Buchanan, who already has scholarship offers from several Division I basketball programs.
Another was inquiring about point guard Kolton Mitchell.
And on and on.
"My phone has blown up today," said Winger, the Lake City High boys basketball coach, on Tuesday afternoon.
Playing in front of hundreds of college coaches, in a building which houses an NFL team and a few years ago hosted a Final Four, Lake City went 4-0 over a span of less than 48 hours to win the Visit Arizona bracket at what was called the Section 7 Team Camp, at State Farm Stadium in Glendale, Ariz.
"It was definitely a ton of exposure … like nothing I've ever seen," said Winger, a high school boys basketball coach for 25 years. "And then to play well, and win our division, win the championship by 26, we really got a lot of attention. That's what's been really great about it."
THE T-WOLVES took the core of next year's varsity team to Arizona — rising seniors Buchanan, Mitchell, Nathan Hocking, Deacon Kiesbuy and Justin Hill, and rising sophomores Reese Strawn and Cason Miller.
With several T-Wolves garnering recruiting interest, Lake City applied and was accepted into the showcase tourney which included 229 high school teams and attracted more than 500 college coaches.
"You don't have teams like this very often, that are getting that much interest from colleges, so it was a no-brainer for us," Winger said. "It was just an awesome experience. It was just an amazing event, and really paid off for those kids."
He said he owed a lot to Karla Mitchell, mother of Kolton, who did a lot of the legwork behind the scenes with the itinerary, arrangements, etc.
Lake City opened bracket play Friday night with a 77-43 win over La Cueva of Albuquerque. Saturday morning, the T-Wolves beat Dublin (Calif.) 61-50, then rallied to beat Clovis West of Fresno 74-73 in the semifinals that afternoon.
On Sunday, Lake City captured its bracket by routing Inderkum of Sacramento 74-48.
"All the next year's seniors got some great exposure, as did those two sophomores," Winger said. "What I thought was great, we just had seven guys, we didn't have Zach (Johnson; a starter in basketball but a Division I recruit in football, so he's been attending football camps this time of year). To play well with seven, and to be there that long, and to finish that strong, it'll do nothing but help us for next year."
THE EVENT, played at the home of the Arizona Cardinals, was not your normal high school basketball tournament.
Instead of fans positioned across the court from the players, college coaches were seated there, as well as behind one of the basket in an "L" shape of recruiters.
Coaches weren't allowed to talk to the players at the tournament.
Winger remembers talking to assistants Kelly Reed and John Astorquia before the first game, and wondering how his players were going to handle all the attention.
"I'm just going, 'Man, if I'm a kid and I've got all these college coaches sitting there watching … '" he said. "They get a lot of that in AAU, but this was pretty extensive. I can't think of a school that wasn't there.
"But I'll tell you what, those guys were so into it and focused. I mean, they were champing at the bit before that first one. We just had so much confidence, and played so well the whole tournament, they were just really tunnel-visioned. It was impressive. We played great all weekend."
GAMES CONSISTED of two 16-minute halves. On most of the courts, the teams sat on one side of the court, college coaches on the other, as well as under one of the baskets.
Lake City's semifinal game was played on a court with portable bleachers running the length of the court on the other side. The T-Wolves played their title game on a similar court — only with larger portable bleachers, an announcer and post-game interviews on the big screen.
In the semis, Lake City took on a Clovis West team coached by Vance Walberg, who invented the dribble-drive offense. He coached at Clovis years ago (where he first introduced the dribble-drive in the late 1990s), then coached in college and in the NBA, then returned to Clovis in 2016. The T-Wolves trailed the entire game, and by as much as 12, Winger recalled. The T-Wolves chipped away and played the foul game. In the waning seconds, Clovis missed a free throw and Lake City rushed the ball up the floor with no timeouts, and Mitchell found Buchanan for a jumper at the buzzer to win the game.
The title game was a blowout against a team said to be one of the better ones in the Sacramento area.
Winger said Hill, a "football kid, he saved our bacon a couple of times. He's a hustler, gets every loose ball, rebound kid. Didn't score a lot for us, but we didn't need that, but he did the other things we needed.
"Nathan had a great tournament … Deacon had a great tournament too, and the two sophomores were good.… I think all seven of them had great moments."
And they gave their coach's phone a workout afterward.
"Kelly and I were talking; we've been around a while, and done some things," Winger said. "I'll always remember it. It was a great experience all the way around. I'm really glad we did it, for a lot of reasons."
Mark Nelke is sports editor of The Press. He can be reached at 208-664-8176, Ext. 2019, or via email at mnelke@cdapress.com. Follow him on Twitter @CdAPressSports.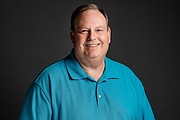 Recent Headlines
---