Civics is their thing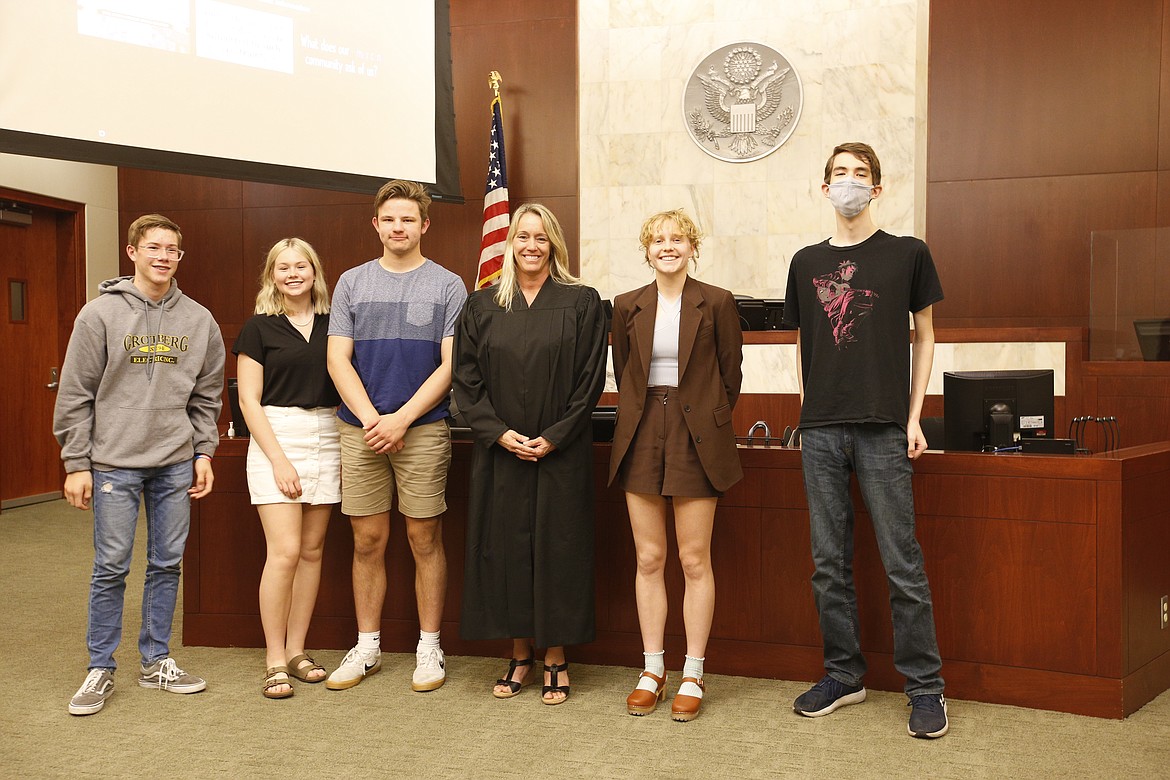 Left to right: Post Falls High School students Noah Schmidt, Abigail Schmidt, Ryder Koch, U.S. Magistrate Judge Debora Kristensen, Boise student Liz Duke-Moe and Post Falls student Aidan Llewellyn. KAYE THRONBRUGH/Press
by
KAYE THORNBRUGH
Staff Writer
|
June 22, 2022 1:06 AM
COEUR d'ALENE — Local students swept the top spots in a statewide civics contest.
The U.S. District Court for the District of Idaho on Tuesday honored four Post Falls High School students who won the annual competition. The students were recognized during a ceremony at the federal courthouse in Coeur d'Alene.
Ryder Koch earned the top honor in the video essay category, while Aidan Llewellyn won second place and sibling duo Abigail and Noah Schmidt came in third.
At the ceremony, U.S. Magistrate Judge Debora Kristensen praised the students — and their teachers.
"What is going on at Post Falls High School that produces such great students?" she said with a smile.
The contest for high schoolers, which received a record number of entries this year, challenged students to examine what free-speech rights and responsibilities they have on and off campus.
Koch's winning video essay explored landmark cases related to students' First Amendment rights to free speech, beginning with Tinker V. Des Moines.
He said he spent long hours researching the topic, as well as collecting archival footage and photos to use in the project.
He also interviewed several of his teachers at Post Falls High School about how they handle free speech in the classroom, from social studies to art.
The win — and the accompanying $1,000 prize — were unexpected rewards for the hard work.
"It was really rad," Koch said.
Koch operates Foggy Llama Films, a "one man band" video production company that has released several short films.
Now that he's graduated from Post Falls High School, he said he plans to continue filmmaking.
Second-place winner Aidan Llewellyn said researching and creating his entry was educational.
"I wasn't expecting to win," he said.
Abigail Schmidt partnered with her brother, Noah, on the project. She filmed the video, while he edited the footage.
She said the win came as a surprise to both of them.
"We had fun and we learned a lot," she said. "It was really rewarding."
Also honored at Tuesday's ceremony was Liz Duke-Moe, a Boise High School student who won first place in the written-essay category.
Recent Headlines
---