John Dallas Crandall, 81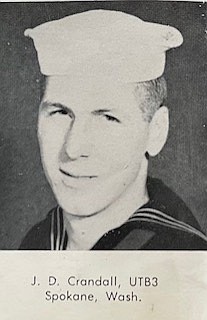 John Dallas Crandall, 81 years of age, passed away at home peacefully on Sunday, June 12, 2022.
Dallas was born Nov. 11, 1940, in Los Angeles, Calif., to the late John Wesley Crandall and Cliffene Faye Artis. He was the oldest of six children. He had three sisters on his mother's side and two brothers and one sister on his father's side. He is preceded in death by his parents and sister Elizabeth Patterson. Dallas graduated high school at Central Valley High School in Spokane, Wash. After graduation, he joined the Navy and served as a Seabee from Oct. 12, 1959, to Oct. 3, 1961. He was stationed in Guam in 1960 and Kodiak, Alaska, in 1961. He received an early honorable discharge due to an injury received during his time in service.
Dallas married Cheryl in January 1971. They celebrated their 51st wedding anniversary this year. They had four children: Lynna' (spouse Jason Fernandes), Melissa (spouse Kevin Monaghan), Travis and Troy. He was lovingly referred to as Papa by his seven grandchildren — Emily Crandall, Courtney Monaghan, Mylynda Fernandes, Colton Crandall, Amelia Crandall, Brooklynn Crandall and Kaleb Peacock. He loved spending time with his children and grandchildren. He was always the first one to tear up when they did something that made him proud. Also, he would always call holding the baby first so he would get a turn. One of his favorites was watching his grandchildren participate in sports. He spent many hours in the bleachers cheering them on.
Dallas worked as a truck driver and was a member of The International Brotherhood of Teamsters. He retired in 2006. He spent his retirement "tinkering" around on his property. He raised chickens and enjoyed figuring out ways to annoy his wife. In his younger years, he enjoyed riding horses and sharing his love of them with his children. Dallas also loved to bear hunt and take his children along. During which time, he would proceed to give each child a full can of Coke and several doughnuts. The only bear they ever found was a mad momma bear when they got home. Dallas was a loving, caring, kind man who would do anything for his family and friends.
Dallas developed a stronger relationship with Christ later in life. He was baptized on May 31, 2015, at Spirit Lake Baptist Church. This event was big enough to bring family members from all over to attend and rejoice with him. He enjoyed attending men's breakfast and men's bible study. He always looked forward to his visits with Pastor Kim and spending time with his church family.
The service will be held at Spirit Lake Baptist Church (31219 N. Third Ave. Spirit Lake, Idaho) on June 18, 2022, at 10:30 a.m. A lunch will be served following the service. The family of John Dallas Crandall wishes to extend a sincere thanks to Pastor Kim Alexander, the Spirit Lake Baptist Church and Hospice of North Idaho.
Please visit Dallas's online memorial and sign his guestbook at www.yatesfuneralhomes.com.
Recent Headlines
---