Champion for community, business and women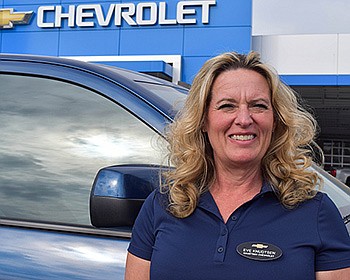 by
ELLI GOLDMAN HILBERT
Staff Writer
|
June 16, 2022 1:06 AM
POST FALLS — Eve Knudtsen, president of Knudtsen Chevrolet, has helped lead the company since her late father Wayne's retirement in 1995. Like her father, grandfather and uncle before her, Knudtsen remains deeply committed to serving the community. The dealership has been part of the community for the past 83 years.
"Everything I learned about giving to the community, I learned from my dad," Knudtsen said.
When her father, Wayne, was named Citizen of the Year by the city of Post Falls in 1993, he shared this advice with her:
"If your community comes to you asking for help, you say yes. If they don't, then volunteer. That's how you make the place you live the best place to live, work and raise a family," Knudtsen said Tuesday, when speaking to the Post Falls Chamber of Commerce.
Being raised in the spirit of community involvement, Knudtsen has continued the tradition and now champions other women joining the automotive industry, among many other things.
Typically businesses go from father to son, and Eve's brother, Eric, was part of the company leadership for many years. But Knudtsen said her father believed in her. Knudtsen began her training in Lewiston at 18, and though she struggled initially, she loved it.
"I knew I'd found my passion," Knudtsen said.
Her education in the automotive industry took her to Michigan, and later to Los Angeles, where she sold a car to Robert Downey Jr., she said. She worked for several dealerships in Los Angeles and eventually returned to Coeur d'Alene to join the family business.
"I felt like a big fish in a small pond in Michigan," Knudtsen said. "In L.A. I felt like a minnow in an ocean."
Knudtsen wasn't deterred by the fact that it was unusual to be a woman in the car business, she said. Though she had to change her approach. Initially, she tried to be "one of the guys," she said. Later she realized that the authentic voices of women needed to be recognized, though they may be different.
The Knudtsen family has been instrumental in many community movements within Kootenai County. With involvement with Jobs Plus, Kootenai Health, North Idaho College and more, the Knudtsen family has supported the growing community.
When her daughter was young and began attending elementary school, Knudtsen began working with parent-teacher organizations as she balanced her home and work life with volunteer work.
"I cared about being involved because that's where I was in my life," Knudtsen said.
Knudtsen received a bachelor's degree from Northwood University, in Michigan, which specializes in training those in the automotive industry. Later, she attended Gonzaga University, receiving a master's in organizational leadership.
At Gonzaga, she learned how to create a more inclusive society that includes women, Knudtsen said. Creating diversity in the workplace is vital. Customers respond well when they see employees who resemble them, she said.
Knudtsen Chevrolet just hired its fourth female salesperson, Knudtsen said. Creating a workplace environment that highly benefits all employees is key to a successful business.
"The best customer relationships start with relationships with our sales people," Knudtsen said.
In recent years, Knudtsen's brother, Eric, sold his share of the business to Knudtsen's daughter Lauren Benedict, adding a fourth-generation to the line of Knudtsens who have run the business.
Visit Knudtsen.com for more information.
Recent Headlines
---