Police face threats, doxxing after Patriot Front arrests
by
KAYE THORNBRUGH
Staff Writer
|
June 14, 2022 1:09 AM
COEUR d'ALENE — Amid an investigation into a white nationalist group that allegedly planned to riot last weekend in downtown Coeur d'Alene, local law enforcement personnel have reportedly faced backlash, including death threats and doxxing.
Coeur d'Alene Police Chief Lee White confirmed Monday reports from outlets including VICE News that neo-Nazis are circulating the names, addresses, phone numbers and photos of law enforcement in Coeur d'Alene.
"We've received threats of it," White said during a Monday news conference. "I'm sure it's ongoing."
Kootenai County Sheriff Bob Norris said his agency has received similar threats.
He provided The Press with an image of a threatening message posted on the messaging app Telegram, which includes personal information.
Norris said the sheriff's office's email system was "inundated" with similar threats.
"We're monitoring all these postings," he said.
The threats came after Coeur d'Alene police, with support from the county sheriff's office and Idaho State Police, arrested people Saturday who were in the box of a U-Haul truck heading into downtown Coeur d'Alene.
Police stopped the truck on Northwest Boulevard and discovered 31 masked members of Patriot Front, a white nationalist hate group, crammed in the back.
They also discovered riot gear, shields, at least one smoke grenade and a seven-page plan on how the Patriot Front members would create "a confrontational dynamic" downtown.
White said the hundreds of calls his department has fielded since the mass arrest have been split. About half the callers appear to be community members, he said, who willingly share their names with police.
"The other 50 percent are completely anonymous and want nothing more than to scream and yell at us … and offer death threats," White said.
He said many of the threats appear to come from outside the community. One death threat reportedly came from Norway.
Coeur d'Alene Mayor Jim Hammond acknowledged Monday that North Idaho has long been associated with extremism and white supremacy.
Kootenai County was the longtime home of the Aryan Nations.
From the early 1980s through the '90s, neo-Nazis gathered annually at the organization's Hayden Lake compound — which was burned and bulldozed after a $6.3 million civil lawsuit brought by the Southern Poverty Law Center bankrupted the hate group.
"We are not going back to the days of the Aryan Nations," Hammond said. "We are a culture of love, of kindness."
The Southern Poverty Law Center describes Patriot Front as a "white nationalist hate group" that formed after the deadly "Unite the Right" rally in Charlottesville, Va., in 2017.
The organization reportedly split from Vanguard America, a neo-Nazi group that participated in the Charlottesville rally.
Patriot Front's founder — 23-year-old Thomas Ryan Rousseau of Grapevine, Texas — was among those arrested Saturday in Coeur d'Alene.
The 31 men arrested Saturday are each facing a charge of conspiracy to riot, a misdemeanor.
They have all posted $300 bail and are expected to appear in court at a future date.
In Idaho, $300 is the standard bail for most misdemeanor offenses; the bail amount was not set by a judge.
White pushed back against conspiracy theories that Saturday's arrest was staged.
"Let me be very clear here," he said. "These were not law enforcement officers that we arrested. These were members of the hate group Patriot Front. These were not antifa in disguise, nor were they FBI members in disguise."
White said police have seized multiple vehicles as part of their investigation, in addition to the U-Haul truck in which the men were found.
Body camera footage will be released publicly after the initial investigation is completed, White said.
"We obviously still have a lot of work to do," he said.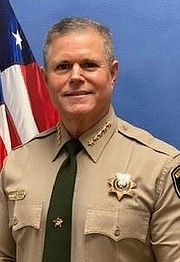 Recent Headlines
---