Rainy rainbows, sunny skies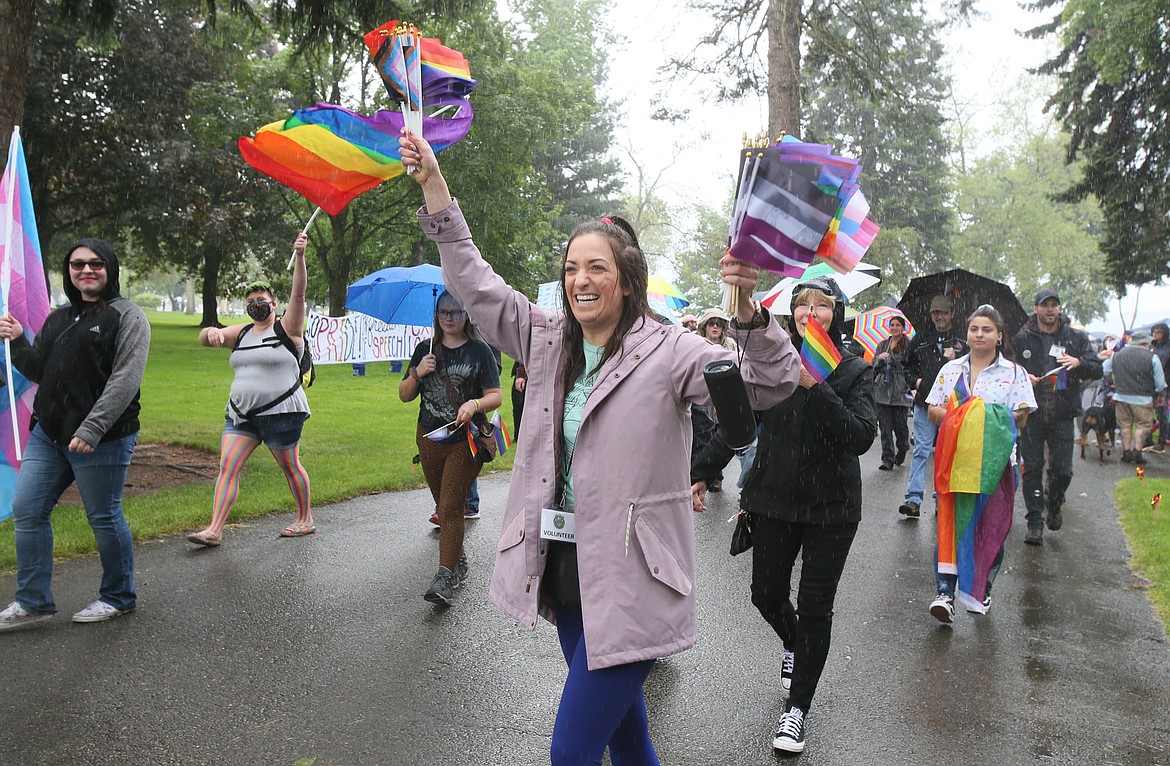 Pride in the Park volunteer Sammy Randazzo leads the Pride Stride on a rainy Saturday morning in Coeur d'Alene City Park.
DEVIN WEEKS/Press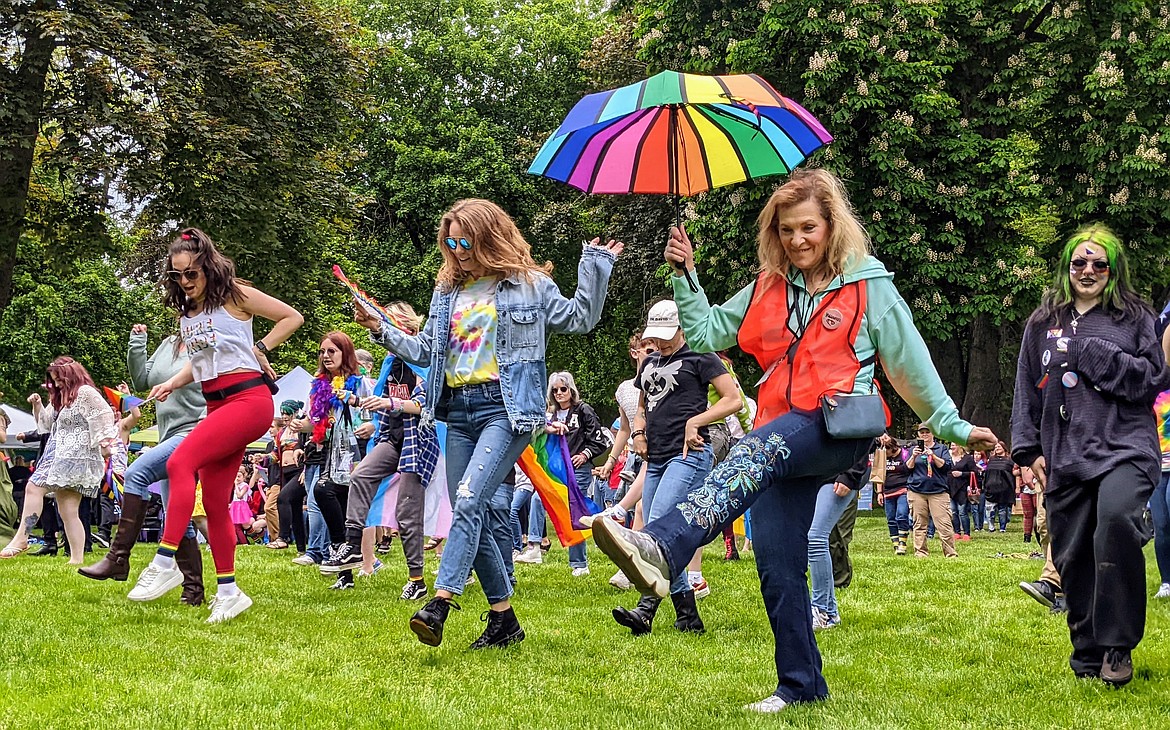 People enjoy the music and dance Saturday at Pride in the Park in Coeur d'Alene's City Park.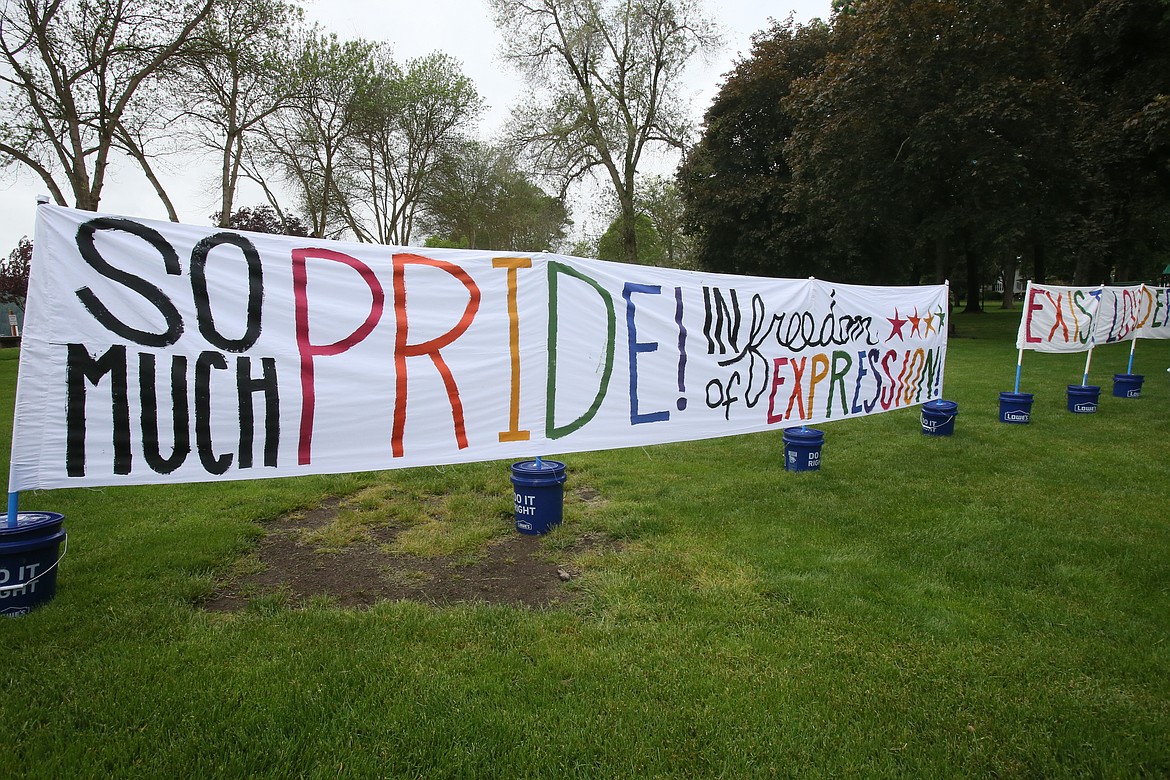 A colorful sign celebrates freedom of expression at the North Idaho Pride Alliance's Pride in the Park event Saturday in Coeur d'Alene.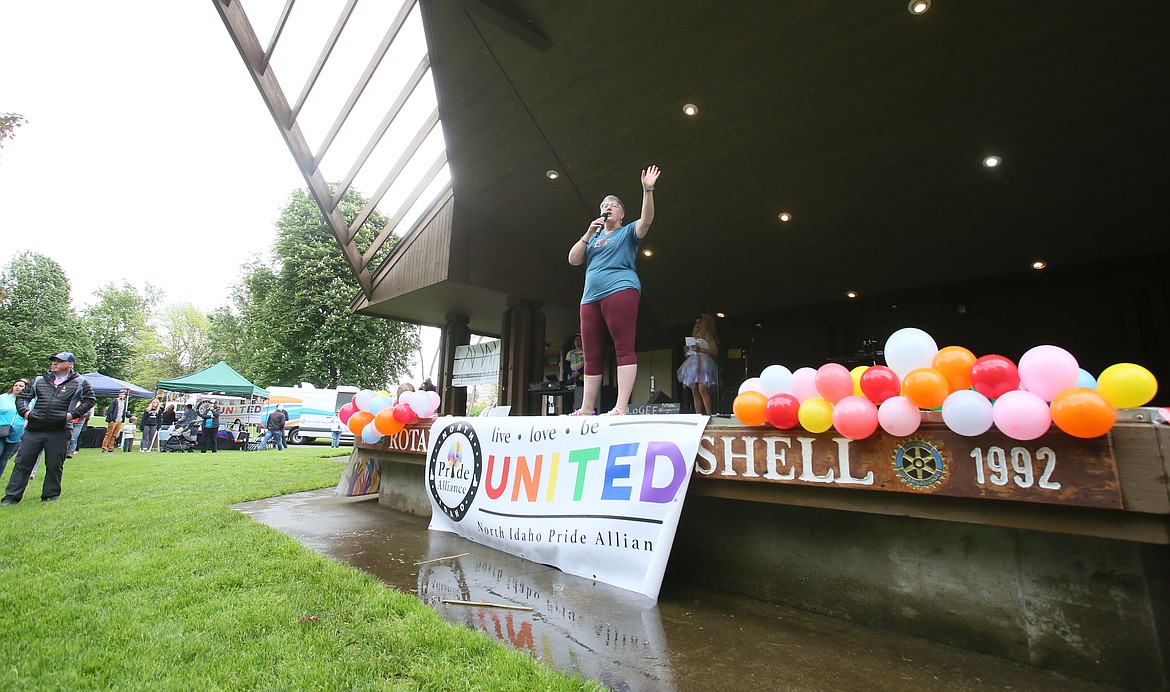 American Marriage Ministries wedding officiant Jan Shannon gives the opening and LGBTQ+ affirming prayer at Pride in the Park on Saturday morning.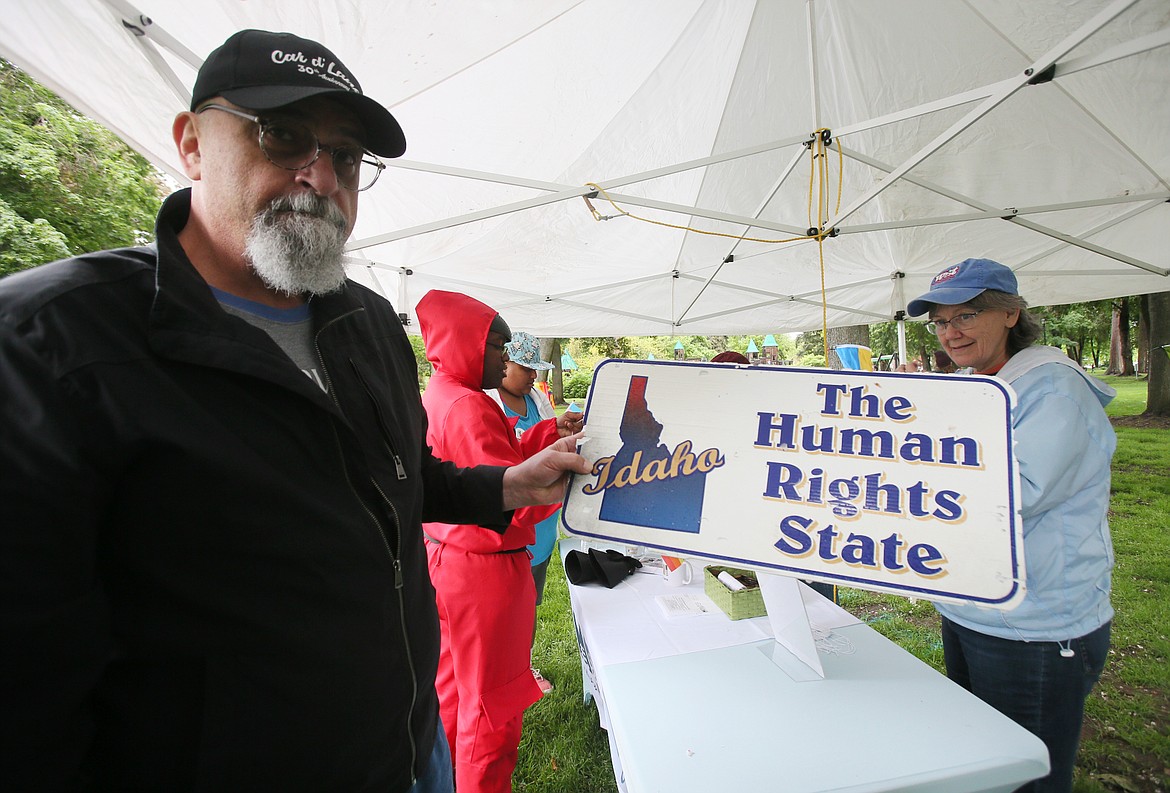 Dave Walker shared his "Idaho, the Human Rights State" sign at the Museum of North Idaho booth during Pride in the Park on Saturday. These signs were made when the Aryan Nations had a large presence in North Idaho in the 1990s.
Previous
Next
by
DEVIN WEEKS
Staff Writer
|
June 12, 2022 1:09 AM
COEUR d'ALENE — The skies opened and rain began to pour just as the "Pride Stride" commenced Saturday morning in City Park.
But neither the rain nor anything else going on in downtown Coeur d'Alene dampened the spirits of those participating in the North Idaho Pride Alliance's annual Pride in the Park event.
"I love pride, I just want everybody to feel like they are safe to love who they love and be who they are without feeling like they have to hide or justify anything," said Coeur d'Alene resident and event volunteer Sammy Randazzo, who led the stride. "I want everyone to feel loved and safe and happy. I just love to see my community start to come together to start celebrating this more publicly."
Music bumped from the Rotary Lakeside Bandshell before the event began. People scurried to blow up rainbow balloons, pop canopies, put finishing touches on display boards, hang banners and share in the excitement of the day.
American Marriage Ministries wedding officiant Jan Shannon gave the opening and LGBTQ+ affirming prayer.
"I believe in love," Shannon said. "I believe that whatever spirit exists outside our existence is love, in nature and in presence. I believe that today, if we can come together in love and create a unity around that love, we're going to have an awesome time.
"We can all believe in love, am I right?" she continued. We can all believe in unity, in freedom, in peace and in love."
Several food vendors, merchants and information stations dotted the park while people enjoyed chalk art, posed at the "Say Pride" photo booth and mingled with old and new friends. Dance, music and drag performers entertained the masses with a variety of talents.
Longtime local volunteer and history advocate Dave Walker shared at the North Idaho Museum booth an item from the era when the Aryan Nations were present in the area — a sign with an image of Idaho that reads, "Idaho, the Human Rights State."
"This is a piece of history of North Idaho, of Coeur d'Alene and of Kootenai County," he said. "It's really difficult to live right now because it's the same mentality of people that are moving here. There's so many little variations of hate and you can't pick on one group. It breaks my heart."
The sun came out and was brightly shining as the day culminated with a dance party. Audience members joined drag performers on stage and boogied to "We Are Family.
The event's lead organizer, Jessica Mahuron, rocking hot pink sunglasses, observed the festival and smiled. Pride in the Park in 2019 drew about 1,000 people, and Mahuron estimated even more than that turned out for this year's event. She said she felt honored and grateful.
"It's empowering and inspiring," she said. "I see nothing but smiling faces, joy, connection. It's something else. I feel like people really rallied in support."
She said North Idaho Pride Alliance is deeply grateful to the Coeur d'Alene Police Department and other law enforcement agencies for keeping everyone safe.
"We can't allow bullies to intimidate us," Mahuron said. "We must show up in our own values of love and kindness and stand strong. And today, we showed that."
Recent Headlines
---