Huckleberries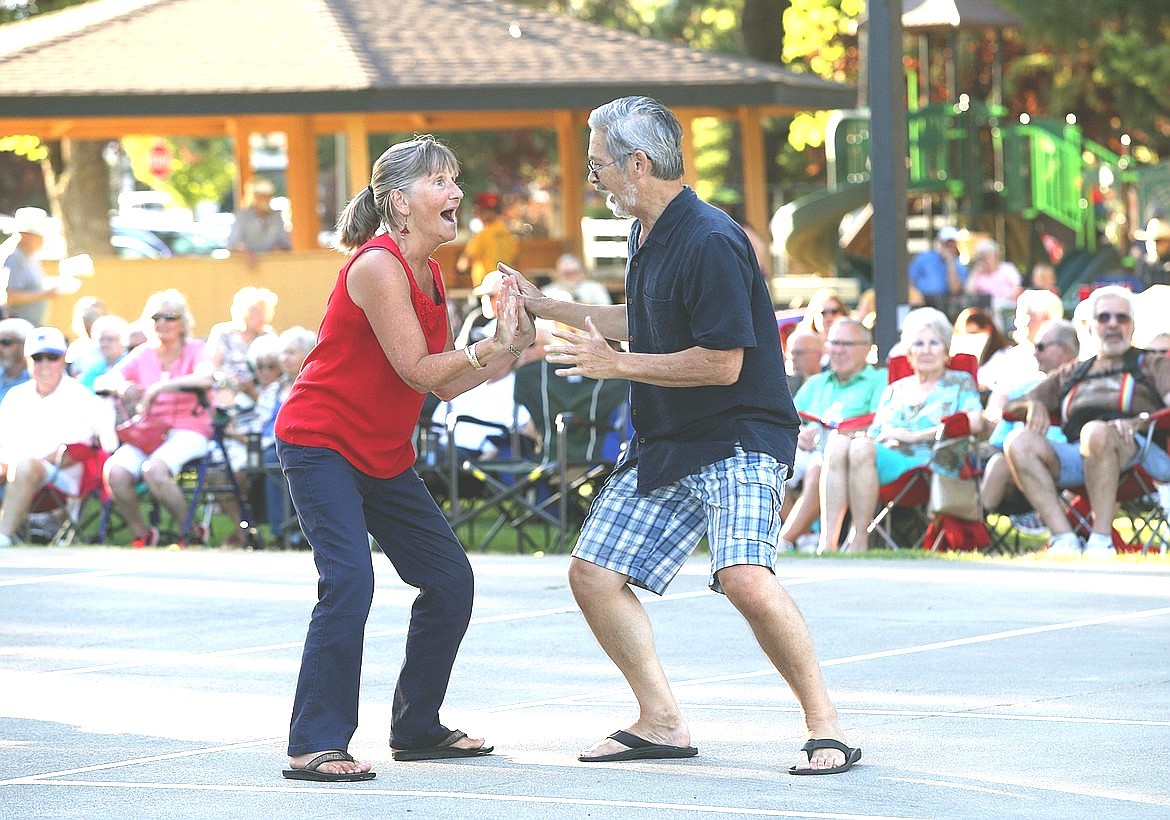 Denny and John dancing last summer at Hayden's McIntire Park.
Denny and John Lundholm didn't just dance through 40 years of married life.
They foxtrotted. They rumbaed. They cha-chaed. They swing-danced – East Coast, West Coast, and Western. They waltzed, discoed, and tangoed.
Along the way, the duo delighted music fans with their steps and moves – as well as the performers, who fed off their energy. For the last 17 summers, they have been regulars at the free Handshake Productions concerts in Coeur d'Alene and Hayden.
But they won't be dancing at Coeur d'Alene City Park today when the band Stagecoach West kicks off the 2022 concert series. The dancing stopped for the Lundholms last fall when they caught COVID. Denny survived. John succumbed Sept. 29.
"We were both healthy people," Denny told Huckleberries. "We didn't think it was going to be bad. But it got ahold of John's lungs."
The Lundholms met and first danced at a toga party at the University of California Santa Cruz. She was impressed that he knew how to lead. He was impressed that she knew how to follow. However, neither was dazzled enough to exchange names or numbers.
A year later, they met again. They became friends and racquetball partners. They fell in love.
Early in their marriage, they enrolled in a six-week dance course at a local recreation department. That led to an invitation to join a formation ballroom dance team for six months. But they learned many of their steps at home. "We did a lot of kitchen dances," Denny said. "We were so young and poor."
Denny and John discovered North Idaho during a vacation in February 2002 and immediately bought property in Post Falls. "It was the first place we'd ever been that felt like home," said Denny. They moved here from Hawaii in fall 2003.
John was the Region 1 nurse manager for Idaho's long-term care program at the time of his death.
The Lundholms were such good dancers that few knew they were dealing with a handicap. Five years ago, Denny suffered paralysis in her right leg after receiving a tetanus shot for a dog bite. Although her leg improved somewhat, she and John adjusted their steps to masquerade the weakness.
Their popularity was evident a few years ago when one of Denny's flipflops broke while dancing on the cement pad at Hayden's McIntire Park. She couldn't continue. Then, from all around the park, women held up flipflops, offering them to Denny so her dancing could go on.
Although she knows it will be tough, Denny plans to attend the kickoff concert from 1 to 4 today.
"John wouldn't want me not to go," she said.
Stagecoach West, one of her favorites, was performing at Sherman Square Park on John's 64th birthday last Aug. 10, a week before he got sick. John flipped Denny over his back during a swing dance.
"Sixty-four and going strong," Denny said. "He was quite pleased."
Also, John broke out his signature limbo move, down in the gravel. Said Denny: "He was in great shape."
O Pioneer!
And the answer is: Thelma Finney. The question? Who was the first woman licensed to tend bar in Idaho? Although Thelma was part owner of the Eddyville Resort, she wasn't allowed by law to sell drinks. She won this right for Idaho women by agreeing to be part of a test case. She was arrested, booked, and finally tried by the Idaho Supreme Court. Thelma is also the answer to the trivia question: Who was the first female in Idaho to hold a commercial passenger boat operator's license? She helped husband John build a family business of lake cruises that included the boats Seeweewana, Weewana, Nokawana, Ripawana, Dancewana, and a speedboat, Skippy. In 1984, Hagadone Hospitality bought the fleet. Huckleberries doesn't have the space to list the feats of this accomplished woman. But you can read all about them in a Press story published 30 years ago today. Thelma was 84 at the time.
The band plays on
Chris Guggemos, the Music Man from Handshake Productions, epitomizes the mail carrier of old – you know, the guys and gals who delivered the mail despite snow, rain, heat, and gloom of night. In Chris's case, he has brought us free summer concerts since 1991. Chris has produced entertainment despite bad weather, COVID, and his personal battle with cancer. He is facing challenges again this year. He has no concerts scheduled at Sherman Square Park, which is being overhauled under the supervision of the Coeur d'Alene Rotary Club. And, in case of bad weather, he has no back-up venues for the Coeur d'Alene concerts as he has had in the past. Chris tells Huckleberries he'11 schedule concerts at the redubbed Rotary Centennial Park, if work is completed early enough. Otherwise, there's 10 concerts planned for Coeur d'Alene City Park. And six for McIntire Park in Hayden. Coeur d'Alene Big Band will kick off the Hayden Concert Series at 6 p.m. Thursday, June 30. Be there or be square.
Huckleberries
· Poet's Corner: Quite frankly, sir,/it gives me pause/to behold the creatures/that make our laws – The Bard of Sherman Avenue ("On Televised Congressional Hearings").
· The "cartvertising" on shopping carts near the Fred Meyer garden center sent mixed messages June 3. In the front, the monks at St. Joseph's Abbey in southern Louisiana offered quality caskets at "affordable prices." And on the back? Killer Burger at the Prairie Shopping Center in Hayden advertised "the perfect burger." Many say those Killer Burgers are to die for.
· And this PSA is brought to you by Street Music Week 2022. Don't be surprised when you see buskers playing for money in downtown Coeur d'Alene during the noon hours this Monday through Friday. They're raising money for the 2nd Harvest INW Food Bank. So toss in a few bucks.
· In the old days, say 40 years ago, the local chamber literally snipped a necktie to welcome summertime when the lake was calling and the dress code eased. A Press photo from June 1, 1982, shows chamber manager Sandy Emerson cutting off mayor Jim Fromm's tie to signal the "leisure season." Dunno when the chamber abandoned the symbolic practice. But Joan Ford tells Huckleberries she's been with the chamber for 11 years and has never heard of the ritual.
· Did You Know – the town's CAVERs (Citizens Against Virtually Everything) suffered conniption fits 25 years ago when they heard the asking price for prospective library land on the east edge of McEuen Park. A million bucks for property assessed at $97,513 including a 15-unit apartment building? The naysayers demanded that the library board look elsewhere. Wisdom prevailed. And now we have a stylish library in a park setting that is the envy of the state.
Parting Shot
Dianne Ansbaugh and hubby, Gene, offer another example why our piece of paradise ain't what it used to be. On May 31, Gene waited in the car while Dianne ran into Hayden Albertsons. As a result, Gene had a front-row seat for another episode of madness, which began when two Road Ragers screeched to a stop in front of him, one in a truck, the other in a car. Then, a middle-aged man and a younger one leaped from their vehicles, shouting and cussing. The histrionics stopped when the older man lifted his shirt to display a gun. "We are grateful," Dianne told Huckleberries, "that the young man didn't respond in kind." The younger Road Rager jumped back into his vehicle and zoomed off. Adds Dianne: "A possible shoot out was not how we wanted to spend our afternoon." Words to live by.
D.F. (Dave) Oliveria can be contacted at dfo@cdapress.com.
Recent Headlines
---