Billiards, spas and more
Continuing the billiard and spa-pool products that started in the original Priano's store, N8's Northwest Billiards & Backyards is opening Tuesday in Suite 1 at 6235 N. Sunshine St., in the National Mattress building.
Owners Nate, who worked at Priano's for 15 years, and Shawna Naff offer billiard tables and items, indoor gaming equipment, darts, neon signs and spa and pool water testing and care advice.
Hours are 9 a.m. to 5:30 p.m. Tuesday through Saturday with the grand opening at the end of June. Phone 208-772-6736. Check www.n8snorthwestbilliards@gmail.com.
La Tea Da offers special tea events
A relaxing afternoon of special teas with a three-tier tray filled with tea sandwiches, scones, Devonshire cream, lemon curd, desserts and giftables is offered at La Tea Da at 4009 W. Riverbend Ave., in Post Falls.
Owners Cassie Luna, Pamela Kyes and Emily Nuss host special events in a large party room with traditional tea, blooming floral tea, tea bombs, tea flight trays, charcuter tea boards and desserts with table seating for up to 65.
Open daily by reservation, phone 208-262-8259. Check www.LaTeaDa.org.
CBD store opens in Post Falls
With clean soil to oil CBD (cannabidiol), owner Jack Rounsville says his products have no detectable amounts of THC backed with third-party lab reports on every bottle and container. He also has pet products.
With manager Kristina Bays, hours are 9 a.m. to 8 p.m. daily, at 3904 E. Mullan Ave., at the corner of Highway 41, in Post Falls with the grand opening July 16. Phone 208-819-3454. Check www.getsunmed.com.
CDI Engineers opens on Fourth Street
Civil and structural engineering is the specialty of DCI (D'Amato Conversano) Engineers now in the new building at 208 N. Fourth St.
Kelly Andersen and Matt Gibb are in the Cd'A office (there's also one in Spokane) 8 a.m. to 5 p.m. weekdays. Phone 208-820-1195. Check www.dci-engineers.com.
The new building also will have a med spa and fast casual restaurant on the main floor and eight apartments above. Check www.Dirproperties.net.

Now the Tidbits
A two-million-gallon water tower is under construction in the northwest corner of Wyoming Avenue and U.S. 95. It's flat roofed and in a tent until July and useable by the Hayden Lake Irrigation District in August.
Bottle Joy taphouse will be at 1208 E. Sherman.
CDA Idaho Clothing Co. is expanding from its current location at the northeast entry of the Plaza Shops building into the former Grace & Joy space.
The Thomas George building planned for the corner of Third Street and Front Avenue would be 18 stories mixed with commercial places on the first floor and 60 condominiums above.
Watch for details on new buildings under construction for corporate offices for Rogers Burgers on Government Way and Caliber Collision by Metro Car Wash in Post Falls.
St. Joseph's Ear, Nose, Throat & Allergy Clinic will have a new building at 849 N. Syringa, Post Falls.
Watch for commercial construction west of Highway 41 between 16th and Horsehaven in Post Falls.
Post Falls RV Campground is under construction at 70 W. Cabelas Way between the Cabela's store and State Line Walmart in The Pointe at Post Falls.
Many of 16 commercial lots are available in the planned Prairie Crossing Shopping Center in the northeast corner of Highway 41 and Prairie Avenue.
A burger place and cosmetic salon will be in the new building at Fourth and Lakeside.
A new building for Etco Services is under construction off Huetter north of Seltice and I-90
The PACR office building is under construction at 1857 W. Hayden Ave.
Breaking Bread Bistro will be where Davis Donuts was at Fourth and Best.
Literary Souls Used Books is moving to Suite F at 205 E. Seltice Way.
A sign on Wayne Drive in Hayden says "Future home of Blue Chip Chiropractic."
A new Pizza Hut will be in Hayden.
The Mill will be a four-story mixed-use building at Government Way and Mill Avenue with businesses on the ground level and 43 apartments above.
Consign Furniture has a "coming soon" sign southwest of the U.S. 95-Lancaster Road intersection.
An Express Exterior Carwash is being built in the 3400 block of Seltice in Post Falls.
Open Arms Real Choices Clinic grand-opening ribbon cutting is 10-11:30 a.m. Thursday at 8056 N. Wayne Drive in Hayden.
Club Pilates will be in Hayden Design Center at 9235 Government Way.
Cornerstone, a four-story commercial and residential building, is under construction in Riverstone.
Bruchi's quick service restaurant is planned for a new building north of the corner of Highway 41 and Mullan Avenue.
Watch for construction of Vantage Point Brewery across from Michael D's Eatery off Coeur d'Alene Lake Drive.
A Grease Monkey auto place will be at the Crossings in Athol.
Gentlemen Sausages will soon be in the former Abi's Ice Cream location at 112 Fourth St.
TownePlace Suites by Marriott Hotel is being built where the Outback Steakhouse was in the southeast corner of I-90 and Northwest Boulevard.
Retro Arcade on Wheels game truck details will be here soon.
A new commercial and residential building, Midtown Centre, is being built at 821 N. Fourth St.
Watch for major changes with the Burger Bunker and Bunker Bar off Spokane Street in Post Falls.
The Den will be a new tavern at 761 N. Idaho St., in Post Falls.
The CD'A Corner Store is adding a kitchen and tables downtown.
Coeur d'Alene Nissan will have a major addition to its building off U.S. 95.
The Post Falls Pavillion food truck court will be near the Highway 41 and Horsehaven intersection.
"The quick brown fox jumps over the lazy dog" uses every letter of the alphabet.
Contact Nils Rosdahl at nrosdahl@cdapress.com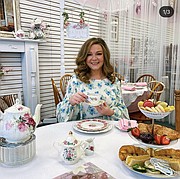 Recent Headlines
---