Fire chief on receiving end of services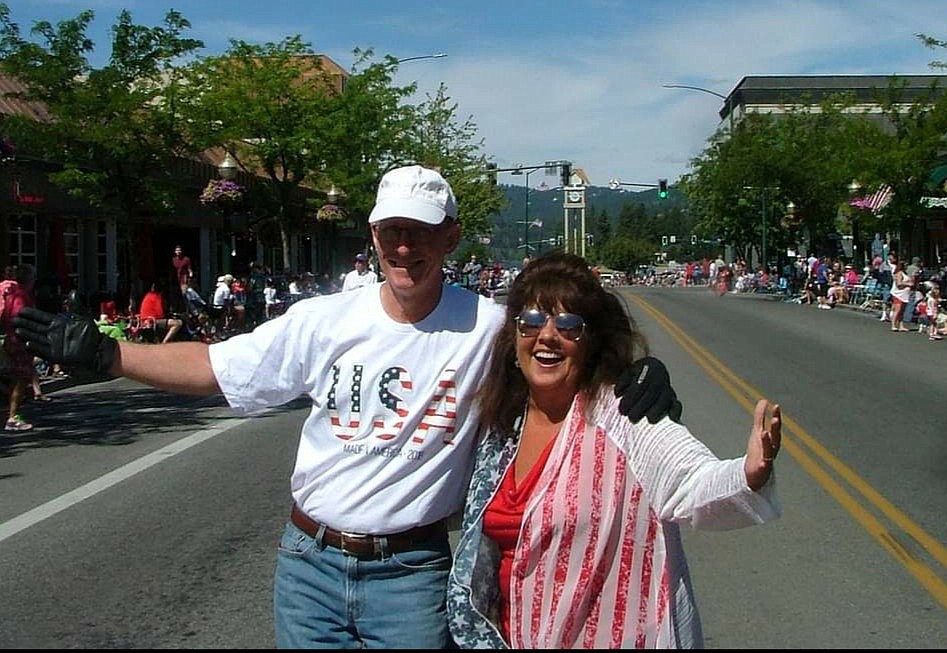 Kerri Thoreson and Scott Hough pre-parade on Sherman Avenue, July 4, 2016.
Photo courtesy of Kerri Thoreson
Good neighbors are a blessing and Llolyn Pobran found out the hard way just how true that is. According to a Coeur d'Alene Fire Department press release on Saturday, "A gardening accident started two homes on fire in Northeast Coeur d'Alene Saturday. A homeowner was using a torch to burn weeds when the flames ignited dry pine needles that quickly spread to bushes, a jet ski and then two homes. Coeur d'Alene Fire Engine 2 arrived quickly and kept the damage to the exterior of both houses."
Pobran was the aforementioned gardner and her neighbor just happens to be the chief of Northern Lakes Fire, Pat Riley. Pat was in his garage at the time, which was fortuitous. Pat posted on his Facebook page, "I never thought I would be the person waiting for help. CDAFD, KCFR and my own folks at Northern Lakes Fire Protection District saved my house and my neighbor's house. I am much calmer on a radio when it's NOT MY HOUSE. And for the win, KCSO dispatchers summoning the correct unit assignments killed it! Good job to all Fire/EMS/LEO working this crazy weekend."
Judging from the exchanges between the neighbors, there are no hard feelings, just gratitude for a community that bands together in times of trouble.
• • •
I experienced my own good neighbor blessing a couple of weeks ago when retired former owner of Anderson Ironworks, Norm Anderson, contacted me and my husband. He'd read in this column about my epic fall down our front porch steps and of Bert's plan to finally install handrails. Norm offered to make us rails and as a bonus invited Bert to help with the project in Norm's shop. Anderson Ironworks through the years created beautiful ornamental iron railings in some of the most spectacular homes in our area.
It was a win/win, we have two sets of hand rails, Bert and Norm got to use tools, and then they installed the rails.
• • •
My skybox swan song in the Fourth of July announcing booth was definitely one for the record books. It was the first time in my memory of decades of Fourth of Julys in Coeur d'Alene that it rained on the parade. It was rainy and cold (57 degrees at parade end) but spectators and participants alike were troupers.
The absolute bright spot in the gray day was the appearance of Grand Marshal Mikki Stevens. I've driven grand marshals in the parade and announced many more but this is absolutely the first time ever that a grand marshal had an entourage. About three dozen former Red Hot Mamas in full Mama regalia, representing the three decades of merry making for the group, followed behind Mikki. To say the crowds were enthusiastic would be a colossal understatement.
Mikki now knows what it's like to be figuratively hugged by about 10,000 people!
To everyone who chose to get up on a national holiday and parade down the street, sit on the curb and enthusiastically spectate or volunteer, thank you. May we always celebrate country and community in such a star-spangled, flag-waving fashion, regardless of Mother Nature's whims.
• • •
If you're not paraded out, on Saturday at 10 a.m. the Post Falls Festival Days Parade is happening on Seltice Way between Spokane and Idaho streets. Have the kids bring a bag for the thousands of pounds of candy that will be distributed by the entrants along the route!
The following Saturday, July 16, Rathdrum celebrates with fun activities including the parade at 10 a.m. on Main Street. For the second year I'll have the pleasure of announcing one of my favorite small-town parades.
• • •
In memory of and with gratitude to Nick Newby and Nathan Beyers who gave their last full measure of devotion for the cause of freedom, July 7, 2011, in Baghdad, Iraq. This community will never forget their sacrifice.
• • •
Happy Main Street birthdays today to Alivia Lickfold, Barb McCarley, Bill Brooks, Wade Jacklin, Suzanne Holland and Robin Ducote. Happy 7/7 birthdays to Becky Lee, Renei Yarrow, Susie Jameson, Devon Dixon, Jeff Populus, Tim Adams and Susie Sullivan. Friday Taryn Hecker, Samantha Babich, Peter Finney, Bev Hammond, Dawson Brown, Ron Jacaban, Beverly Knapp and Carrie Erickson put on their party hats. Saturday Tucker Morrison, Madison King, Jenny Seaman, Brooke Bowers, Loren Mitchell, Brooke Hell, Jenny Joyner and Renee Christensen have their cake and eat it, too. On Sunday Jason Faulkner, Collin Coles, Ryan Starr, Amber Blanchette, Gene Gertson, Jan Ryan, Mike Stevens, Heather Wichman, Darren Olson, Pat Fuller and Michael Garrett take another trip around the sun. On 7/11 Claire Allred, Betty Ann Henderson, Richard Jurvelin, Jeri Lee, Bill Graves, Scott Mote and Larry Wendt blow out the candles. On Tuesday Jadd Davis, Cheri Burila, Emily Hodgson, Syafiq Fuller and Jim Welborn will hear the birthday song.
• • •
Kerri Rankin Thoreson is a member of the National Society of Newspaper Columnists and the former publisher of the Post Falls Tribune. Main Street appears every Wednesday in The Press and Kerri can be contacted on Facebook or via email mainstreet@cdapress.com. Follow her on Twitter @kerrithoreson.
Recent Headlines
---